A Casual Key West Snorkel Adventure
Reefs renowned for their beauty and diversity of life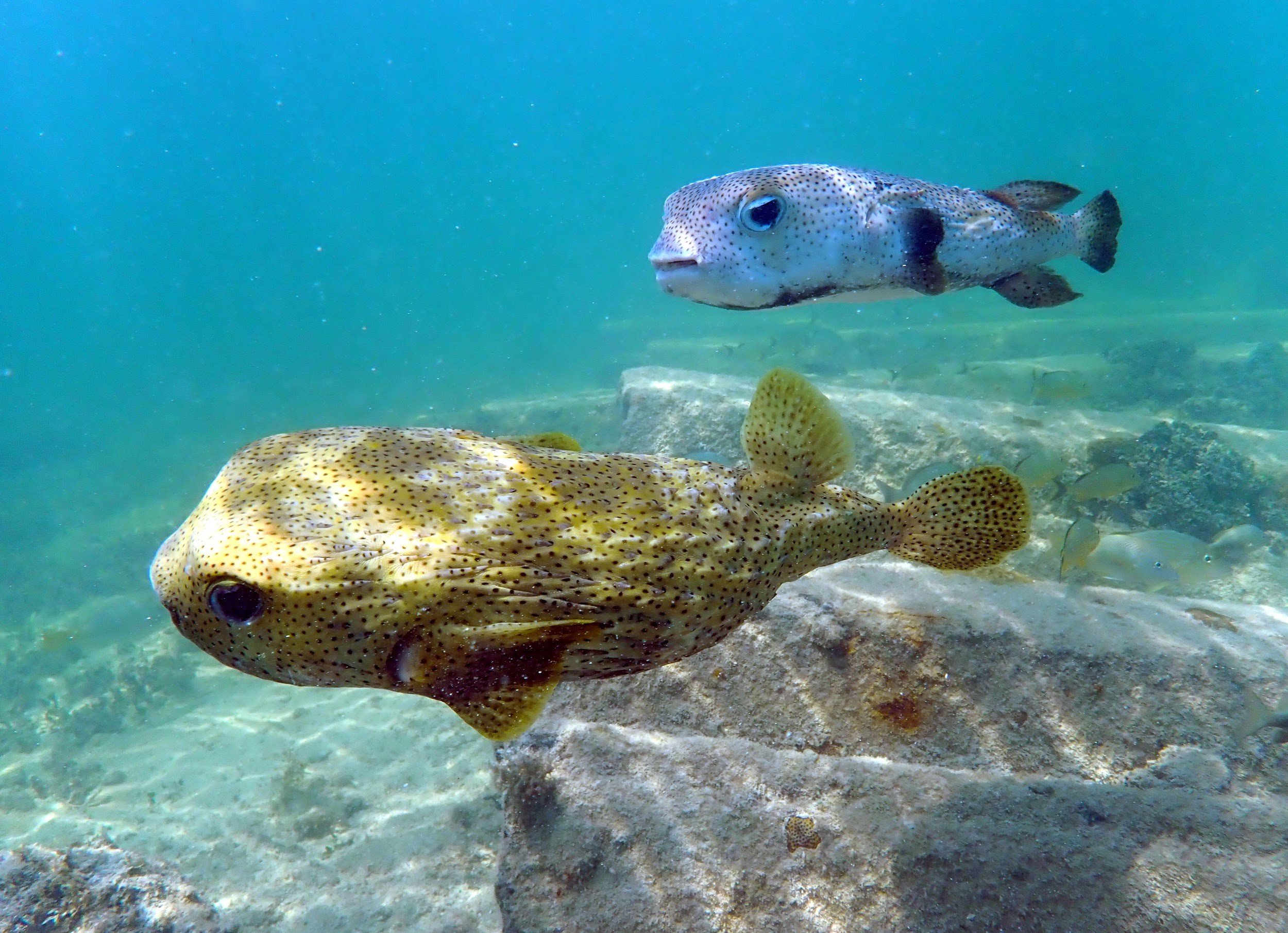 Exploring Key West's "Front Yard"
The reefs that fringe the Atlantic side of the Florida Keys are renowned for their beauty and diversity of life, but they are quite far offshore and require a boat to get to, but that doesn't mean an exciting experience in the ocean, exploring and seeing what lies below, is out of reach. The waters right offshore are beautiful and teeming with wildlife and are available through a casual snorkeling adventure.  Today we want to share some of the best snorkeling in Key West.

A Queen Conch forages through the sea grass near Higgs Beach
In 2001, much of Key West's Atlantic shore, running from Higgs Beach to South Beach, was designated the "Key West Marine Park." It is home to a wide range of fish, corals, sponges, crustaceans, marine plants, and other sea life, all in water no more than 6 to 8 feet deep and accessible to even beginning snorkelers. This recreational space is accessible from the beaches and is bordered by offshore buoys that warn boaters it is a "swimmers only" area. Another similar environment can be had at Fort Zachary Taylor State Park.
What You'll See Beneath the Sea
Higgs Beach
Some of the best snorkeling is found at Higgs Beach, where an old, crumbling breakwater has created a haven for large schools of snappers, grunts, and other fish. The breakwater is surrounded by extensive seagrass beds where Queen Conch, Key West's mascot, can be found (they are a protected species, so don't touch!). Be on the lookout for stingrays, tarpon, sea turtles, and manatees, too!  Bring your own or rent snorkel gear at Higgs.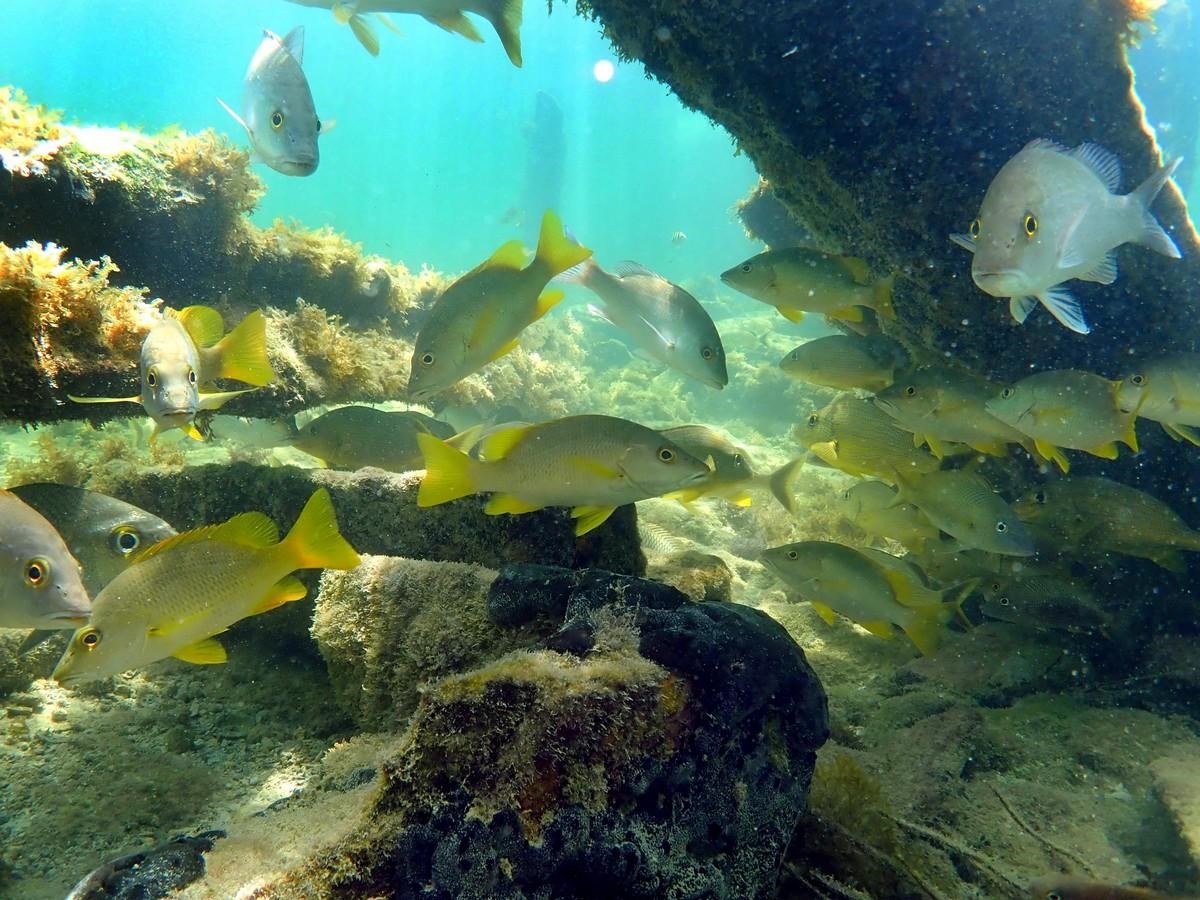 A school of Gruntfish and Snappers makes a home in the crumbling breakwater at Higgs Beach.
South Beach
At South Beach, the adjacent pier and seawalls also attract many types of exciting sea life so get out and explore and let us know what you see beneath the sea.  If you are staying with us and want to head out for a snorkel adventure at South Beach, we've got great news – free use of snorkel gear while visiting.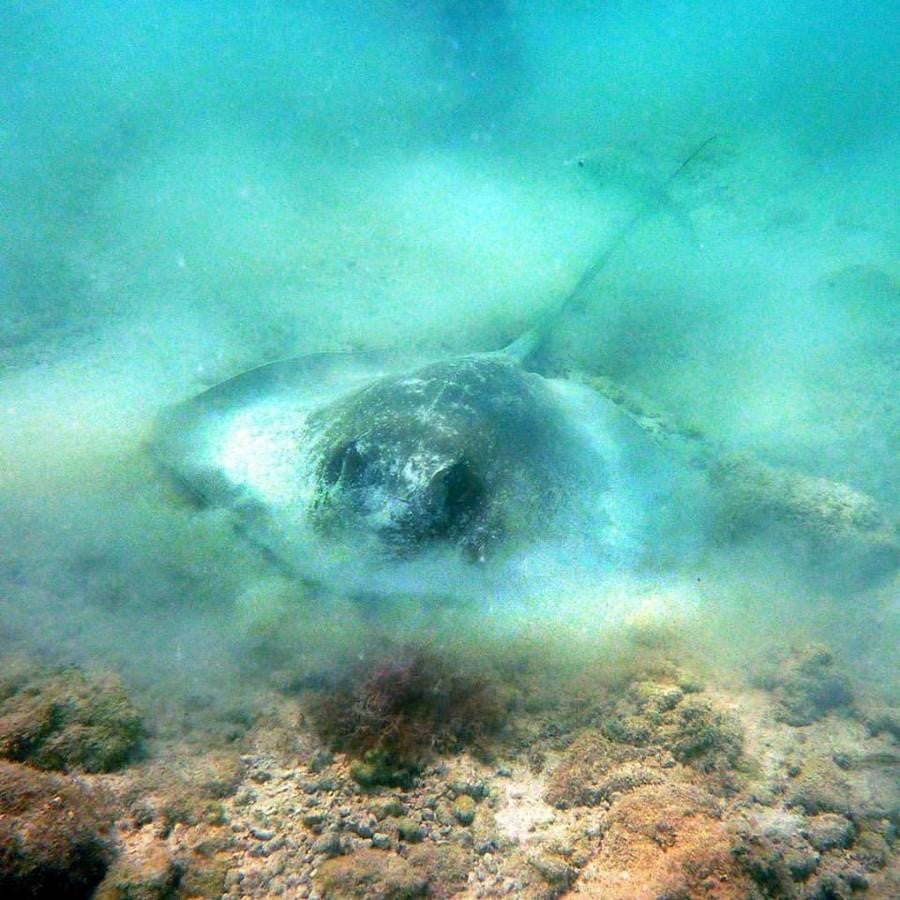 A Southern Stingray searches the sea bottom for food at Fort Zachary Taylor State Park.
Fort Zachary Taylor
Fort Zachary Taylor (referred to by locals as "Fort Zach") is one of our favorite beaches in Key West, and it's also one of the best spots for snorkeling in Key West.  There are offshore rock piles that function as artificial reefs and are always worth exploring. You'll be thrilled with the many species of tropical fish and living coral right before your eyes. You can bring your own gear, or if you don't have any, you can rent it at Fort Zach.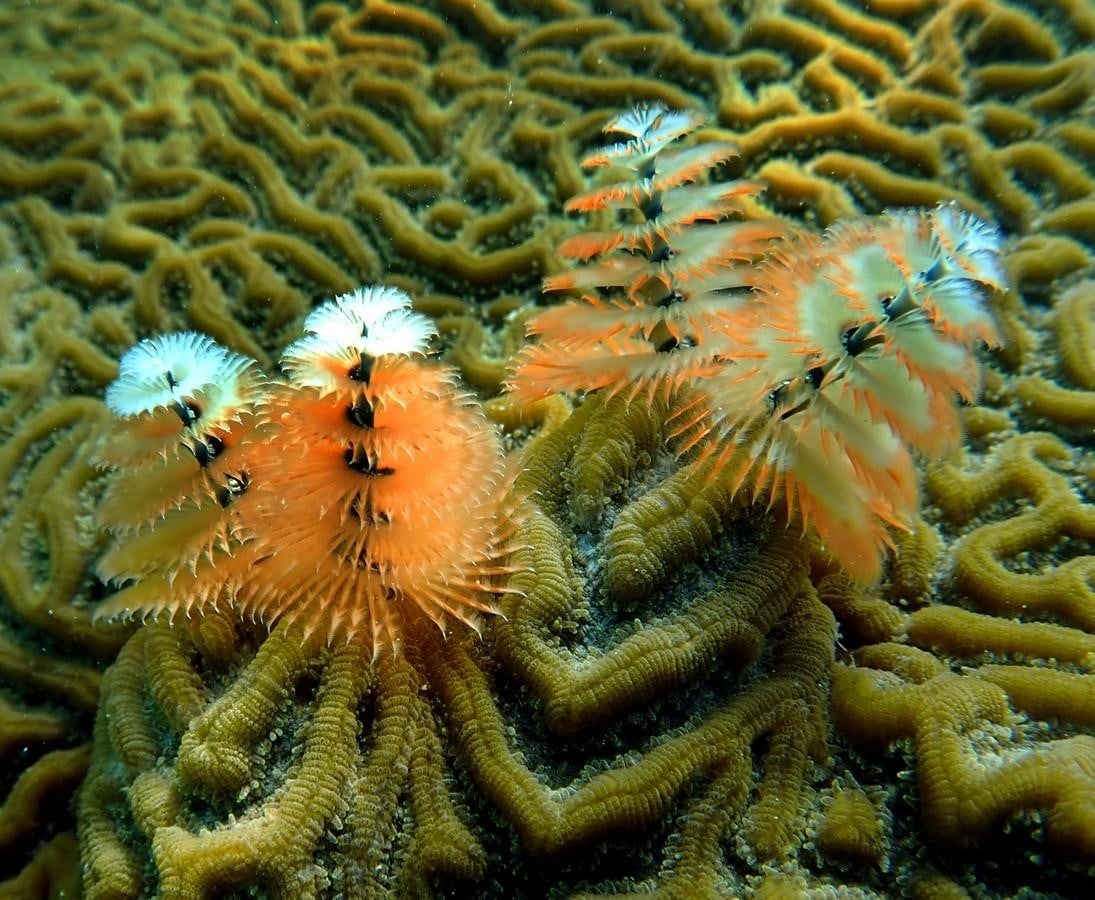 Christmas Tree Worms filter the water for food from their home in a Brain Coral at Higgs Beach.
Dry Tortugas & Fort Jefferson
Must see and do and add to your travel bucket list is a snorkeling adventure at the Dry Tortugas and Fort Jefferson National Park. This one is a little different as you need to take a Ferry or Sea Plane to get there.  We are including because it is a must see and do and one to add to your travel bucket list.  The Yankee Freedom III is the official ferry of the Dry Tortugas and will transport you to this hidden eco-treasure, just 70 miles west of Key West. The shallow waters are ideal for snorkelers of all ages and levels. Bring the family and enjoy the underwater exploration and views of vibrant sea life, sea stars, and queen conchs along with many other marine life. Complimentary masks, snorkels, and fins are provided by the Yankee Freedom III.  Learn more about rates, availability and Snorkeling at Fort Jefferson.
Snorkeling Tips
When it comes to snorkeling, the weather does matter.  Of course, the Key West snorkeling experience will be best when the water is clear, so if it's a windy or stormy day, with the sea bottom being stirred up, you might have to wait. But when the water is calm and clear, get with your family and friends, put on your masks and fins, and swim through Key West's underwater "front yard" to experience all the amazing things that are happening under the sea!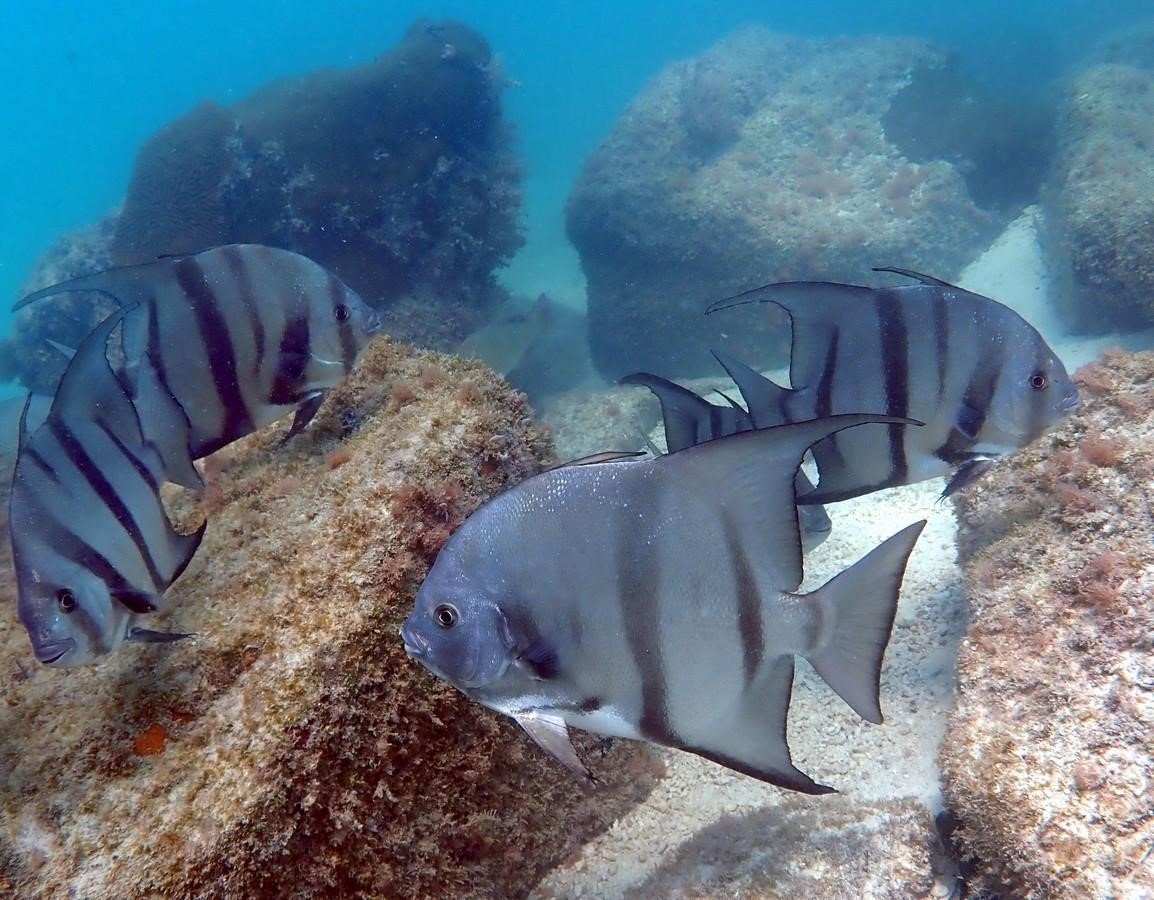 Atlantic Spadefish in the rocks at Fort Zachary Taylor State Park.
Safety Tips:  Never swim alone.  We always recommend using the "buddy system" – swim with friends, never alone.
Next trip to paradise grab your friends and family for a casual snorkeling adventure and make sure to share your underwater encounters with us!  We can't wait to see what you saw beneath the sea. #somolife  
Photo Credits: Corey Malcom
Sign up for exclusive offers – direct to your inbox!