A local's guide to Key West
What do you do at the resort?
As a Property Manager, I have a lot of different roles. I help out with just about everything, the front desk, and activities, daily operations. It's really sort of all over position, which is what I love about it because it keeps me in touch with the people who are here on vacation, which is what I love. It's the interaction with the employees and with the guests.
What is your favorite thing to do on a day off?
Oh, I love to hit the beach. We go in the morning, pack our picnic lunch, and we have our little spot that we go to at Fort Zachary Beach (a/k/a Ft. Zach.) We love to go and grill out, take a couple of lobster tails and have a nice lunch. That's our go-to thing to do at least twice or three times a month. It really is our most important thing to do on a day off, and sometimes we'll stay until the sun goes down.
Favorite romantic dining spot in Key West?
My #1 favorite is definitely LaTrattoria Oceanside, absolutely love it!
For big celebrations, I have to mention Latitudes over at Sunset Key. It's a unique island dining experience from start to finish. You take a boat over to the island, and the food, view, and drinks are off the charts. When you come home, it's like you've had an adventure, and I always tell people when they go there, don't sit inside, make sure to let them know you want to sit outside.
Where is your favorite place to eat and drink?
We have several go-tos, we love Roostica, and Hog Fish, both on stock Island and another favorite is Stoned Crab at Ibis Bay. Must try Stoned Crabs Seafood Towers, it's a really cool experience.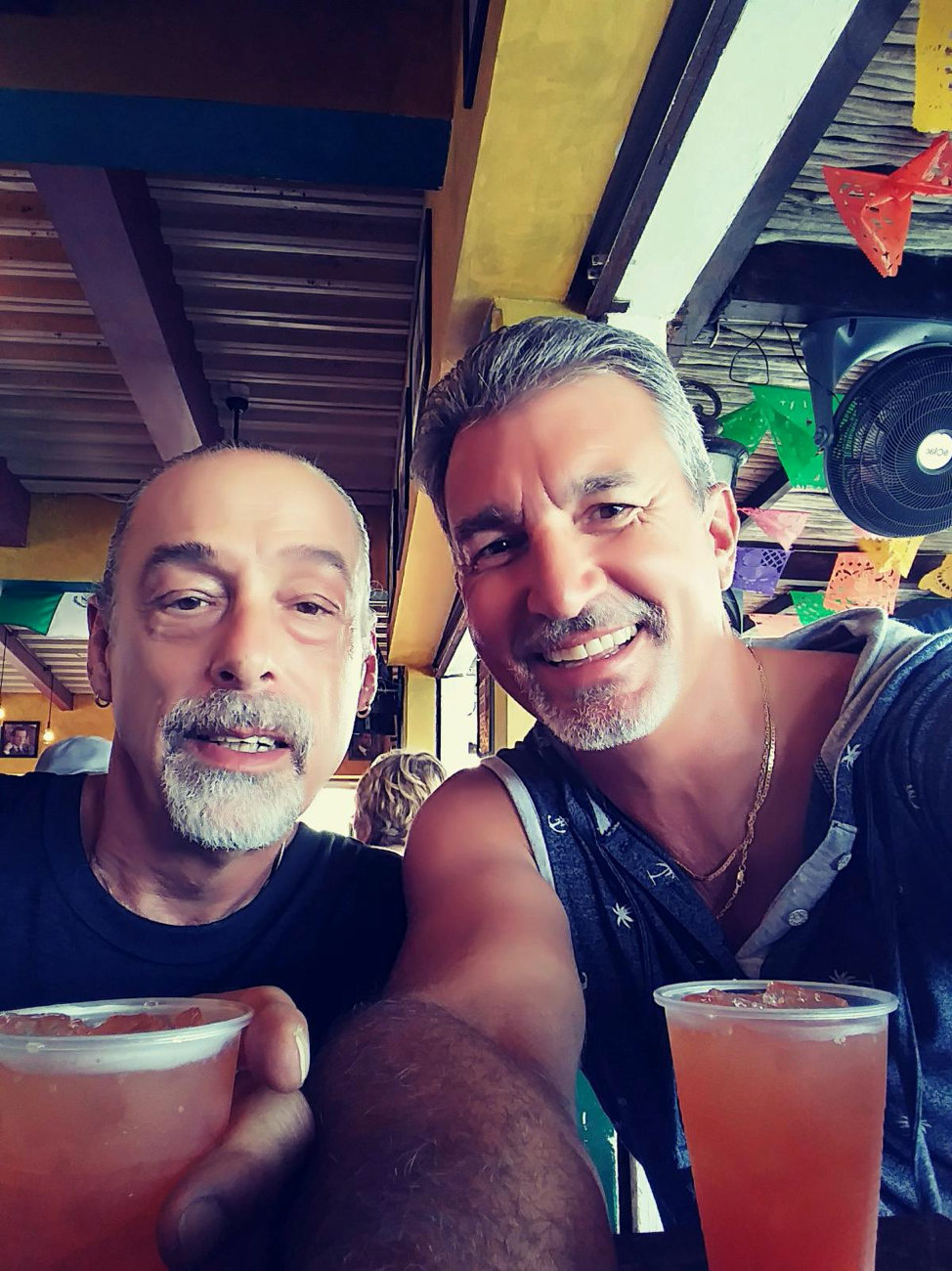 And when I see my guests out and about …
Part of the charm of living here is sharing our island with everyone. If I see my guests out and they're having a good time, and they see I'm having a good time. It sort of reinforces the idea of how this city, it's more of a hometown, it's a community, and it shows why Key West is so unique.
Favorite place to listen to live music?
Sloppy Joes is definitely one of our favorites, and we also enjoy Jazz at The Gardens on Sundays. The list goes on, Dirty Harry's is part of the charm of this island as it reminds me of rock clubs in Baltimore. And then, of course, there's always the show bars with Vegas quality cabaret shows at La Te Da and performance artists at Aqua. A night on the town for me would definitely include dinner and a show at La Te Da.
 Go-to for cocktails?
Definitely go to Virgilio's, they have a great martini bar. One more thing, while taking a walk on Duval Street, check out some of the little sidebars and go to the world's smallest bar and have a beer and watch the world go by.
Where is the one place you'd recommend to shop for that unique gift from Key West?
Sunset Glassblowers, located at the Mallory Market at Mallory Square, is the go-to place for unique gifts. Sally Britton is the owner of this hidden gem and glassblowing shop.
Tips for first-timers to the island
Be prepared to have a great time. You don't need a car. Stay with us in Old Town and walk to everything and enjoy the local cuisine and the laid back island vibe. It's something really special.
Favorite Museum?
One of my favorites is the Truman Little White House.
Favorite Place to Watch Sunset
There are some great spots to watch the sunset, and Mallory Square is one of them where you can enjoy the sunsets and performers, but there are also some quiet little spots. Here are some of my favorite secret sunset spots: over by the Galleon you know there's some little walkways there where you can see the sunset at an angle and it's very quiet and a lot of times it can be just yours. That's a little special area, and there are many of those hidden gems, porches, and short turns in the sidewalks nearby Mallory Square. Skip the crowds and have an exceptional experience.
Any travel planning advice you want to share?
Everybody wants to come on the weekend and be here Friday, Saturday and Sunday, but every day is a weekend in paradise. My suggestion is if you're going to come down for a couple of days, come down Monday, Tuesday, Wednesday. You'll see the difference in how you really can experience a little bit more if you come on days that are a little less busy historically.
If you have family visiting what are your must-see and do's?
The Key West Butterfly and Nature Conservatory is a favorite and one that you'll want to go back and see time and time again. Another must-see and do is a trip to Fort Jefferson and the Dry Tortugas.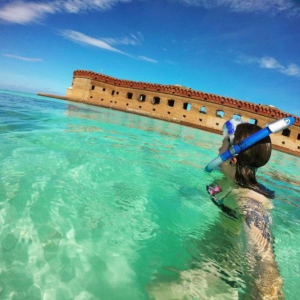 Something absolutely breathtaking about snorkeling next to such a historic landmark. #FortJefferson Photo Credit: @_emily182_
Group Tips and Advice
I think if you're bringing a group down here and they're coming down for business, they need to do what they need to do for business and then get out and experience the best of Key West. Great trips and tours, including sunset sails, snorkel trips, food tours, and scavenger hunts. Another favorite is the Ghost Tours. One last tip is to leave room to just explore the sights and sounds that surround you during your vacay.
What do you love most about your job?
I love the people and seeing them explore the island and learn to enjoy what Key West has to offer, which is a great relaxing atmosphere for everyone, across the board. And if you can come down here and exhale, you're gonna love it.
What's the funniest thing you've heard or been asked?
People ask me periodically, what time is the second sunset, or is the whole island surrounded by water?  LOL
Key West is…
Special!
Now that you know where the locals go and some of Todd's favorites, make sure to check them out next visit to Key West. Please remember to share yours with us. #somolife
Sign up for exclusive offers – direct to your inbox!