Ghostly Gatherings in Key West
10 Most Haunted Key West Ghost Hunt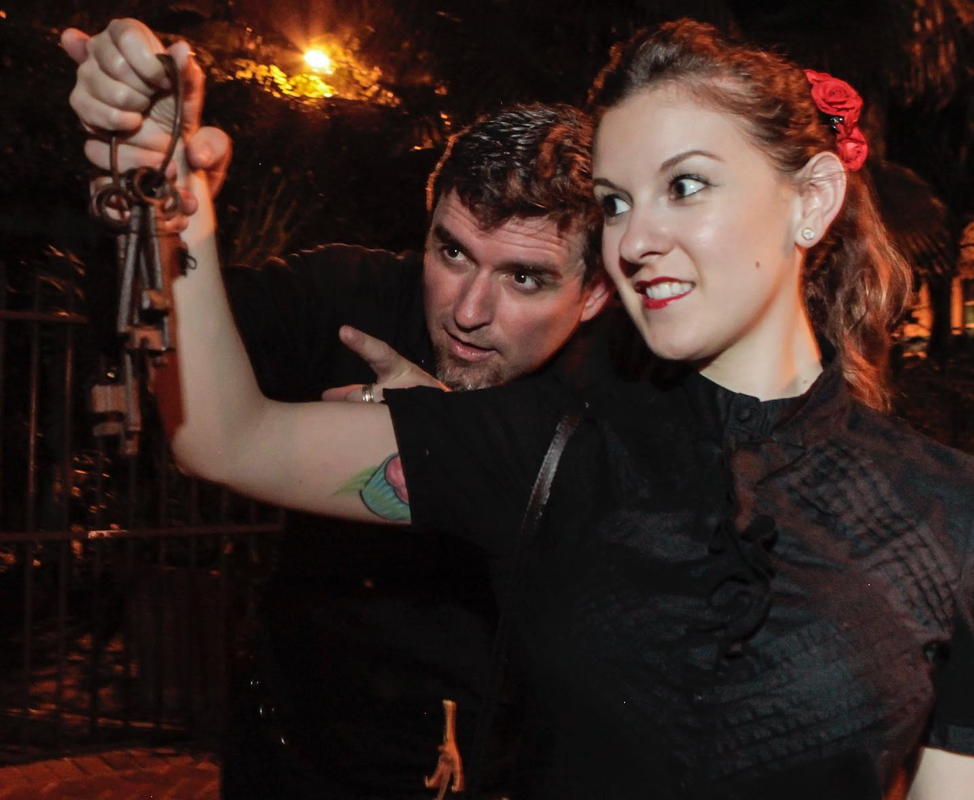 Haunted Key West Tours
As you know, Key West is known for so many things, but who knew one of them would be ghosts! It's time to get into the spirit and talk about haunted Key West as ghost tours are gaining some traction and on the top list of things to do in paradise.
We met up with David Sloan, renowned author, paranormal investigator, historian, and owner of Haunted Key West Tours to find out about new spirits and ghostly gatherings around town including the 10 Most Haunted Key West Ghost Hunt.
About the 10 Most Haunted Key West Ghost Hunt
This new hunt has brought ghostly gatherings to another level. Here's what you can expect; besides the unexpected, I mean, we are seriously talking about ghosts. The 10 Most Haunted list consists of a stunt pilot's widow, the ghost of a murdered cheating judge, yellow fever babies, a demon doll, the ghosts of Captain Tony's a haunted mansion, and more.
Highlights of the tour include the use of a spirit pendulum to help find out who murdered Tennesee William's gardener and the use of witch rods to search for the grave of Elena Hoyos.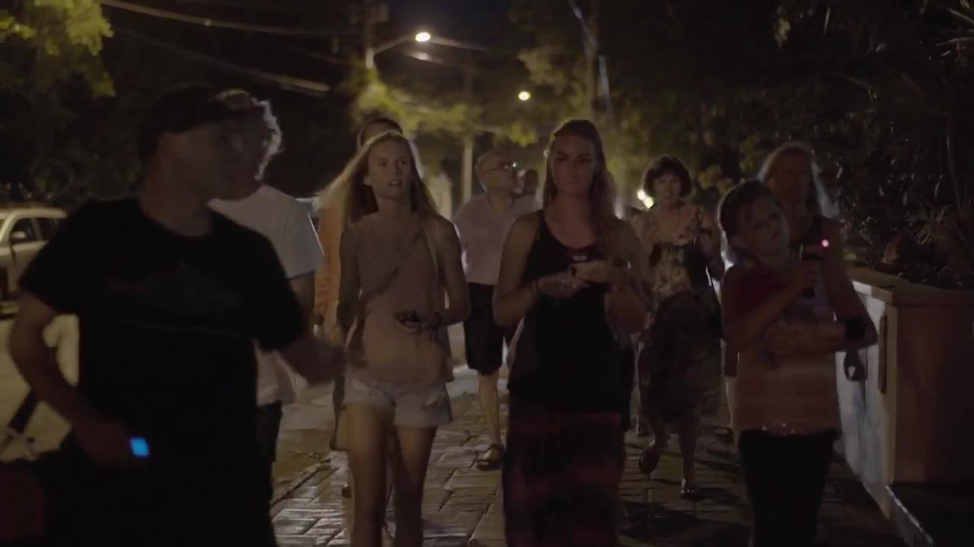 Photo Credit: Haunted Key West Tours Facebook Page
With state-of-the-art ghost hunting equipment and insider knowledge from ghost hunting experts, you never know what (or who) you'll encounter on a Key West ghost tour.
Experiences range from a poke or grab, to the smell of perfume wafting through the air, or the blur of a shadow as it flies through an old site. How cool to track down a spirit using ghost-hunting equipment while on vacation!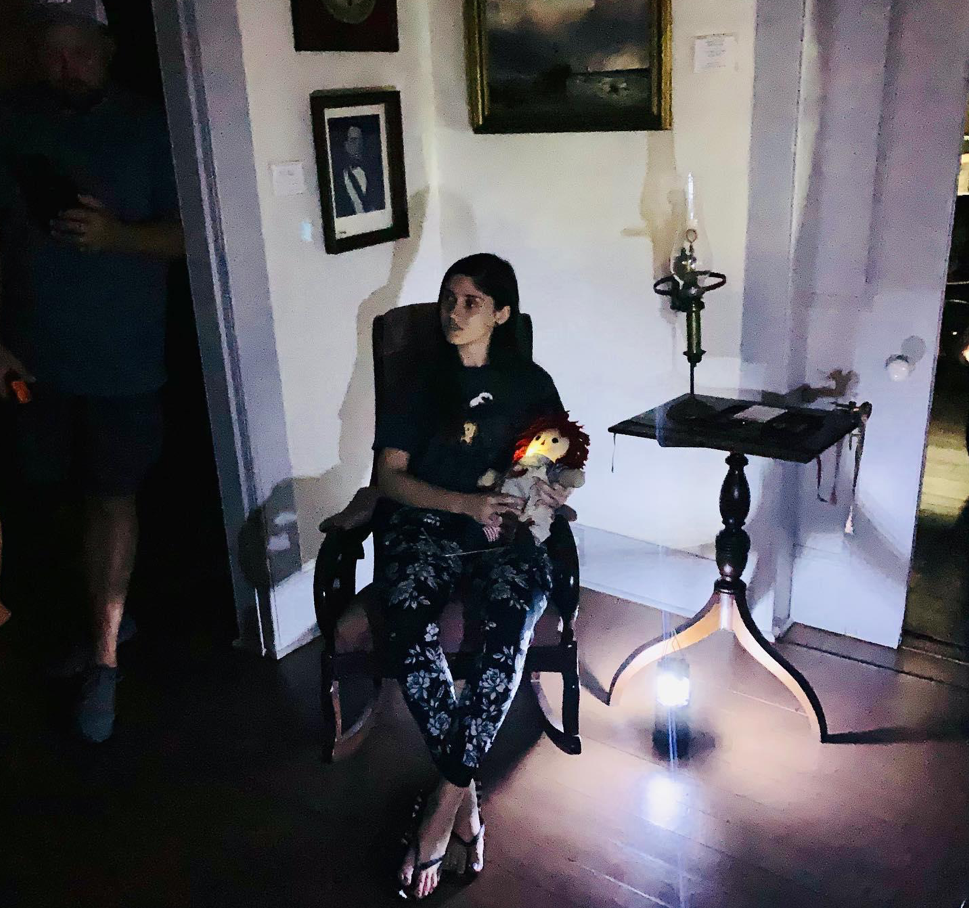 Photo Credit: Haunted Key West Tours Facebook Page
Our "10 Most Haunted" Ghost Hunt has exclusive access inside the oldest and most haunted house in South Florida during the month of October. Experience a spirit box session with the resident ghosts. One guest will even get a chance to sit in the haunted rocking chair.
What people are saying about the "10 Most Haunted" Key West Ghost Hunt"
Spooky & Historical!
We enjoyed using "ghost hunting" tools! It's a leisurely walk around historical sites & takes about 90 minutes. Briana was our guide. She had a ton of interesting information to share with whitty jokes in between stories. If you're trying to decide which ghost tour to choose, pick this one! ~ Sarah K., TripAdvisor
Absolutely awesome time on the tour last night. Sheila did a great job as tour guide and tons of new stories. Added bonus of having time to chat with the man himself David Sloan. ~ Bill Brown, Facebook Review
Whether you're a skeptic or a true believer, the ghost hunt is exciting for all guests and a unique way to tour Key West's Old Town.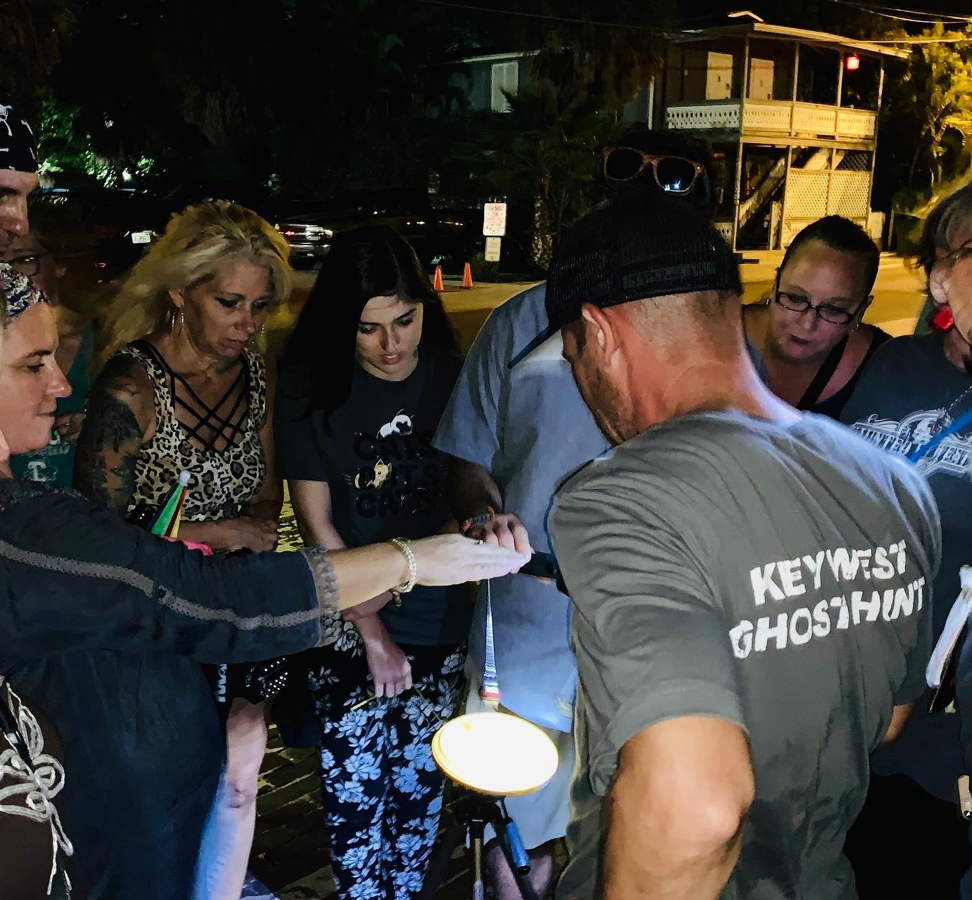 Photo credit: Haunted Key West Tours Facebook Page
Help us discover who murdered Tennessee Williams' gardener with a spirit pendulum session at the scene of the crime.
We asked David to share a few ghost stories with us, so here are a few from the paranormal investigator himself:
A psychic was visiting the Curry Mansion and picked up on a woman named Sarah in the kitchen. David thinks this could be Sarah "Aunt Sally" Lowe Curry, the woman credited with inventing Key Lime Pie.
The Oldest House ghosts are my favorite right now. "I've always felt protective of Elena Hoyos, and she may be buried on the grounds of the Oldest House," says David.
A Cuban woman's spirit has been seen walking in the Gardens. There is a heart-shaped garden, and some wonder if that's where she is.
The Watlington girls' presence is felt here. There were nine of them, Miss Lilly is a favorite, but they are all starting to show up.
David Sloan's Haunted Key West Tours was named one of the fastest-growing ghost tours in the US to check out by ABC and GMA. We agree and are glad these paranormal rock stars who geek out on ghosts are right here in our backyard. So next time you visit, add the 10 Most Haunted Key West Ghost Hunt to your list of things to do and see.
10 Most Haunted Ghost Hunt
Duration: 1.5 – 2 hours
When: Nightly
Meeting Location: 301 Whitehead Street (Corner of Caroline Street) Key West
305-395-1435
Cost: $30 per person
Check-in is at least 15 minutes prior to the scheduled time on the front porch of First Flight Island Restaurant and Bar, 301 Whitehead Street.
Book Now
Since check-in is 15 minutes prior and the location is outside the First Flight Restaurant & Brewery, you might want to grab a drink before to calm your nerves.
Tell us, have you encountered any spirits during your visit to paradise? #somolife
Sign up for exclusive offers – direct to your inbox!