Key West Holiday Events 2023: Your Guide to Festive Celebrations
As the holiday season approaches, Key West unveils a celebration style that's uniquely its own. This guide is designed for everyone – whether you're a seasoned guest or a newcomer eager to immerse yourself in our festivities. From vibrant parades—by land, sea, and bike—to holiday music, choirs, Santa sightings, and even a hint of snow and ice skating, you'll experience an island take on holiday magic unlike anywhere else. Here, where the palm trees sway amidst festive lights, let Key West's blend of holiday warmth and tropical charm invite you to your home away from home. Because, as you know, there's no place like Key West for the holidays. Now, let's dive into the fun festive events taking place this season! (Photo courtesy of ROB O'NEAL/The Citizen Photo by Rob O'Neal.)
Harbor Walk of Lights (November 22 – December 31)
November 22nd – The Lighting of the Harbor Walk of Lights 
The holiday season in Key West officially begins with the lighting of the "Harbor Walk of Lights" on November 22nd. Located at Greene and Elizabeth St., the Harbor Walk transforms into a luminous maritime showcase, illuminating both the Seaport and Harborwalk throughout the festive period. From the standout 20-foot Fishing Buoy Tree and the 16-foot Nautical Christmas Tree to the cherished Lobster Trap Tree, this display captures the very spirit of Key West. And while you're there, look out for the whimsical light sculptures: delightful pelicans, cheerful manatees, and our iconic pink flamingos, all set against a backdrop of glowing palm trees by the Seaport.
3rd Annual Holiday Village & BeLighted Bike Ride (December 1)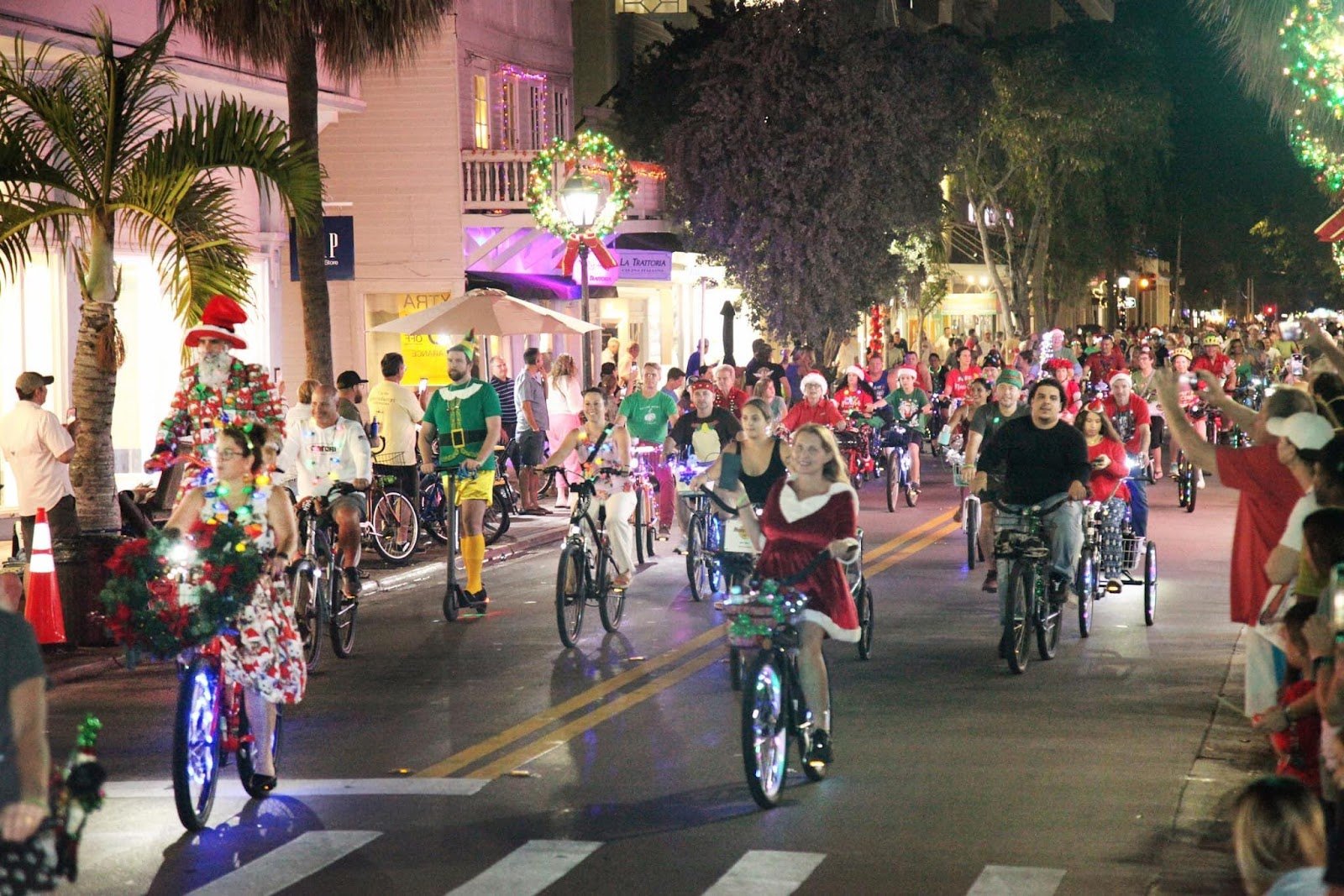 The 3rd annual Holiday Village & BeLighted Bike Ride is here, and it promises to be more enchanting than ever. Touted as the ultimate kick-off to the festive season in Key West, the Holiday Village offers an exhilarating evening for folks of all ages. This year, we're upping the ante with not one but two exciting rides. And for our younger guests? They can look forward to two expansive, holiday-themed inflatable obstacle courses. And because it's Key West and we love a touch of the unexpected, don't be too surprised if you see a hint of snowfall! The BeLighted Bike Ride, a radiant spectacle on wheels, takes off at 8 p.m. from the Truman Coffee Butler Amphitheater. Cyclists will trace the iconic route of the Fantasy Fest Parade. And for those who've decked out their bikes? Stay on after the ride for the "best bike" contest. It's time to light up the night!  Holiday Village 4-8 pm. The bike ride leaves at 8 p.m. (Photo courtesy of Carol Tedesco.)  Learn more. 
Key West Hometown Holiday Parade (December 2)
Imagine the picturesque streets of Key West bursting with energy as local bands, community floats, and spirited groups participate in the Hometown Holiday Parade. The parade begins at 7 p.m. at Truman Avenue and White Street, right next to Bayview Park, and then winds its way down Duval Street before concluding at Eaton Street. The highlight for many? Seeing the children's faces illuminated with joy and anticipation at the magical sight of Santa. Truly, it's one of our most cherished holiday parades.
Annual Holiday Concert & Bazaar (December 8)
Next up is the Key West Art & Historical Society's Holiday Concert & Bazaar at the Key West Museum of Art and History, also known as the Custom House (the Big Red Brick Building.) This evening presents a joyous ensemble of local artisans, melodic choirs, and holiday entertainment, complemented by a sprinkle of festive libations. And let's not overlook the mesmerizing light show, thoughtfully designed by the brilliant minds at Key West High School's Conch 5 Studios
Holiday Sights & Festive Nights Tour (December 8-12, 15-23)
All aboard the Conch Tour Train for a delightful tour of Key West's holiday-decked-out spots.  It's an hour tour that takes you to all of the island's most elaborately decorated neighborhoods, and there will be caroling too. Tickets are priced at $32.95 for adults and $22.95 for kids, with tots under two riding for free. Don't miss the special holiday glasses that add an extra sprinkle of magic to the already enchanting sights! For ticket information, click here.
Key West Lighted Boat Parade (December 9)
Key West brings its unique flair to the festive season with the 32nd Annual Schooner Wharf Bar/Absolut Vodka Lighted Boat Parade on December 9th. As the sun sets and 8:00 pm approaches, the Key West Bight and Harbor become a dazzling display of maritime merriment. The festivities commence at 6 pm, with the Harbor Walk coming alive with twinkling decorations and the infectious melodies of Caribbean Christmas carols, thanks to the Bahama Village Music Program's "House of Pan" steel band.
A variety of vessels, from battery-lit kayaks to grand schooners, showcase the island's creativity, adorned with everything from playful dolphins to iconic conch shells. It's not just a parade; it's Key West's maritime holiday tradition, reflecting the island's spirit and charm. With palm trees as festive symbols, dancing gingerbread men, and a hint of the Grinch, this event celebrates the season in true Conch Republic style. 
Winter Wonderland in Paradise! (December 15-30)
New this year! At Truman Waterfront Park, the Coffee Butler Amphitheater is transforming into a wintry oasis this December. Even amidst Key West's tropical climate, we're introducing a sprinkle of winter magic. Guests can glide on a custom ice skating rink, complemented by festive music and twinkling lights. Winter Wonderland also features rides like carousels and slides, a vendor village for unique holiday shopping, and a variety of tasty treats. For the little ones, there are crafts, letter-writing to Santa, and memorable photo opportunities.
Admission is just $10 per person, with children 5 and under entering for free. An additional $20 lets you skate for an hour, and a $10 All-You-Can-Ride wristband provides access to all the rides. For tickets and further details, click here.
New Year's Eve Drops (December 31)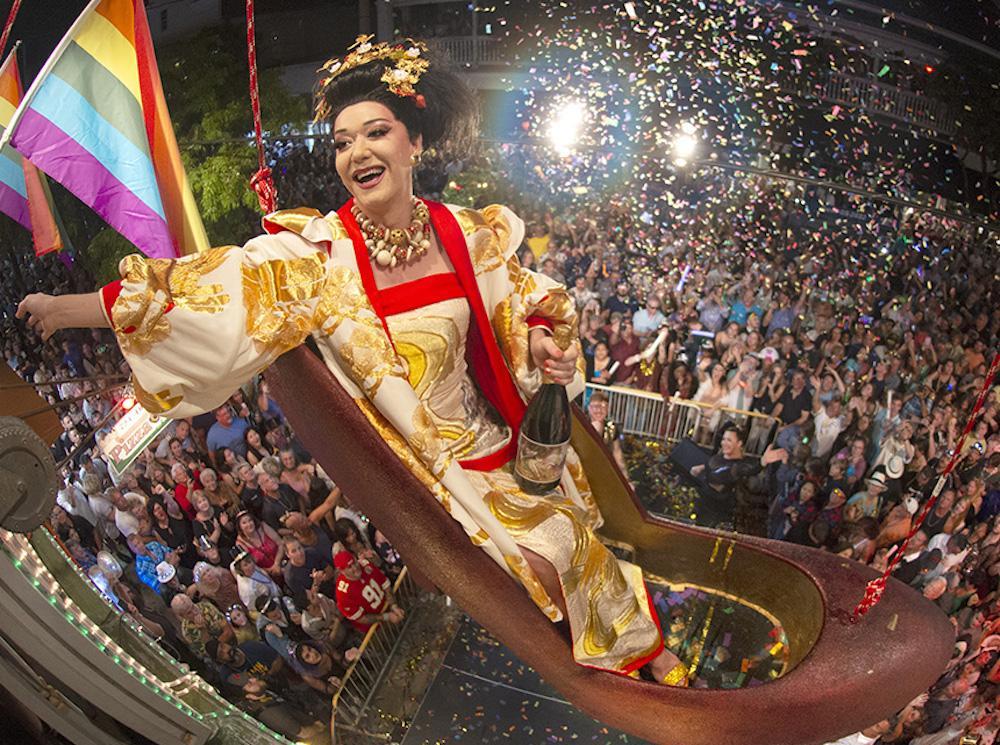 We end the year with not one, but three sensational drops! Whether it's the new Queen's "Red Shoe Drop" at the Bourbon St. Pub, the iconic "Dropping of the Conch Shell" outside Sloppy Joe's Bar, or the thrilling "Lowering of the Pirate Wench" at Schooner Wharf Bar in the Historic Seaport, there's a countdown for everyone. (Photo courtesy of Andy Newman, Florida Keys News Bureau.)
Basking in holiday glow, where the ocean meets the mistletoe. With a splash of sun and a dash of fun, our tropical holiday has begun. Happy holidays from our family to yours. #somolife
Sign up for exclusive offers – direct to your inbox!