New In Town: Let's Eat
Key West is well known for many things and one of them just happens to be the world class restaurants, eateries and cafes. We'll do our best to keep all of our foodie travelers and enthusiasts up to date on what's new in town by introducing you to the best burritos, dumplings and comfort food on the island. Let's go on a culinary adventure in Key West at Sinz Burritos, The House of Wu and Mary Ellen's Bar:
Sinz Burritos
Sinfully Delicious!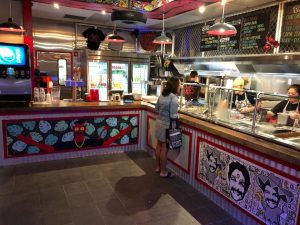 Photo Credit: Sinz Burritos Facebook Page
At the corner of Truman and Duval is where you'll find the "best burrito in Key West." It's not your average walk up burrito bar. It's more than that. It's cool, it's hip, it's fresh and it's Sinz Burritos.
When you walk in you're greeted by friendly faces in an eclectic, colorful and inviting atmosphere. Walk up to the bar and start building your masterpiece: pick your protein, add-ons, salsas, cheeses and sauces, and sides. Everything is Fresh Fresh Fresh – fresh ingredients across the board. You aren't creating a taco, tostada or burrito bowl, you are creating something spectacular with a little bit of help from our friends at Sinz. This is another place you will fall in love with and walk away saying "It's the best burrito ever" because it really will be. View the Menu.
What people are saying about Sinz Burritos
"Sinfully Delicious"… "Where have you been all my life"… "A sensual overload"… "Best Burrito in Key West." As you can see this new restaurant is definitely worth seeking out and another place you will visit often. "Been here twice and can't wait to go back. Fresh and delicious food. Many options to choose from and totally customizable. ~ Chelsea A Jaremko (Google Review)
Address
500 Truman Ave., Unit 1
Hours: Mon- Sat 11am – 10pm
Key West, FL 3304
House of Wu
Authentic Delicious Dumplings in Key West!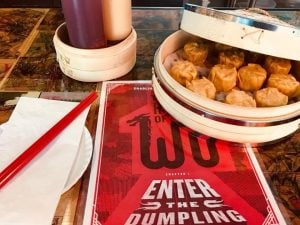 Photo Credit: House of Wu Facebook Page
Next door to our friends at Sinz Burritos is where you'll find the House of Wu, another phenomenal food find and nice addition to the world-class restaurants we have here in Key West.
"Authentic and delicious dumpling house. Pork shu mai and spicy beef dumplings are not to be missed, along with great sake and wine & beer selection. But oh, the tea menu!! Very well described and accessible with offerings for every preference. Love this little gem!" – Stephanie Southgate, (Facebook Review)
A hidden gem indeed with an assortment of amazing dumplings. House of Wu is open Tuesday through Sunday. They open at noon and close at 10pm and on Sundays make sure to check out Dim Sum Kung Fu Brunch.
To view menu please visit the House of Wu Facebook page.
Address
500 Duval Street, #9
Key West, FL 33040
Open 12pm – 10pm Mon-Sat and Sun 12pm – 5pm
Mary Ellen's Bar

Photo Credit: Mary Ellen's Bar Facebook Page
Mary Ellen's is a friendly neighborhood bar with a selection comfort food to make you happy.
So this is the place you definitely want to check out day or night. Personality plus and it's loved by locals and tourists for the food, entertainment and ambiance. It's another restaurant tucked away off Duval and a fun place to eat and drink. The menu goes above and beyond what you might expect for a "friendly neighborhood bar." It's fun! It really is, they even have a selection of "Happy Snacks" on the menu along with nine versions of Grilled Cheese. Expect the unexpected when you walk in and taste anything on the menu because it definitely be much more than expected. This is one of those places you'll go back and visit time after time.
There is more than food going on at Mary Ellen's. The entertainment is just as creative as the food. There are comedy nights, open mic nights, trivia nights, special events, drunken spelling bees, service industry night, DJ's and more! To find out what's happening at Mary Ellen's Bar your best bet is to follow them on Instagram or Facebook.
Mary Ellen's is open 11am – 4am so it's a great place for breakfast, lunch, dinner and the place to go for late night bites. View the menu.
Address
420 Applerouth Lane
Key West, FL 33040
Open 11am – 4am
All three of our foodie finds bring something new to the table and Key West. Make sure you seek them out on your next night out in Key West. #somolife
Sign up for exclusive offers – direct to your inbox!