The Best Happy Hour Hangouts in Key West
Wondering where to eat and drink during the happiest of hours in Key West? You're not alone, as our team gets asked this question all the time. Let's take a stroll through town, and along the way, we'll share some historic tidbits while enjoying an explosion of flavors in food and drink in paradise. Here are four of the best happy hours in Key West: Alonzo's Oyster Bar, Santiago's Bodega, Bagatelle, and First Flight Island Restaurant & Brewery.
Alonzo's Oyster Bar
Alonzo's Oyster Bar is located at the A&B Marina, offering the coolest cocktails, freshest seafood, and amazing views of the marina filled with schooners and yachts and boats. There is a ton of activity going on here. It's a great people-watching location, especially if you eat and drink outside on the dock and wraparound porch.
If you arrive right at 4 pm, check out the Tarpon feeding on the harbor walk docks right outside Alonzo's at the A&B Marina on Front Street. It's another cool thing to do and see while visiting.
'Alonzo's Oyster Bar is where you get… the freshest seafood – dock to dish. Surrounded on three sides by water… right in the midst of Key West's "Elite Fleet" of fishing boats and historic tall mast Schooners."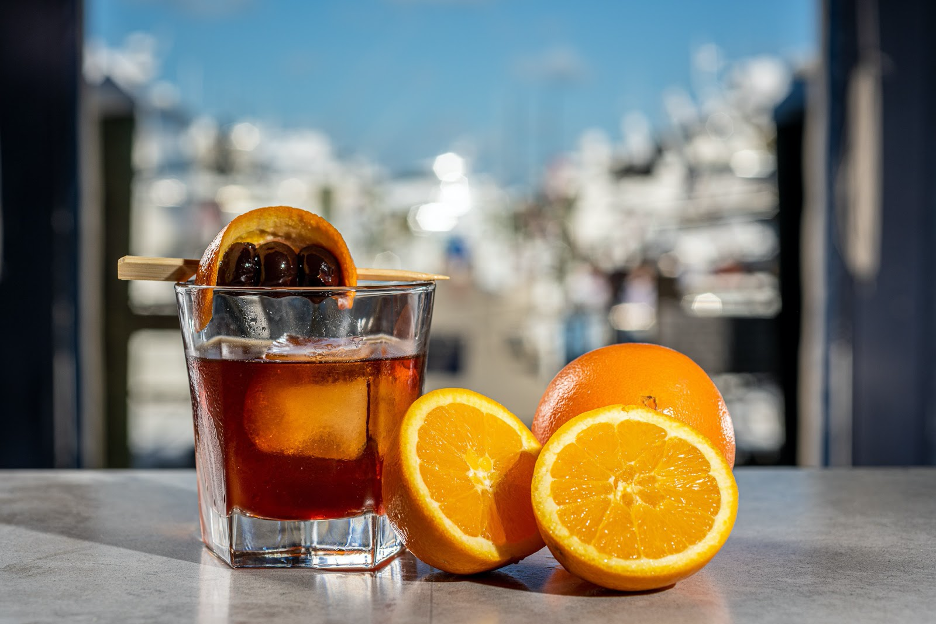 Photo credit: Alonzo's Facebook Page
The Happy Hour
Happy Hour specials from 4-6:30 pm daily
During happy hour enjoy half off well drinks, beer, and wine by the glass – plus great deals on tapas-style bites, including the freshest locally sourced seafood everyone will enjoy.
Some of the happy hour menu items include:
Tapas Style Peel & Eat shrimp • 1/2 lb 10 • 1 lb 16 / Crab Cake Sliders • 14
Conch Fritters • 9 / Bang Bang Shrimp Tacos • 9 / Crispy Onion Rings • 6
Buffalo Shrimp • 11 / Beer Steamed Shrimp • 1/2 lb 10• 1 lb 16
Mussels Diablo • 12 / Smoked Fish Dip • 9 / Fried Calamari • 11
Bahamian Conch Ceviche • 11
Oysters Combo • 12 / Soft Pretzel with Beer Cheese • 6 / Chicken Wings • 9
Bucket of Steamed Clams • 12 / Raw Oyster of the Day • 2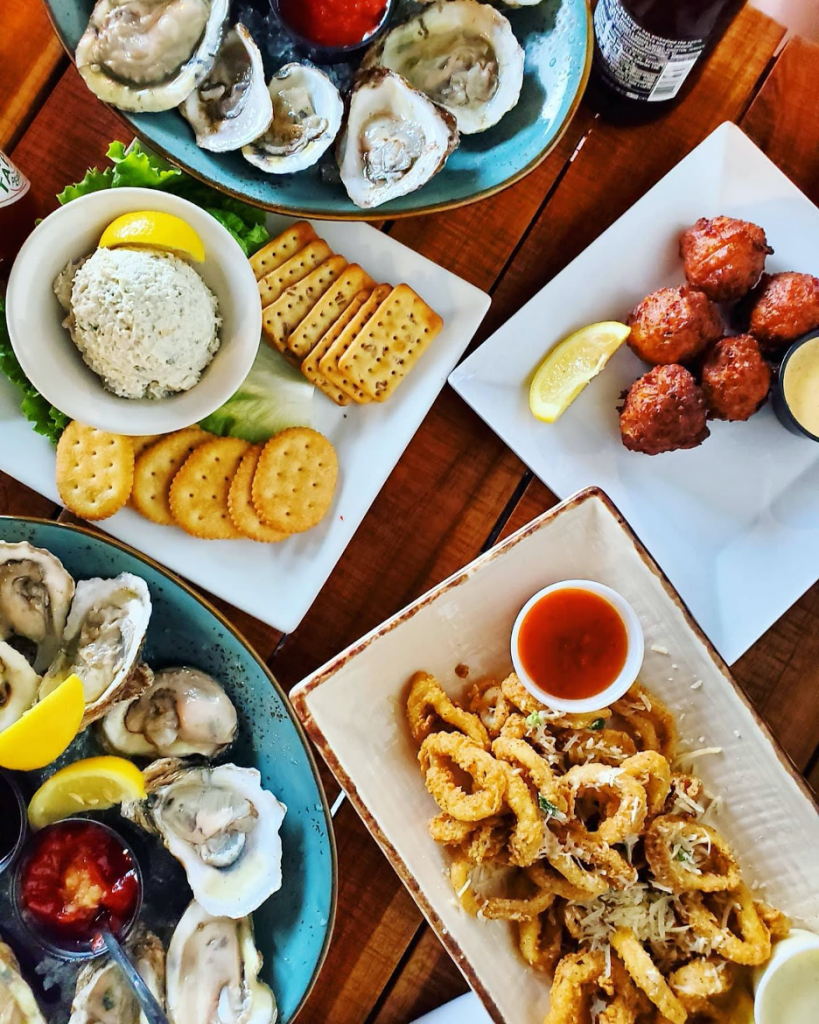 Photo credit: @the_local_life_kw
What people are saying about Alonzo's Happy Hour:
Tips are welcome and here's one from @the_local_lifekw
"the happiest hour! Pro tip…get ALL the items on the happy hour menu."
"One of the best happy hours on the island. Just wish it was longer!" – Laura Lourenco, Facebook Review
Alonzo's Oyster Bar is where you come to be totally immersed in what Key West is all about, so make sure to eat and drink here when you visit us.
Alonzo's Oyster Bar
Happy hour 4 pm – 6:30 pm
Open daily 11 am – 10pm
700 Front Street
Key West, FL 330040
305-600-3405
Bagatelle
Located on the world-famous Duval Street, Bagatelle is situated in a historic, architecturally-beautiful building, built in the 1800s, that was converted into a restaurant in 1979.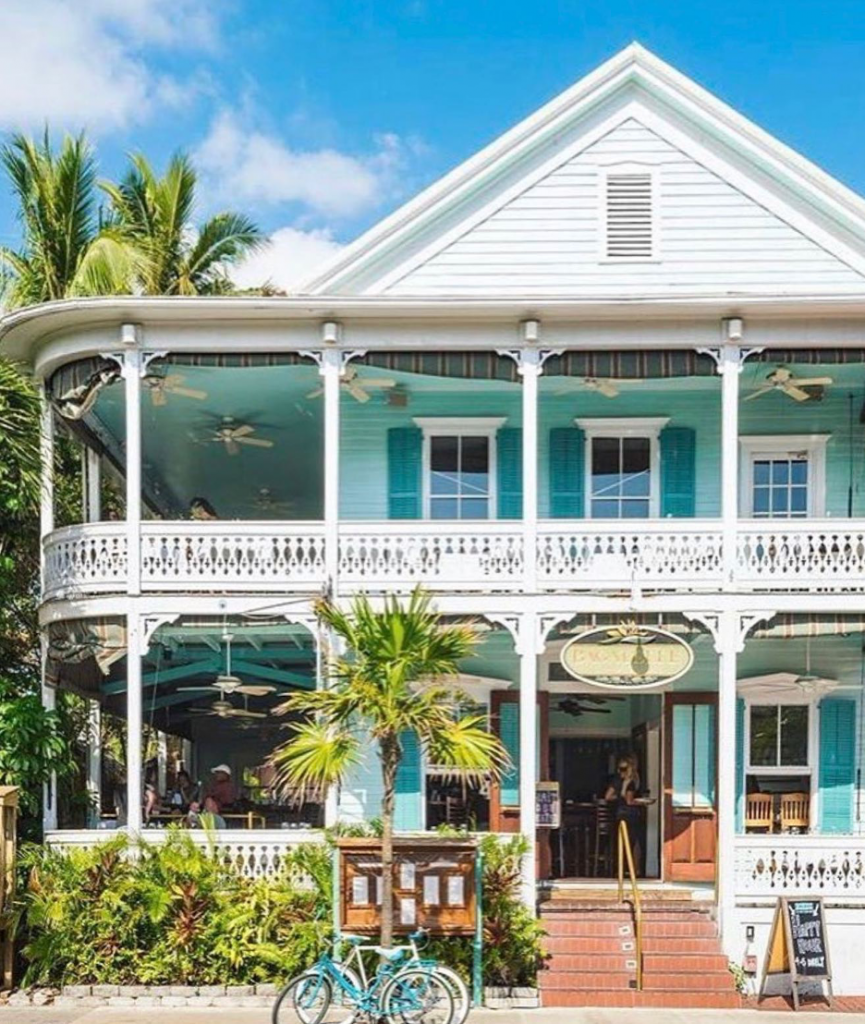 The Happy Hours
Breakfast hangover happy hour 9 – 11:30
Afternoon Happy hour 4 – 6 pm
Oh Bagatelle, how cool are you to offer two happy hours …you really have thought of everything! A breakfast hangover happy hour from 9-11:30 am daily, highlighting a tapas, small-plate style breakfast. Afternoon happy hour is from 4-6 pm daily at the bar, offering $5 tasting plates and half off most cocktails.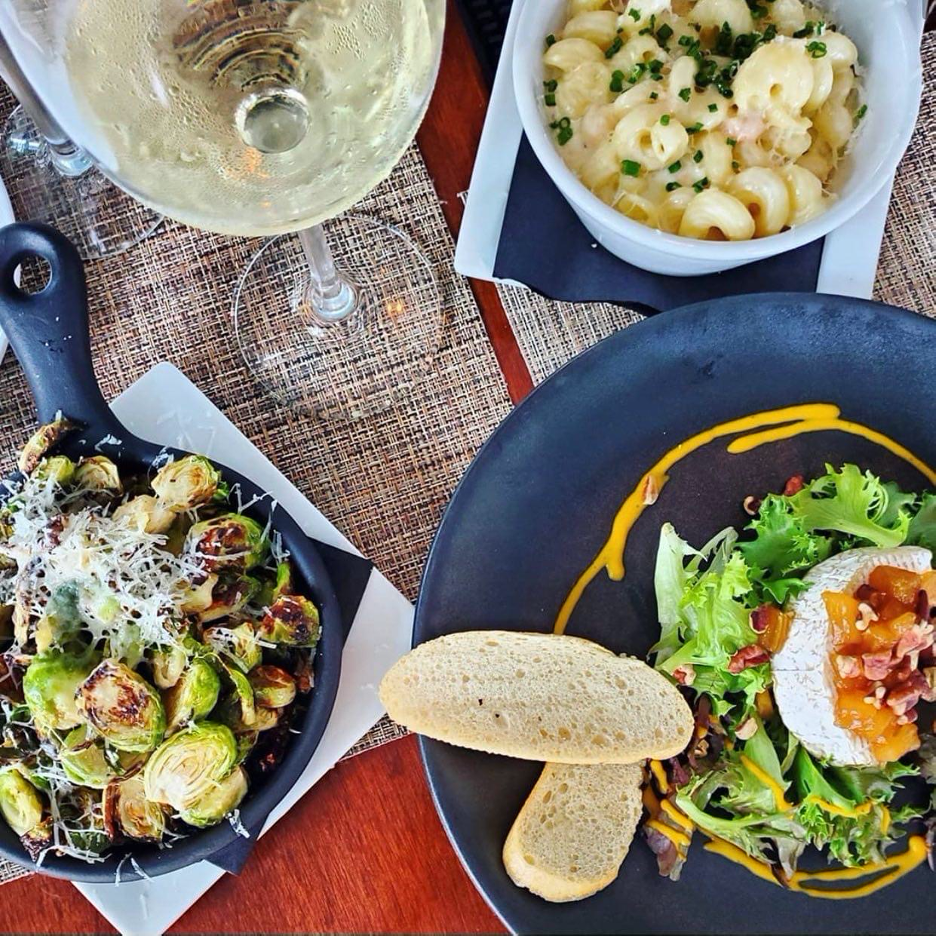 Photo credit; @the_local_life_kw
What people are saying about Bagatelle Happy Hour:
"Best Happy Hour
This is another place that we consistently visit on each time we come to Key West. They have a five-dollar appetizer menu for happy hour. We usually order a couple of each. When you walk in, go all the way upstairs and to the back bar." – sundayfunnies, rifle colorado – TripAdvisor
Bagatelle Restaurant Key West
Happy Hours 9 am – 11:30 am and 4 pm – 6 pm
Open daily 9 am – 12 am
115 Duval St, Key West, FL 33040
(305) 296-6609
First Flight Island Restaurant & Brewery
Located at the corner of Whitehead and Caroline Streets is First Flight Island Restaurant & Brewery, the birthplace of Pan American World Airways. Did you know that Pan-Am's first tickets were sold out of this very building in 1927, and Pan Am was the principal and largest international air carrier in the United States from 1927 until its collapse on December 4, 1991?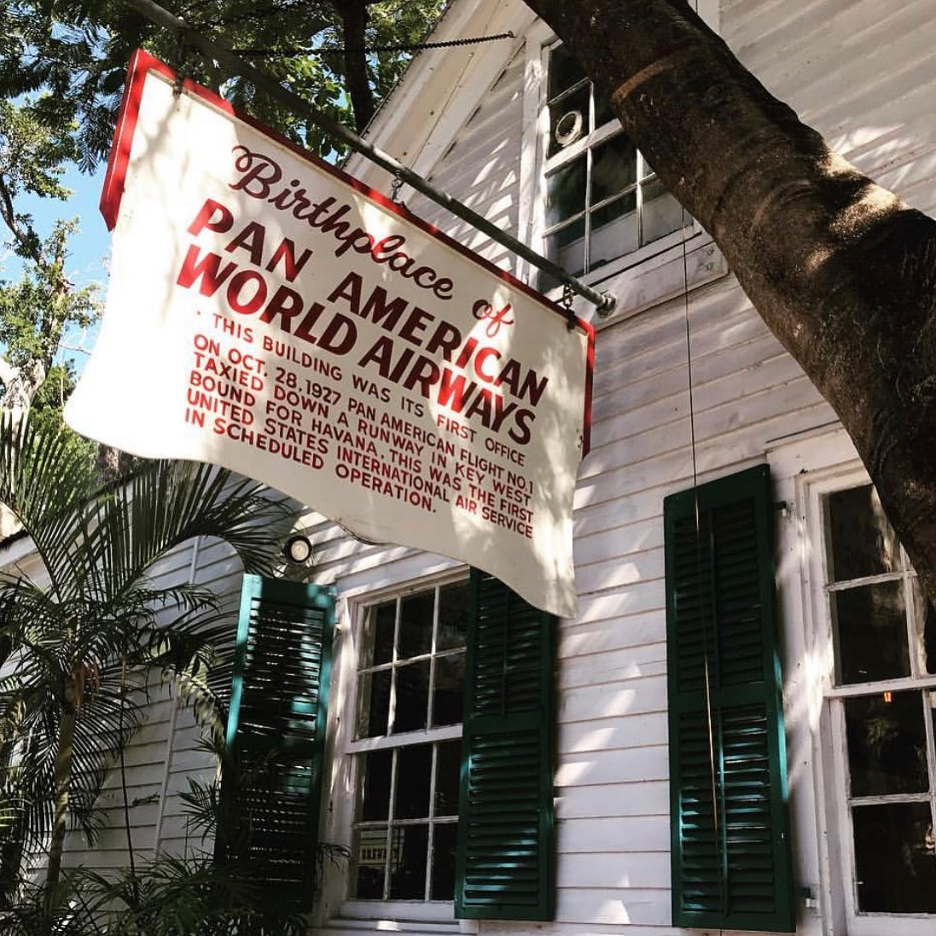 This is also the birthplace of the Southernmost Brewery in the States where 3 flagship and seasonal beers are made by Brewmaster Andrew Koennecke.
The Happy Hour
4 pm – 6 pm daily
House Brews $3.50 / Pint
$5 Cocktails on Tap!
Premium Well Spirits /Key Lime Margaritas / Fresh Lime Margaritas
$5 House Wines
Sparkling – Brut or Rose
Pinot Noir/ Malbec /Cabernet / Chardonnay / Sauvignon Blanc / Pinot Grigio Rose
$5 Food Specials
Beef Brisket Mac & Cheese / Confit Chicken Wings / Hummus Trio
Deviled Eggs / Cone of Fries / Fried Ravioli /
$7 Food Specials – Kobe Sliders / Tuna Tacos
The restaurant features a beautiful garden dining area, an inside dining room with Pan American memorabilia, and an indoor-outdoor crash bar made from an airplane wing. A very cool, hip, and historical Key West vibe.
What people are saying about First Flight Happy Hour:
"Five Stars
Great stop in Key West with a very cool history, especially for those with an interest in aviation. The beers on tap were great, and the happy hour special is one of the best on the island. Bartender was very cool. Great atmosphere and table games to play if you wish. I will make this a stop every trip down to Key West! #FirstFlightRestaurant #buzzybooth" – Steve, Google Review
"This is the place we kept coming back to on our Key West vacation. They have a great selection of beers and some of the best food. Their happy hour is awesome – the chicken wings, deviled eggs; and ravioli were incredible and only $5. The drinks, 3.50 for beers, and $5 for the key lime marg. That is a drink you must try – not too sweet and great key lime taste. Very friendly staff." – Alison L., Yelp Review
So many unique experiences are waiting for you at First Flight. The food is excellent, the beers and cocktails are spectacular, and the mac and cheese with short ribs…let's just say is out of this world delicious!
First Flight Island Restaurant & Brewery
Happy Hour 4pm – 6pm
Open Daily 11am – 10pm
301 Whitehead Street
Key West, Fl 33040
Santiago's Bodega
Best Sangria on the island!
Located off the beaten path in the heart of Bahama Village is where you'll find Santiago's Bodega, a charming, quaint tapas-style restaurant where you can enjoy great food with family and friends.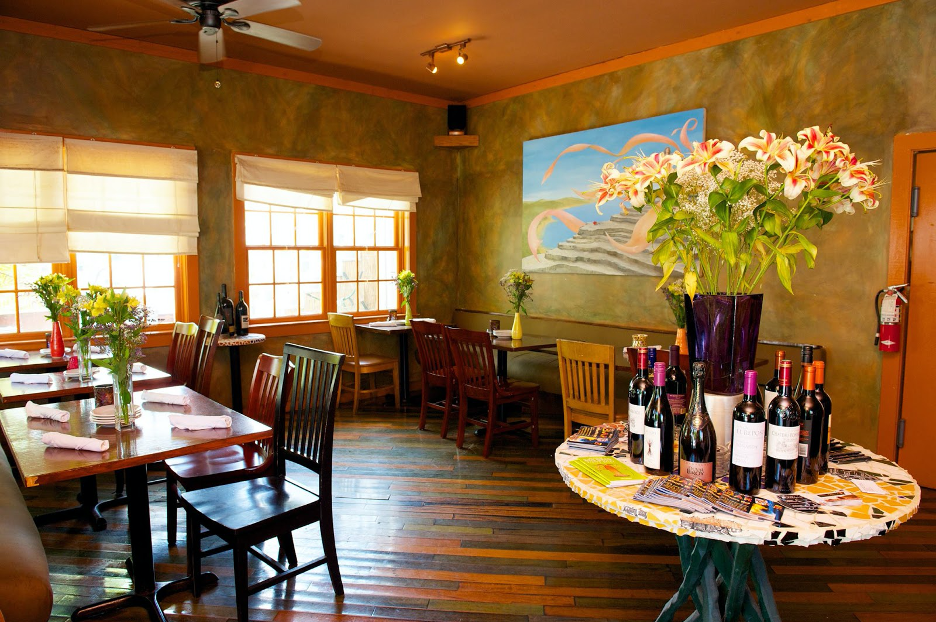 "Santiago's Bodega embodies the heart and soul of its original island home in Key West, FL. Where characters, stories, cultures, and food combine to create the perfect union. Relaxed, eclectic, perhaps even a little odd elsewhere, but one human family at The Bodega."
This is the place to go for Tapas (and Sangria) in Key West!
At Santiago's Bodega, you'll be served tapas bar pairing small plates and the house-specialty sangria. The Sangria deserves awards and accolades; it's that good.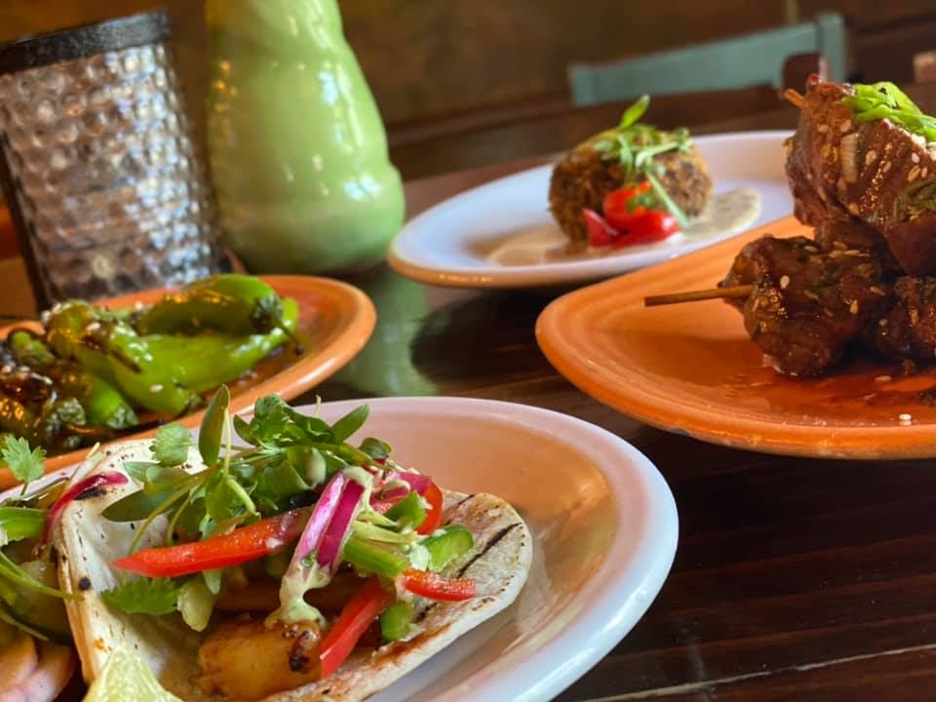 The Happy Hour Specials
$5 Happy Hour 3 pm – 6 pm Daily
*The Tapas Menu changes daily.
A sample of Santiago Bodega $5 Happy Hour Tapas Menu
Bulgogi Beef Skewers, Cajun Shrimp Tacos, Sour Slaw, Blistered Sweet Chili Shishito Peppers, SouthFlorida Crab Cake, honey mustard Aioli
Half Off – Wine by the glass, Sangria by the glass, Draft & Bottled Beer
$10 off Bottles of Wine & Pitchers of Sangria
What people are saying about Santiago's Bodega Happy Hour:
"Now part of my top ten…
Great space. The outside atmosphere was so secluded. We enjoyed pitchers of sangria and happy hour. Vegetarian friendly tapas as well. Kids would like it too. Now a part of my Top 10 in Key West." – Aditi Shah, Google Review
"Cozy and Eclectic
If you like small plates, tapas, and charm, then you need to check this place out. It is cozy and eclectic in design. We went at the happy hour where drinks and tapas selections were half price and were very satisfied. But we didn't stop there. Then we ordered several items from the menu to share and were not disappointed at all. The service was excellent, the waitstaff very attentive and there was never a lag between ordering and getting our food. We will definitely go there again on our next trip to Key West." – Susan Ketchum, Google Review
Santiago's Bodega is another local favorite and the go-to place for good food and drinks.
Take advantage of the happy hour specials, and make sure to try the specialty sangria!
Santiago's Bodega is wine and beer only and the tapas menu changes daily.
Santiago's Bodega
Happy Hour 3-6 pm daily
Open 11 am -10 pm
207 Petronia Street
Key West, FL 33040
Cheers to a Key West vacay and the best places to unwind, grab a drink during happy hour! Tell us about some of your favorite happy hour hangouts. #somolife
Sign up for exclusive offers – direct to your inbox!