The Best Holiday Events In Key West this December
It's the most magical time of the year and Key West is all decked with a colorful and creative lineup of holiday events. There will be concerts and classics with a Key West twist, lighted boat and bike parades, Santa sightings, and celebrations like no other to ring in the New Year. Here are a few of our favorite holiday happenings in Key West this December:
Holiday Village and BeLighted Bike Ride
December 2nd, 4-8 pm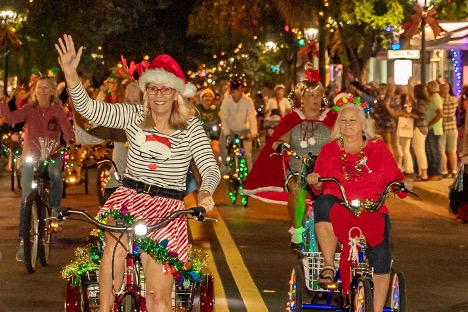 Hundreds of holiday bikers decorate the streets of Key West for a good cause and have loads of fun at the same time at the Wesley House Family Services Holiday Village and BeLighted Bike Ride at the Coffee Butler Amphitheater at the Truman Waterfront Park. The fun starts with a family-friendly party with Santa that includes music, crafts, games, food trucks, and treats for the kids. There's even a "Best BeLighted Bike" contest.
Admission fee includes Holiday Village and Bike Ride. The bike departs at 8 p.m. Learn more about the Holiday Village & BeLighted Bike Ride 2022.
Key West Holiday Parade
Saturday, December 3rd, 7 pm
One of the best parades on the island is Key West's hometown holiday parade, where everyone gets in the spirit – there will be marching bands, groups, floats, pets, and children patiently waiting on the sidewalk for Santa to arrive. A fun family holiday event for everyone. The parade kicks off at 7 p.m. at Truman Avenue and White Street beside Bayview Park, and the route continues on Duval Street.
Nutcracker Key West
December 7-11
This holiday tradition, Nutcracker Key West, is dazzling and unique with its tiny chickens, humorous roosters, shrimp, and brilliant jewels of the Atocha. A sumptuous, artful, theatrical experience wrapped as a perfect gift for the Southernmost City, Key West's NUTCRACKER! Professional dancers from around the world will join community performers—a holiday classic with a Key West twist. Performances are at the Tennesee Williams Theatre. Buy Tickets.
5th Annual Holiday Concert and Bazaar at the Custom House
Friday, Dec 9th, 5 to 9 p.m.
The event takes place on the sweeping historic porch of the Key West Museum of Art & History and features Key West's finest artisans, musicians, and choirs, food and libations, and a holiday light show. Learn more.
Schooner Wharf Annual Lighted Boat Parade
Saturday, December 10th, the parade starts at 8 pm, and holiday entertainment at 6 pm.
Head to the Key West Bight Marina at the Historic Seaport for the Schooner Wharf Bar Annual Lighted Boat Parade. The parade features decorated vessels (including but not limited to – Kayaks, fishing vessels, and classic schooners, parading through the Seaport.  The parade starts at 8 pm, but we recommend you head over early as you don't want to miss the children of Gerald Adams Elementary Steel Your Heart Band performing Christmas tunes at 6 pm, followed by live music and performances throughout the evening.  Visit Schooner Wharf Bar to learn more.
While you're there, stroll through the Historic Seaport and enjoy the Key West Harbor Walk of Lights.  You won't be disappointed.
New Year's Eve Celebrations
December 31st
Celebrate the New Year Key West style! There are so many colorful and creative ways to ring in the New Year; here they are: Watch Sushi drop from a High Heel Shoe at Bourbon Street Pub on Duval Street, a Pirate Wench descending from a tall ship at Schooner Wharf Bar, and the Conch Shell drop from the iconic Sloppy Joe's Bar. You can visit all these locations throughout the night and celebrate with new and old friends as you ring in the New Year with us.
Santa Sightings
We saved the best for last. Just because you are on vacation doesn't mean Old Saint Nick won't find you. You'll see Santa spreading holiday cheer across the island.
Happy Holidays from our family to yours. #somolife.
Sign up for exclusive offers – direct to your inbox!