Best Cuban Food in Key West
Who has the best Cuban food in Key West?
Well, it depends on who you ask, and based on our research and tastings, there's more than one winner.  Let's go on a culinary adventure and tour the island for the best Cuban sandwiches, coffee, cafes, and restaurants. We'll visit Ana's Cuban Cafe, Sandy's Cafe, Cuban Coffee Queen, Five Brothers Grocery Store, and Sandwich Shop, Fritas Cuban Burger Cafe, El Siboney Restaurant, and El Meson de Pepe.
Ana's Cuban Cafe
Located at the corner of Simonton and South Street across from Southernmost Beach Resort is our first recommendation for your morning coffee break and breakfast; welcome to Ana's Cuban Cafe.
It's the simplicity of this cafe that is quite charming. You'll see walk-up window service and outside seating on a covered porch with picnic tables. What you can expect is delicious food, great prices in a casual setting. The added bonus here is you can't beat the location as it's across the street from our beach resort.
Rave Reviews
Rob W. from Lebanon, PA, had this to say about Anas Cuban Cafe …
"What more can I say than "I love this little place" it's a gem on the south side of key west, and it's conveniently located near a lot of the resorts, they have great cafe con leche, THE BEST CUBAN SANDWICH on the island, and their breakfast menu is great as well, great little place with big food!!" (Yelp Review)
Ana's Cuban Cafe
Serving Breakfast and Lunch
1330 Simonton Street
Key West, FL  330400
Open 7am – 3pm
(305) 293-1352
The Original Sandy's Cafe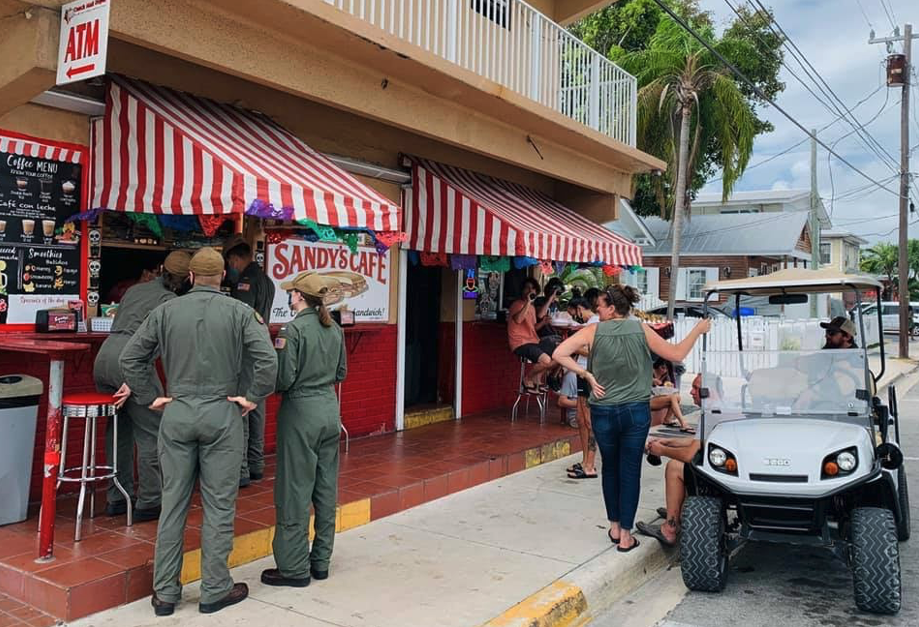 Order to go, please! When you think of Sandy's Cafe, you think of authentic Cuban and Conch Cuisine. Try the Cuban toast and Cafe con Leche to start your day, and if you decide to go there for lunch or dinner, try the Cuban Mix Sandwich.  One word to describe it all –  AMAZING!   
Sandy's Cafe at the M&M Laundry on White Street is another cool Key West neighborhood location with a local following. A walk-up window, grab n go place to get great Cuban eats in Key West.  Once you've tried the food, you'll understand why they have been given the title – The World Famous Sandy's Café!
RAVE REVIEWS
"O. M.G.  The Cuban…we have been ruined for life for any other sandwich. The absolute BEST!  And the owner/chef was so kind, came out to thank us the compliments. I have no better words to describe this sandwich other than we will eat it daily until we leave!  Cuban for breakfast?  Yes please!" ~ Bonnie Lang Turnage, Facebook Review
View the menu and learn more about Sandy's Cafe.
Sandy's Cafe
1026 Whitehead Street
Key West, FL  330340
Open for Breakfast, Lunch and Dinner
305-296-4747
Cuban Coffee Queen
Cuban Coffee Queen offers traditional Cuban eats, sandwiches & smoothies to-go.
Not one, not two, but Cuban Coffee Queen has three locations in Key West! One is located on Margaret Street by the Seaport – when you see the Greetings from Key West mural – you're there! The second location is nestled in Key Lime Square, just off Southard Street, and the third and newest location is in Clinton Square Mall next to the Custom House Museum. If you're wondering why three locations, it's simple – Cuban Coffee Queen is loved by all and offers the best grab n go traditional Cuban eats.
RAVE REVIEWS
Kyle S., had this to say about his Cuban Coffee Queen experience on Yelp, "I think I would've gladly eaten here for every meal of my recent Key West trip. I certainly would've grabbed coffee every day from here if I would've had the opportunity. Between the cafe con leche, rice and beans with chicken and the key wester breakfast sandwich with chorizo, everything was absolutely delicious and service was friendly and relatively quick."
Besides the killer Cuban Sandwiches and Cafe con Leche, the story of Cuban Coffee Queen is all about love.
"One day in Cuba,
I met a lady
who made the best coffee
and Cuban toast.
She told us stories
and showed me how to make
a real cafe con leche.
I will never forget
the Cuban coffee Queen."
The Locations and Hours
Walk-up window service at the original location at the waterfront on Margaret Street, delivery, dine-in, and pick-up at the Key Lime Square location and pick up only at the Clinton Square Mall.  The hours at the locations differ as well.  Cuban Coffee Queen by the waterfront opens at 6:30 am till 7pm, Key Lime Square location 7 am – 7 pm, and Clinton Square Mall is open 7am – 6pm.  Good to know – they close at sunset, so as the sunset times change during the year, so will the closing hours at Cuban Coffee Queen
View the menu and learn more about Cuban Coffee Queen.
Five Brothers Grocery and Sandwich Shop
This is your neighborhood hangout for authentic Cuban coffee and eats.  If you want to know where the locals go, the answer is at Five Brothers Grocery and Sandwich Shop.  It's your go-to morning pick me up for Cafe con Leche, Cuban toast, and the to die for guava pastries.  Don't be surprised if you see our first responders close by as it's there go to as well.  It's a Key West staple where you'll more than likely meet new friends while waiting in line. It's well worth it!
This is a family-owned and operated grocery store and a Cuban sandwich shop. In addition to the morning coffee and Cuban toast, a favorite of ours is the roast pork sandwich, and you can't go wrong with any of the desserts.
RAVE REVIEWS
We agree Jonathan!
"Starbucks had better hope that these guys don't ever decide to expand nationwide- best coffee."~ Jonathan Parmet, Google Review
Gordon Dillon had this to say about Five Brothers Grocery and Sandwhich Shop, 'If you travel to Key West, make sure you visit 5 Brothers for the best coffee, Cuban sandwiches and burgers. It's a small inconspicuous place with unbelievably good food and value for money. If it was open in the evenings, there's a good chance it would be the only place I'd eat all day. It's that good." (Google Review)
Five Brothers Grocery and Sandwich Shop is a hidden gem, and another grab n go favorite for authentic cuban coffee, sandwiches, pastries and desserts.  While biking around the island, make sure to stop here and experience it yourself.
View the menu and learn more about Five Brothers Grocery and Sandwich Shop
Five Brothers Grocery and Sandwich Shop
930 Southard Street
Key West, Fl. 33040
Open 6:30 am to 3 pm
Fritas Cuban Burger Cafe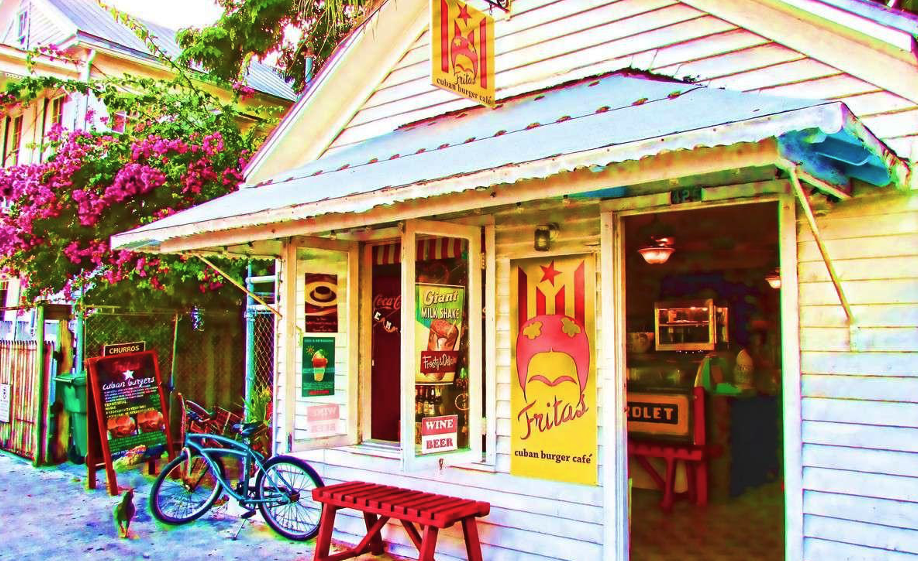 Located on Southard Street in the heart of Old Town is where you'll find Fritas Cuban Burger Cafe.  A colorful, vibrant serving up traditional Cuban and fusion sandwiches as well as tacos.
In 2014, they opened with the goal of bringing the Cuban flavors of the "Frita" to Key West, Florida. Truth be told, we are glad they did!   
Now to the question you've all been asking, what is a Cuban Frita? It's a burger, but not just any burger.  The Frita burger is a blend of pork and beef seasoned with Spanish spices and originates from 1930's Cuba.
RAVE REVIEWS
"Best Cuban Burger anywhere!
We have been going to Key West for years and have eaten at Fritas at least 20 times. The food is made to order and always fresh. The coffee is like a trip to Cuba! My favorite is the Cuban Burger loaded! The owner Frita is always pleasant with a smile on her face! Our recent visit we observed all staff taking extra precautions, masks on and sanitizing surfaces. We ordered (with our masks on!) at the walk-up window. We felt very comfortable eating outside, well distanced. Can't wait to go back in three months!Sorry no pictures, I was too intent on eating!" ~ Runandsunlover (TripAdvisor Review)
"This little spot packs a punch of flavor. Don't mess around- just get that Frita burger. It is so good. Very friendly people!" ~ Phil Dignan highly recommends Fritas Cuban Burger Cafe
(Facebook Review)
View the menu and learn more about Fritas Cuban Burger Cafe
Fritas Cuban Burger Cafe
425 Southard St
Key West, Fl  33040
Open 11 am – 11 pm
Phone: (305) 509-7075
Cuban Restaurants in Key West
Two of the most famous Cuban Restaurants in town are El Siboney and El Meson de Pepe. Both deliver authentic Cuban food, but the experiences are entirely different.    
El Siboney
El Siboney gives you traditional Cuban home cooking in a casual, family-friendly setting. Think of El Siboney as your favorite neighborhood family-owned and operated restaurant. Another local favorite and Key West's top restaurant for authentic Cuban food, Paella, and local seafood. Eat-in or get it to go! Open for lunch and dinner.
View the menu and learn more about El Siboney Restaurant.
El Siboney
900 Catherine Street
Key West, Fl. 33040
305-296-4184
El Meson de Pepe
Located in historic Old Town near Mallory Square, El Meson de Pepe Cuban Restaurant has been crafting authentic Cuban food and drinks for 30 years. The experience here is a little different: outside dining, drinks on the patio bar, live music. There'sThere's salsa, mojitos, and you can't beat the location as sunset celebration is steps away.
There is a live Latin band every night from 6PM to 10PM.
View the menu and learn more about El Meson de Pepe
El Meson de Pepe
410 Wall Street
Key West, Fl  33040
Now that we've caught you up on the food scene and the best Cuban bites around town, let us know your favorites.  #somolife
Sign up for exclusive offers – direct to your inbox!