Best Shopping in Key West
Four great shopping experiences found off the beaten path in historic Old Town – Besame Mucho, Vignette, Soul House Key West, and Kirby's Closet 
What happens when friends come together to bring decadent style, timeless elegance, and travel adventures that tell a story through style? The answer is the best shopping, off the beaten path in Key West at Besame Mucho, Vignette, Soul House Key West, and Kirby's Closet.  
Besame Mucho

Photo credit: @irismoorephoto
"Shop here once and life will become a joy forever,"  
"One of my all-time favorite shops in Key West is @besamemuchokeywest located in a local neighborhood known as Bahama Village. This romantic shop is a place where one can escape and lose yourself in an atmosphere of charm, an atmosphere that excites, inspires, and calms, all at the same time.
Savor some of the old-world simplicity that has been lost to the past. Take your time and enjoy what a special treat this quaint store represents." ~ Jenna Stauffer @realestatewithjenna
Once you visit Besame Mucho, you'll understand why as you spend time browsing every space in the store as each item is beautifully displayed and curated.  There are many specialty gifts and products, including lotions, soaps, perfumes, clothing, jewelry, beautiful purses, stationery, candles, and more. A hidden gem to discover and we promise you won't be disappointed. Don't be surprised if Besame Mucho becomes your favorite place to shop while visiting. 
Some say it's the prettiest, loveliest store on the island  – we agree!
Besame Mucho 
315 Petronia Street
Key West, FL  33040
305-294-1928
Hours: Mon-Sat 10am – 6pm | Sun 10am – 4pm
Parking Available 
Vignette 
Everyone has a story they want to tell with their clothes — everyday people create vignettes about themselves.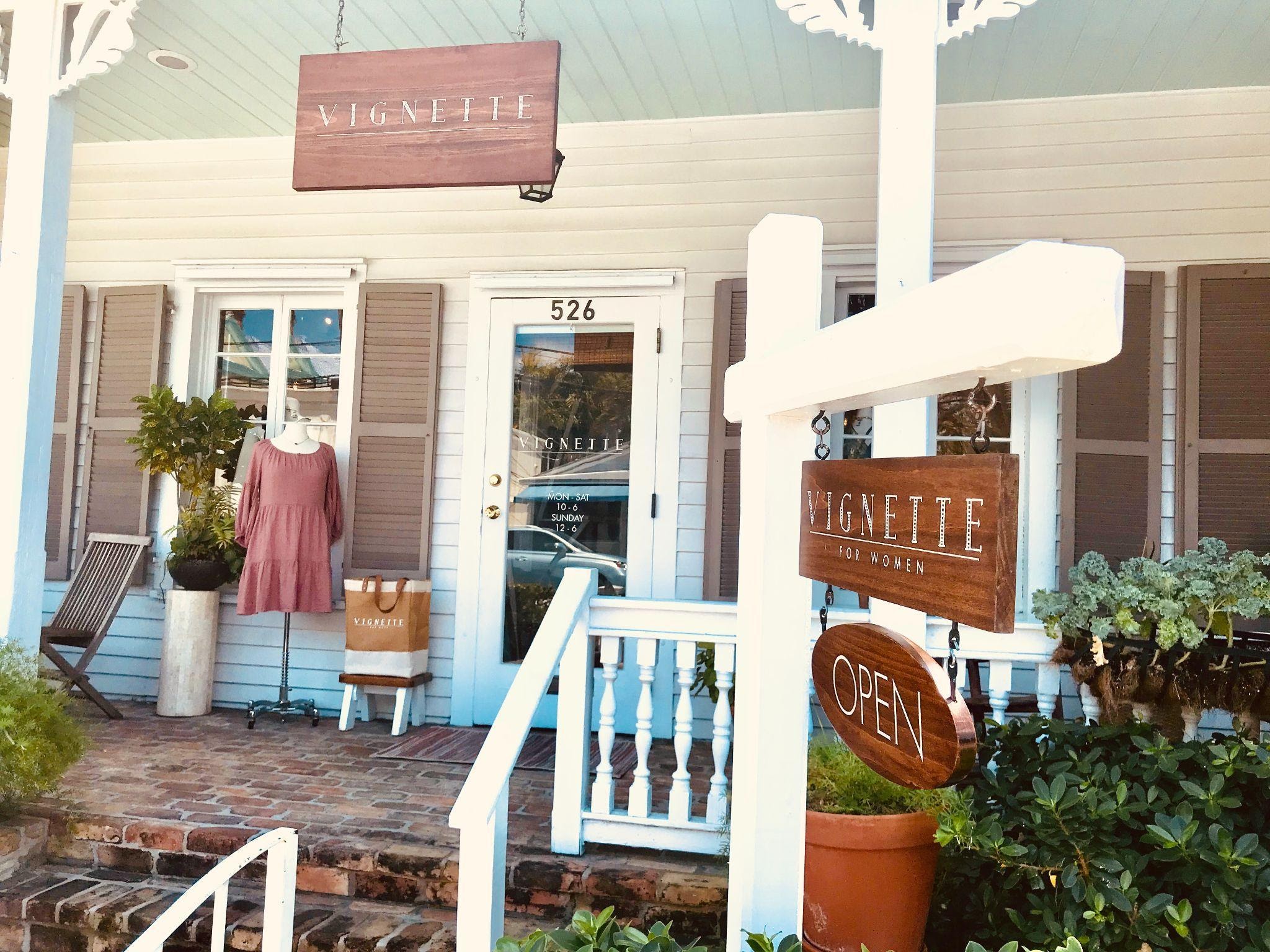 Located on Southard Street, in a cozy cottage one block off Duval Street, is where you'll find Vignette, a Key West Boutique for Women.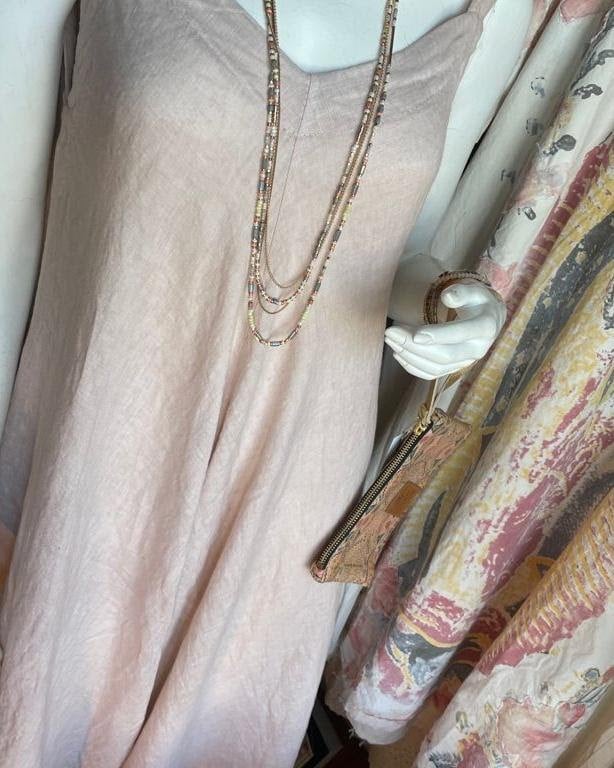 This Italian linen jumper is for you, no matter your body type! Flattering, cool, relaxed, comfy, edgy yet classic look. It's one size with adjustable shoulder ties and has pockets. Not too overwhelming or too long and looks more like a dress on.  (Photo credit: Vignette)
Friends Tania Cole (Vignette) and Meredith Bollong (Besame Mucho) opened Vignette five years ago, and we are so glad they did. 
"Vignette is about collecting a wardrobe that arranges itself. It's about key pieces to build on: a favorite tank, a flowing skirt, a versatile wrap. Adding to these key pieces, year after year, constructs a story and builds a style." ~ Margaret Bitzray 
Are you searching for the go-to tee, sundress, outfit for a night on the town, or piece of clothing that won't go out of style but fits your style?  Go to Vignette!  Items are priced from practical to spectacular and we're sure you'll find the perfect garment, gift, or accessory that meets your style and needs.  Tania will help you out if you are unsure what your style is – that's her genius! 
"We all have our own story to tell. Portray who you are by wearing your own style. Be the most YOU!"
Vignette
526 Southard Street
Key West, FL  33040
305-916-5722
Hours: Mon-Sat 10am – 6pm | Sundays (In Season) 12pm – 6pm 
Soul House Key West
Love the life you live!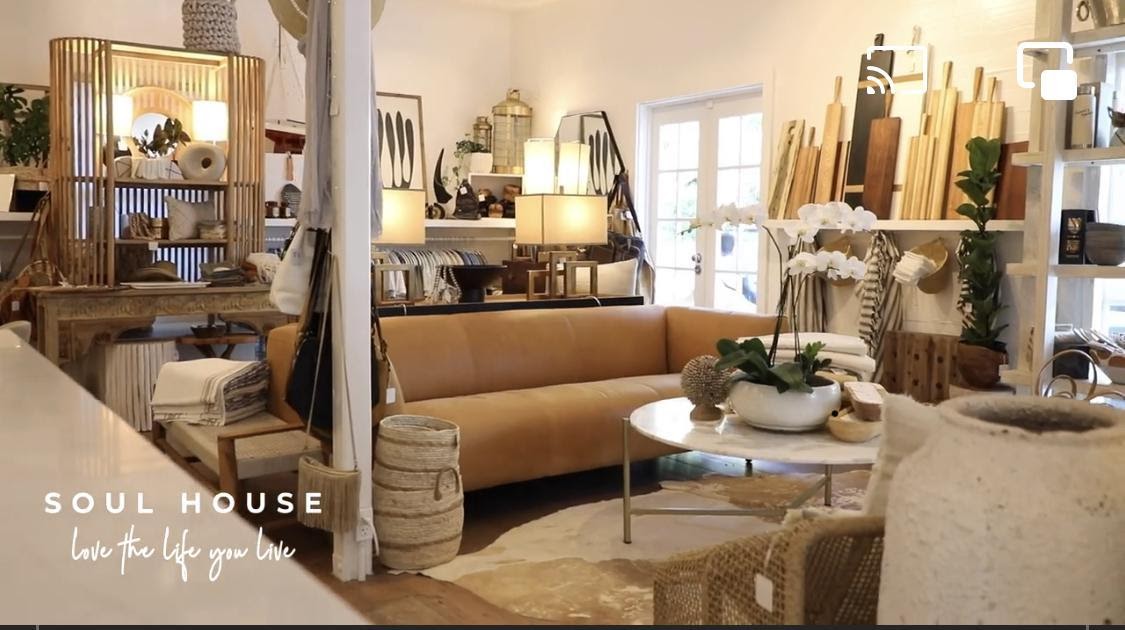 Soul House Key West, located on Southard and Frances streets in Old Town, is one of the newest and best places to shop, styling you and your surroundings with furniture, gifts, apparel and accessories. To capture the essence of Soul House, we spent some time with owners Oakleigh Waits and Susan Beaudoin Beal to get the story of how this special place came to be. Let's find out more about Key West's newest obsession.  
Live the Life You Love is the tagline, and we asked Oakleigh about the story behind the name, ''I thought about what makes me feel happy about going to work, well, it's got to have the soul in it, it has to have the things that make me shine and make me feel happy and sustain me. The name just evolved.  What does a house, a home, or structure have to have inside it – It's got to have the soul. And so that's where the name stems from."  Here's a great example of two friends coming together to share their love and passion with others.  Sue spent 24 years in corporate, and the design aspect of publishing – her dream since she was a young girl was to have a boutique on an island.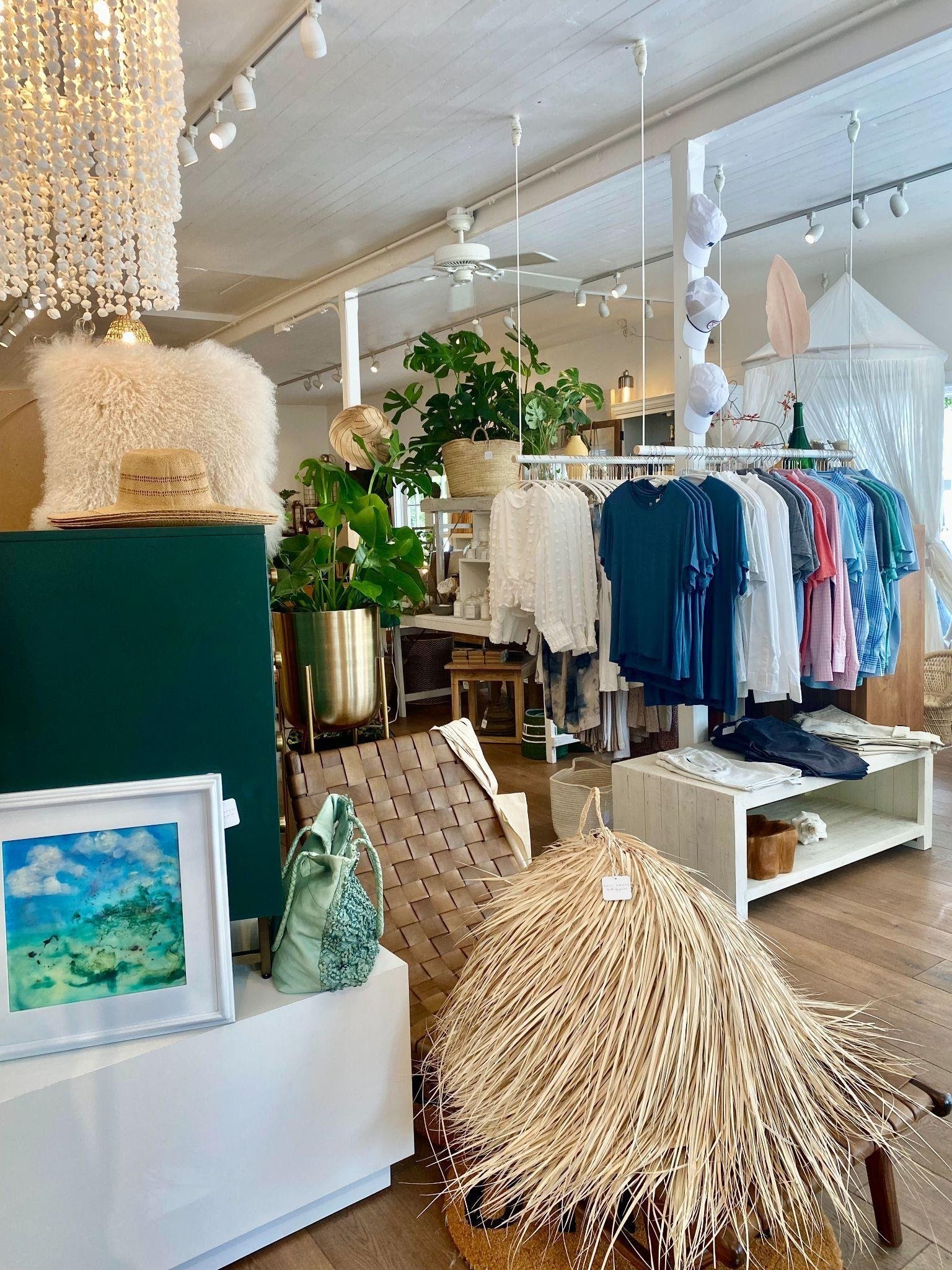 There's just something about being here that makes you feel good, and to be honest, it felt like a big hug.  Every inch and corner of this place offers something unique and special, and you're sure to find and treasure that will touch your heart.  If you wonder about the price range, you can buy unique gifts from $10 to $4000 – from earrings and accessories to clothing, furniture, and more.
"Soul House is an inviting space filled with a treasure trove of uniquely lovely gifts artfully arranged in a way that lends itself to leisurely perusing. Make sure to take your time and allow your senses free reign. Then go back again to see what you've missed." ~ Yvette Esquinaldo Lee
Soul House Key West is a well-designed, thoughtfully curated lifestyle store, a sanctuary of self and experiential shopping for all.
 Soul House Key West
Hours: Tues-Sat 10 am – 6 pm
600 Frances Street
Key West, FL  33040
Kirby's Closet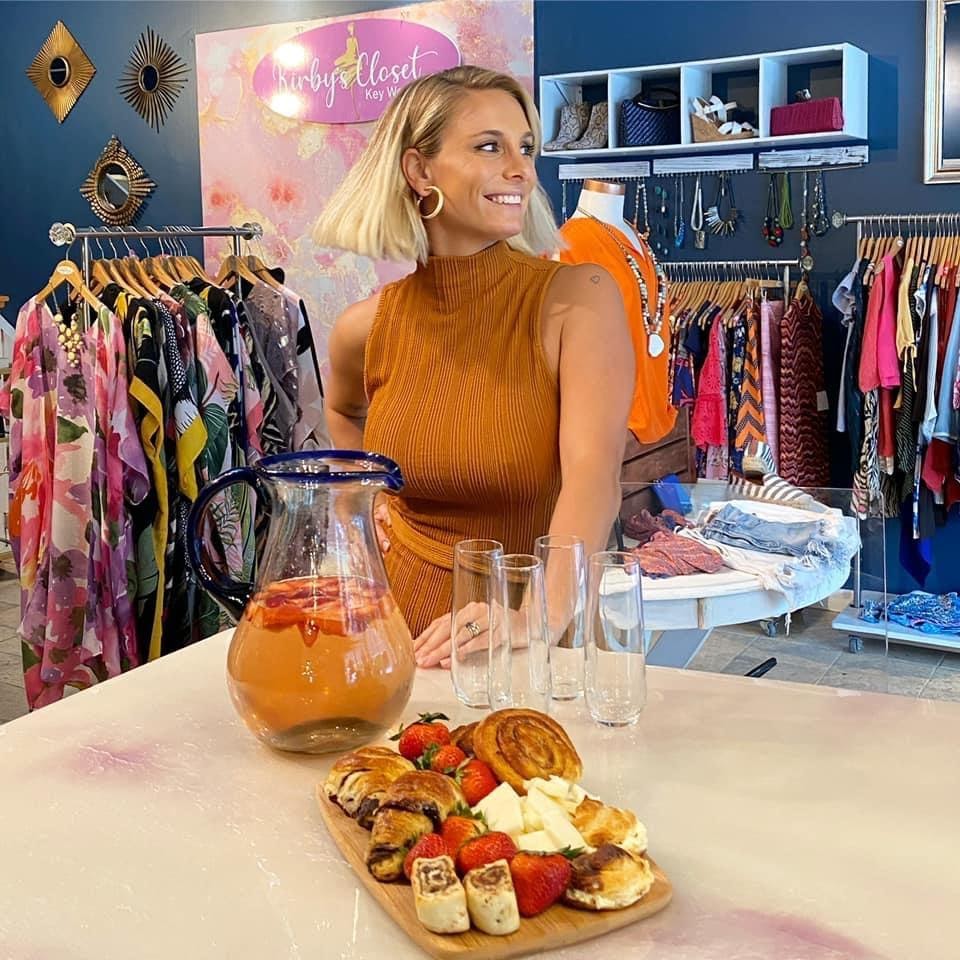 Photo credit: Kirby's Closet 
Happy first Anniversary, Kirby's Closet, and oh how you've grown!  Kirby's Closet is our favorite upscale resale boutique located on Whitehead Street in Old Town. What you'll find is pre-loved women's clothing, jewelry, accessories, and home decor items, and so much more, as Kirby brings personality, style and energy to this happy shopping experience. Follow Kirby's Closet on Instagram, and you'll understand why. 
Kirby's is open Tuesdays through Saturdays. If visiting on the weekend, take advantage of Sangria Saturdays. If you're looking for a fun thing to do with friends, contact Kirby and ask about the 2-hour Private Shopping Parties.  
New to Kirby's is The Loft, Makeup Artistry and Hair Design, where you'll find the amazing Frankie, your go-to girl for glam, offering special event makeup and hair services.  Kirby recently announced the opening of The Loft with Frankie, and it makes total sense.  In addition to the private shopping parties, you can now book a "Wakeup your Makeup" party with both Frankie and Kirby, where a group of up to 5 ladies brings in their own makeup bag, and Frankie teaches you how to utilize best what you already have. Of course, drinks, food, and personal styling will all be included! Frankie will do group and one on one lessons!
Another party offering is an Astrology Night where up to 5 ladies can have personalized birth chart reading with local astrologer Reda Wigle. While one lady is getting her private reading, the group can sip, eat, and shop!
From The Loft to The Closet, Frankie and Kirby are your go-to girls for head-to-toe styling, glam, and as Kirby says, a damn good time!
Kirby's Closet
Upscale Resale Boutique
218 Whitehead Street
Key West, FL  33040
305-847-9977
IG: @kirbysclosetkw
Where's your favorite place to shop while on vacay in Key West? #somolife
Sign up for exclusive offers – direct to your inbox!