Chris Young | Riley Green | Ernest
Headline the 2022 Key West Songwriters Festival, May 4 - 8
Top songwriters are heading to paradise for the 26th Annual Key West Songwriters Festival, May 4th -8th. More than 175 artists will be performing at over 50 indoor and outdoor venues across the island.
Big Loud's Ernest will open the festival Wednesday, May 4th, at the annual kick-off party at Ocean Key's Sunset Pier. Multi-Platinum Sony Music Nashville artist Chris Young will headline a show ($) at the Coffee Butler Amphitheater on Friday evening, May 6th. On Saturday night, May 7th, is the annual free block party-style show on the world-famous Duval Street, featuring BMLG recording artist Riley Green.
The 2022 Artist Lineup
Here is the 2022 Artist Lineup, including Chris Young, Riley Green, Ernest, and many more.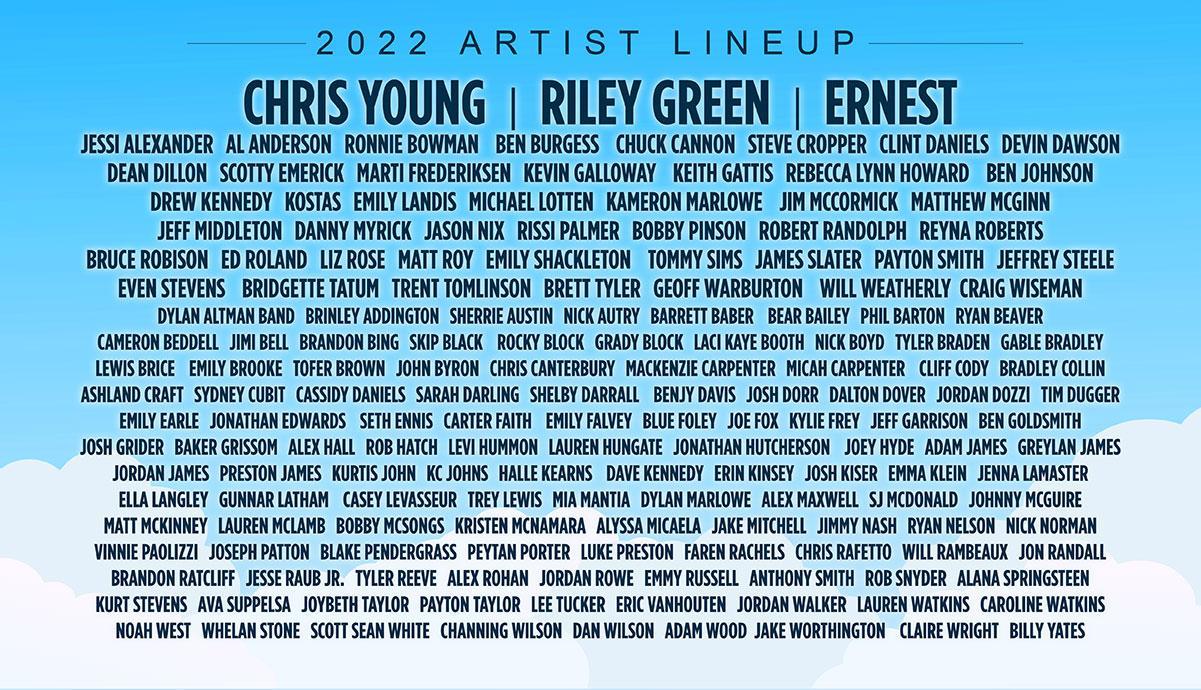 In my opinion, that's one of the hardest things to do in songwriting: crafting a song that speaks to you but, at its core, is a simple concept. ~ Chris Young
Good to know! Most of the festival shows are FREE to enter, and there are some ticketed shows.
Chris Young's concert with Kameron Marlow, hosted by Storme Warren, is Friday, May 6th at 7 pm at the Coffee Butler Amphitheater in Key West's Truman Waterfront Park. Tickets are $49.50 and $69.50, purchase tickets here.
Will you be attending the free concert on Saturday, May 7th? Riley Green will be there!
The Venues
Explore the sights, sounds, and tropical vibe of island life and step inside (or out) of some of our favorite iconic Key West bars, restaurants, hotels, beaches, historic theaters, and unique island settings. There will be pool parties, beach parties, and even songwriters performing at sea, the theater, and many of your favorite island restaurants, bars, and venues.
View the Key West Songwriters Festival 2022 Artists Lineup and show schedule.
Songwriter Events at Southernmost Beach Resort
Kick back at the beach, by the pool (or in it), and enjoy the top Songwriters and Artists performing at our Key West beach resort, where the music meets the sea.
Thursday, May 5th – South Beach Bash
Noon – Bobby McLamb, Blake Pendergrass
1 pm – Kylie Frey, Emily Russell, Emily Falvey
2 pm – Luke Preston, Mel Washington
3 pm – Kurt Stevens, James Slater
Friday, May 6th – Pineapple Pool Party
Noon – Gable Bradley, Tyler Braden, Adam Wood
1 pm – Jimi Bell, Seth Ennis, Blake Pendergrass
2 pm – Claire Wright, Adam James, Jim McCormick
3 pm – Joey Hyde, Will Weatherly, Jake Mitchell
Saturday, May 7th – Sand Bar Pavilion $
4 pm Laci Kaye Booth, Ella Langley
5 pm FILMORE, Trent Tomlinson
General Admission $30
Show + Meet & Greet $50 Purchase Tickets Here
Sunday, May 8th – South Beach Mother's Day Brunch
At Southernmost Beach Cafe
Noon – Mel Washington, Emily Falvey, Clayton Anderson
1 pm – Claire Wright, Greylan James, Chloe Caroline
2 pm – Jimmy Stanley, Kristen McNamara
Songwriter Events at The Marker Key West Harbor Resort
The Marker Key West Harbor Resort is our sister property located in Old Town by the Historic Seaport.

Thursday, May 5th – Pool Party
5:30 pm – Nick Boyd, Ryan Beaver, Brett Tyler
6:30 pm – Emily Brooke, Jonathan Edwards, Barrett Baber
Saturday, May 7th – Pool Party
Noon – Sydney Cubit, Greylan James, Chris Rafetto, Jeff Garrison
1 pm – Chris Canterbury, Halle Kearns, Michael Lotten
2 pm – Dan Wilson, Joseph, Jimi Bell
Southernmost Beach Resort and The Marker Key West Harbor Resort are proud sponsors of this festival. Learn more about the Key West Songwriters Festival.
All it takes is one song to bring back a thousand memories. Let's celebrate and create new music fest memories at the Songwriters Fest in Key West, and don't forget to tag us in your photos! #somolife
Sign up for exclusive offers – direct to your inbox!