Eat Like a Local: 3 Off the Beaten Path Neighborhood Restaurants
3 Off–The–Beaten–Path Key West Restaurants You Want to Try Now
Hidden Gems tucked away in the middle of our Key West neighborhoods
Small intimate locations with big flavors could end up being the culinary highlight of your Key West vacation. Some of the best Key West restaurants are cozy, charming and hidden away from the hustle and bustle of the world famous Duval Street. Savor the flavor and seek out three local favorites: Little Pearl, Michaels Restaurant, and the flaming buoy filet co.
Little Pearl
Fish and Wine House
632 Olivia St, Key West, FL 33040 | (305) 204-4762
Hours: 5 pm – 10 pm Daily (Closed Sundays in the summer)
View Website, Menu and Make a Reservation
A Neighborhood wine bar & restaurant. Perfect for intimate dining.
Enjoy fresh local catch and innovative cuisine with a tropical twist and an extensive wine selection to pair with what you order.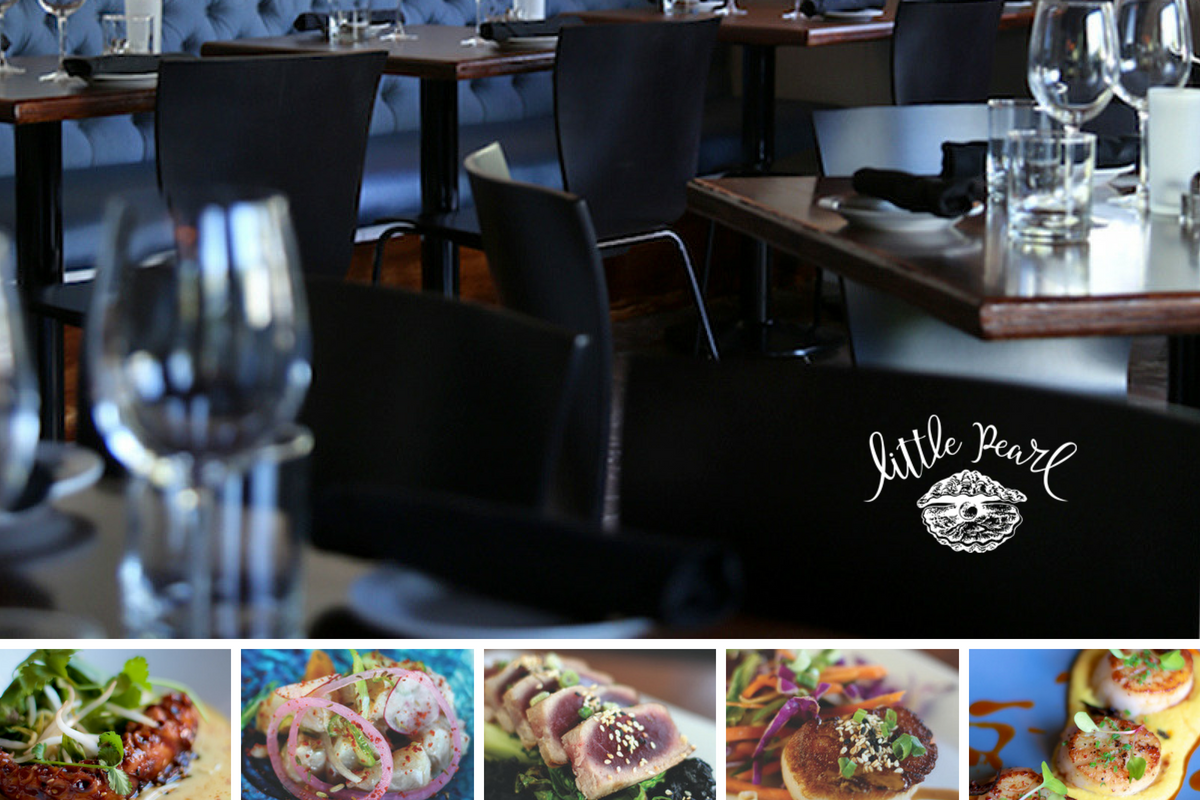 Little Pearl is located on the corner of Olivia and Elizabeth streets in Old Town, Key West. It is another small neighborhood restaurant that is cozy and intimate and bursting with flavor. It's fit for foodies and everyone looking for creative cuisine that is incredibly delicious. Expect to be swept away on a culinary adventure in paradise while dining here.
What people are saying about Little Pearl
'I like a place that's small, unique, fresh, creative, has high quality ingredients, a talented chef and great down to earth service. Little Pearl delivers on all fronts… ~ texas-firecracker via TripAdvisor
My wife and I have eaten at restaurants all over the world. Little Pearl was one of the top experiences that we have ever had. Dan was a great server and the food was perfection! ~ Billy Williams, Google Review.
One of our favorite appetizers happens to be one of the most talked about dishes – try the Bangkok Octopus – it's a must!
View the Little Pearl Key West Restaurant Menu
Michaels Restaurant
A Key West Steakhouse with Indoor and Outdoor Dining in a Tropical Garden Setting
532 Margaret St, Key West, FL 33040 | (305) 295-1300
Dinner Nightly: 5:30pm – 11pm Daily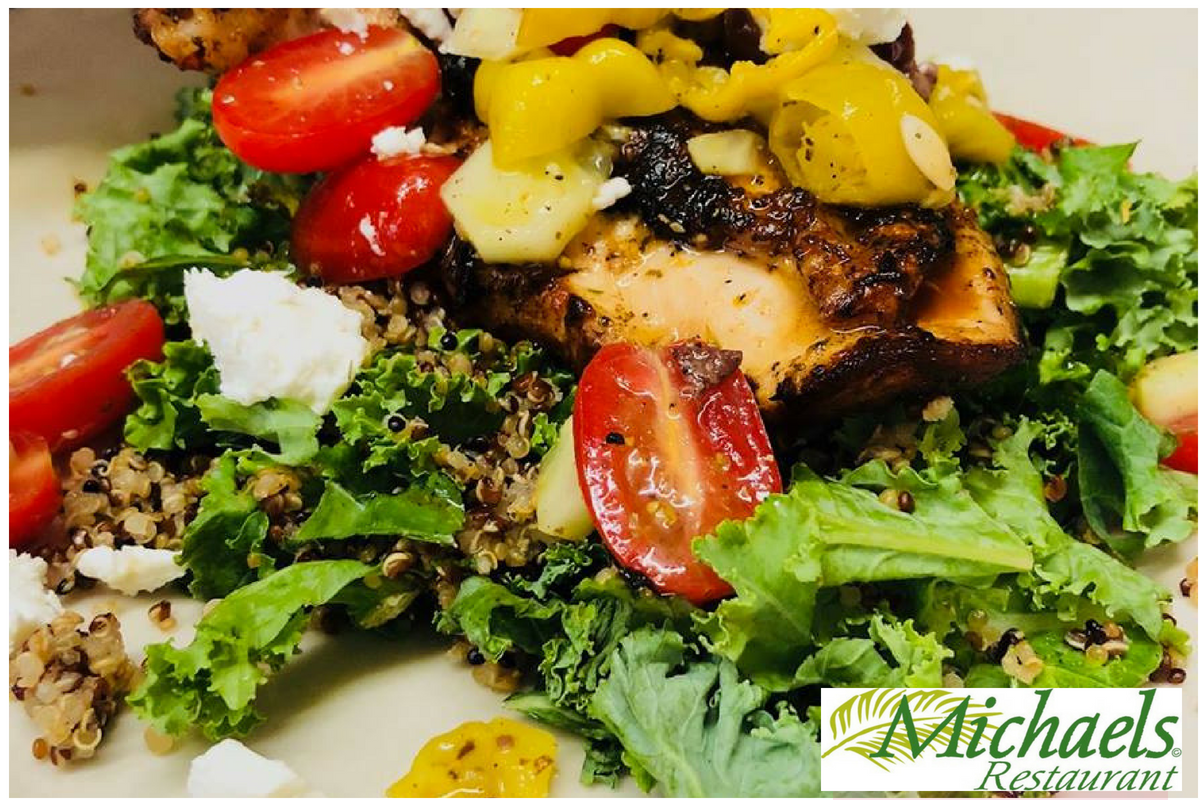 Michael's is a long-time favorite that is ideal for date night, reunions, or just a great meal out on the town. ~ Amber Nolan, @Usatoday
Michaels Restaurant in Key West is our favorite steakhouse nestled among the charming neighborhoods in historic Old Town. Discover a garden oasis where Chef Michael Wilson and his wife Melanie offer a classic menu with an island twist. There is indoor and outdoor dining in a beautiful tropical oasis setting. Yes, they are known for best Steak in town, but there's so much more to experience and enjoy.
My husband and I love sitting at the bar and sharing the Cheese Fondue for Two. Very Romantic! ~ Amber Debevec, Key West Finest
In addition to the Steak and other entree selections, there are so many items on the menu to spotlight and to be honest we would be sharing the entire list. That's how good this restaurant is! Our recommendation is to make a reservation and make sure to start with a signature cocktail or martini, order the Fondue and save room for the best dessert you'll ever have ~ Warm Chocolate Volcano.
Treat yourself to a delicious dining experience at Michaels Restaurant near the corner of Southard Street- on Margaret Street; you won't be disappointed!
View Michaels Restaurant Menu
The Flaming Buoy Filet Company
1100 Packer Street, Key West, Florida,
Open daily 6pm – 9:30pm
Charming owners serve a fresh mix of gourmet and down-home cooking in this cozy neighborhood restaurant. ~ Claudia Miller, USA TODAY 10Best Locals Pic
At the corner of Packer and Virginia Streets is where you'll find Flaming Buoy serving up big flavors and personality in a charming, cozy atmosphere. A hidden gem with a menu that offers a mix of comfort foods we love with an island twist.
We love The Flaming Buoy Filet Company! Many happy memories have been made at this charming and acclaimed, off the beaten path, Key West treasure. Scott, Fred, and their amazing staff always welcome us with open arms. We love the Lobster Macaroni & Cheese, Iceberg Lettuce Wedge, Seafood Marinara, The Filet Co. Three Way, and Spicy Chocolate Quesadilla. The Flaming Buoy Filet Company was an easy pick for our absolute favorite Key West restaurant. ~ Our Key West Realtors, Dean & Keith Townsend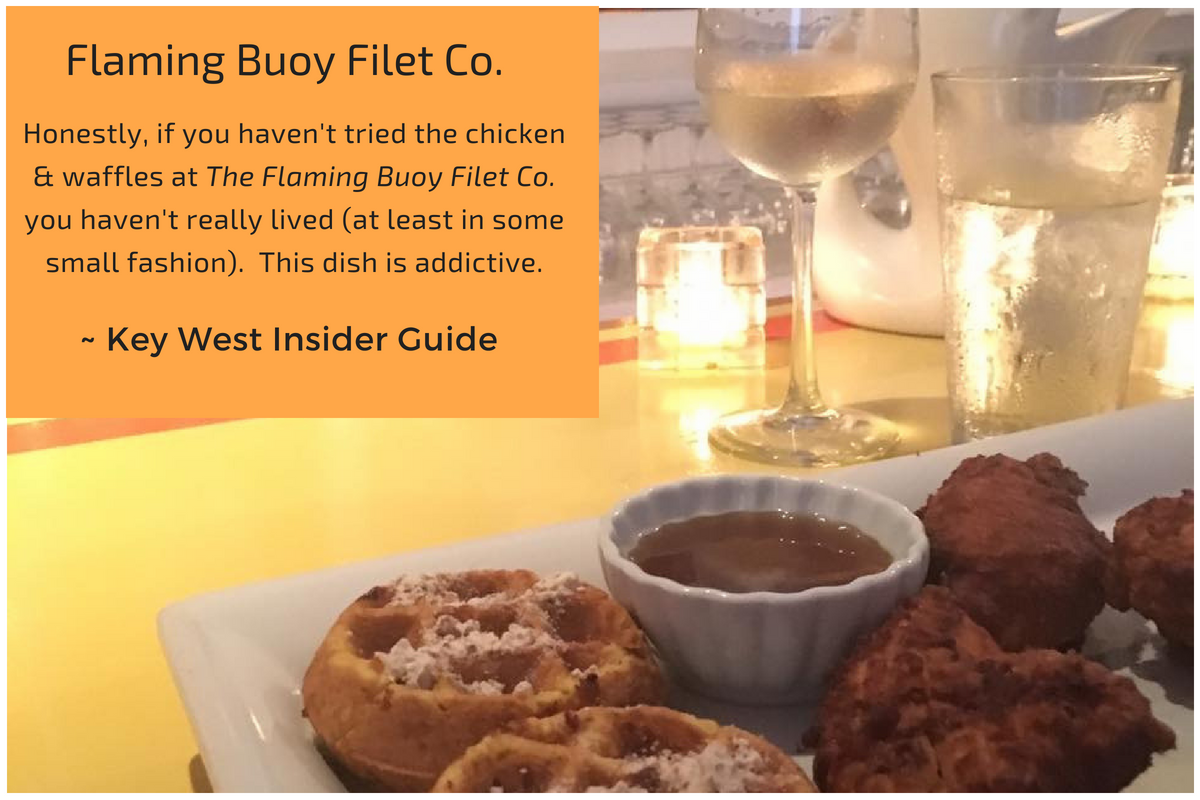 Honestly, if you haven't tried the chicken & waffles at The Flaming Buoy Filet Co. you haven't really lived (at least in some small fashion). This dish is addictive. ~ Key West Insider Guide (Photo via Key West Insider Guide on Facebook)
Some of our favorite items on the menu are the Lobster Macaroni & Cheese, the filet co. three way, the bbq danish baby back ribs and you can't go wrong with the fresh catch and the special of the day. To be honest, there is not one thing on the menu you don't want to try.
There is indoor and outdoor seating available but note there are ten tables available. Good to know: Make a reservation in advance. You want to make sure you get a seat at the table before someone else does.
Good Morning America's Robyn Roberts tweeted this: "So many delicious places to eat in Key West… for dinner absolutely love Flaming Buoy on Packer St. I could go on and on…"
We could go on and on too. For now, take our advice and reserve a table at Flaming Buoy Filet Co. next trip to paradise.
Eat like a local and enjoy dining off the beaten path at our Key West restaurants mentioned above. Stay connected on social. #somolife
Sign up for exclusive offers – direct to your inbox!