Key West Brunch: Savoring 4 Culinary Gems
Brunch in Key West isn't just a meal, it's a celebrated ritual. Whether you're a foodie explorer or a brunch aficionado, prepare for a journey that blends the allure of innovative flavors with unmatched artistry, crafting moments as unforgettable as the spectacular sunsets. Dive into a flavorful journey at our top island brunch spots: Blue Heaven, Bagatelle, Sarabeth's, and La Crêperie French Café, where every bite offers a fusion of culinary craftsmanship and every dish is a moment to remember.
Blue Heaven: An Iconic Key West Experience
Tucked away in Old Town in Bahama Village is where you'll find Blue Heaven, a truly unique island vibe serving up one of the best brunches on the island. Dine beneath canopies of tropical foliage, while free-roaming roosters add to the whimsical charm. It's one of the most popular restaurants in Key West and a favorite of locals and visitors alike.
Honored with the 2023 Bubba Award for Best Brunch in Key West (the Bubba Awards are Key West's answer to the People's Choice Awards), Blue Heaven boasts award-winning banana pancakes (but heads up, they only serve pancakes till noon) and specialties like the Lobster "BLT" Eggs Benedict, but everything on the menu is a winner. Take a look at their menu here.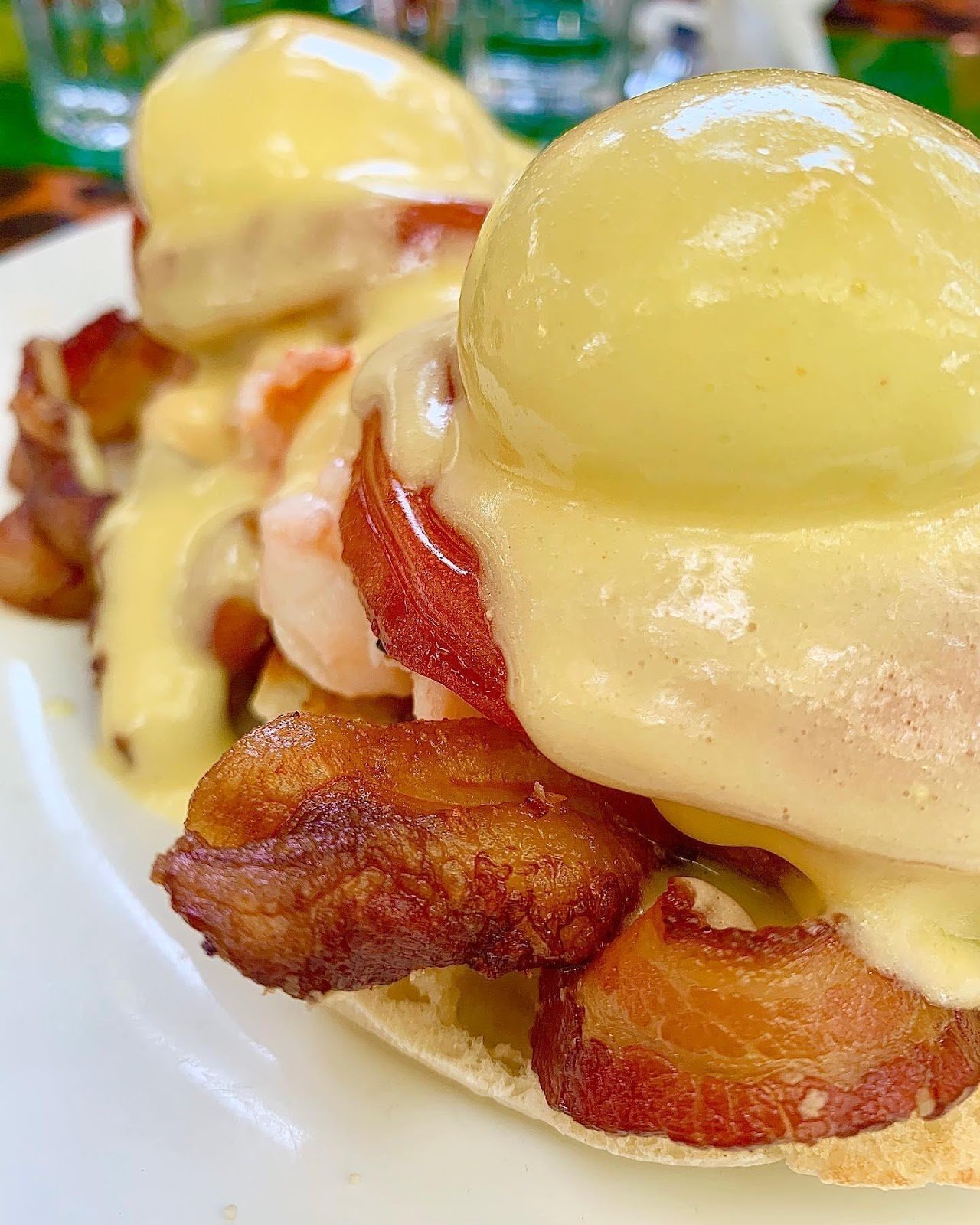 Blue Heaven is serving up BREAKFAST WITH THE ROOSTERS until 2:30 pm and always pouring freshly squeezed orange juice, baking homemade breads on-site, and they're especially known for their benedicts & bloody marys!
Ryan from TripAdvisor captures the essence of Blue Heaven: "This is the spot for brunch in Key West. The locals love it for a reason…I have been there during several visits to the island, and it never disappoints. This time I tried the banana pancakes, and they were the best pancakes I have ever had. Add in some sides and a mimosa and I was ready to enjoy the day. My fellow guests all tried something different and we did not have a disappointed diner at the table… We love sitting out back in the shade and watching the roosters run around." In fact, Blue Heaven even inspired a song by none other than Jimmy Buffett. His song "Blue Heaven Rendezvous" reminisces on the early days of the restaurant, further cementing its iconic status in Key West.
Blue Heaven operates on a first-come, first-served basis for breakfast and lunch. With its popularity, be prepared for a wait, but rest assured it's well worth it. Photo Credit: CTFoodGirly 🦞: Lobster "BLT" Eggs Benedict – Blue Heaven's Facebook Page.

Blue Heaven is located at  729 Thomas St, Key West, FL.
Bagatelle: People-Watching in Paradise
Nestled in the heart of Old Town on Duval Street, Bagatelle offers an inviting and charming atmosphere with both indoor and al fresco dining options. The charming front porch seating in a historic home makes it an ideal spot to indulge in sumptuous dishes while enjoying the colorful tapestry of Key West's island life.

Brunch is served daily from 9:00 a.m. to 4:00 p.m., presenting an eclectic mix of flavors. You'll find eggs benedict, crispy, deep-fried french toast, fish sandwiches, the famous lobster mac 'n' cheese, and more. View the full array of dishes on their brunch menu.
Paradise54445569093 from TripAdvisor recalls their fantastic brunch experience: "We had brunch on Saturday and sat outside on the front porch—our first time here. Kate, our server, had a never-ending smile and lots of great suggestions. I had a Cucumber Cooler cocktail (refreshingly great and not sweet!) and their corned beef hash. My husband had coffee and their biscuits, sausage gravy, and eggs. We loved our meals and topped it off with two desserts: key lime pie and an amazing brownie with ice cream. During our brunch, a brief parade broke out! Ha! What a fantastic time! Thank you!"
Reservations & Tips: Bagatelle offers a daily happy hour at the bar from 4:00 p.m. to 6:00 p.m., and dinner is served from 5:00 p.m. to 10:00 p.m. Photo courtesy of Bagatelle. 
Bagatelle is located at 115 Duval St, Key West, FL.  
Sarabeth's Key West: Brunch in a Tranquil Garden
Ambiance & Location: Located at 530 Simonton Street, at the corner of Southard and Simonton in Old Town, Sarabeth's offers a peaceful escape amidst a lush garden setting. The blend of indoor and outdoor seating creates the perfect atmosphere for a brunch experience in paradise.
Menu Highlights & Hours: Dive into their scrumptious lemon ricotta pancakes, artisanal jams, and preserves from 8 a.m. to 2 p.m. daily. Beyond these treats, the menu offers extraordinary eggs, omelets, and a variety of sweet breakfast delights. Explore their full, delectable brunch menu offerings here.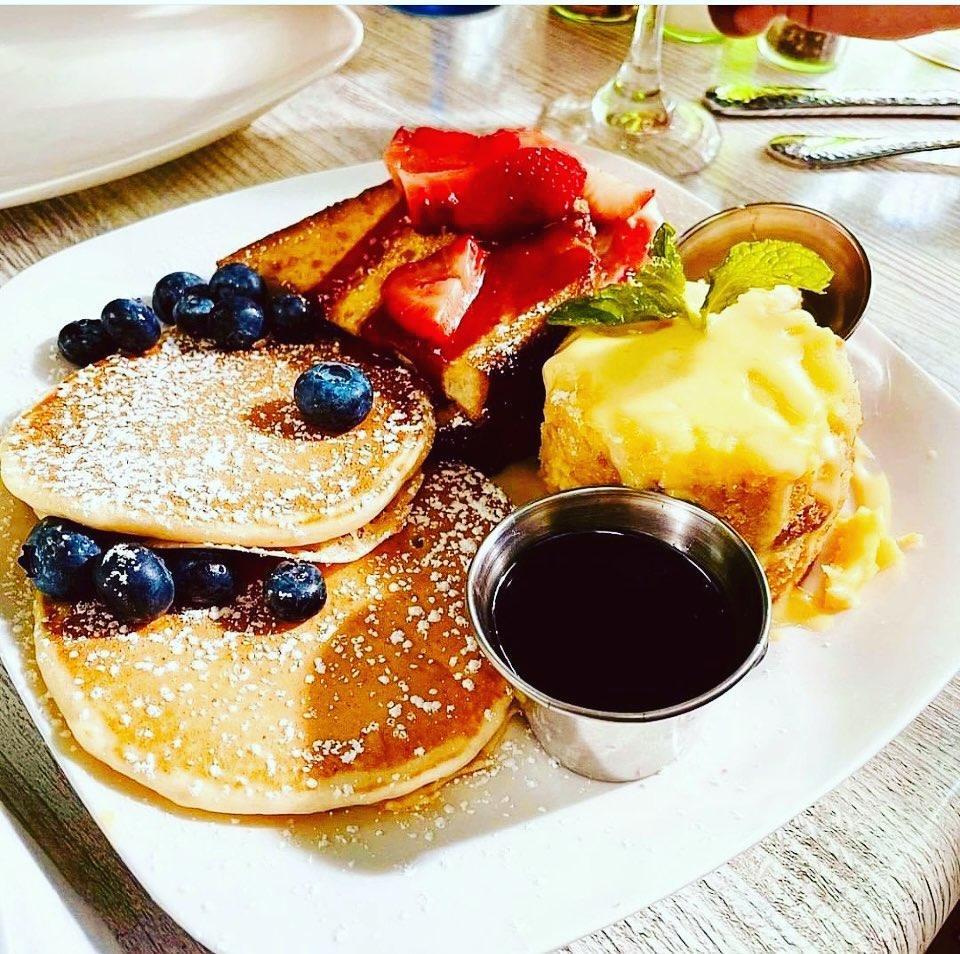 Emily on TripAdvisor shared her delightful brunch experience: "This was our third visit to Sarabeth's, and it's become a 'must-do' whenever we're in Key West. We love the serene garden ambiance, which offers a pleasant contrast to the bustling streets of Old Town. The lemon ricotta pancakes are a dream—fluffy, zesty, and complemented perfectly by their signature marmalade. My husband swears by their omelets, filled generously and cooked to perfection. And let's not forget the drinks; their freshly brewed iced tea hits the spot every time. The service is always prompt and courteous, making us feel right at home. With both cozy indoor spots and shaded outdoor tables, you have your pick of where to dine."
Sarabeth's website says 'No Reservations." Simply arrive and immerse yourself in the gourmet delights. There may be a wait, so get there early. Photo courtesy of Sarabeth's Key West. 
Sarabeth's is located at 530 Simonton Street, Key West, FL. 
La Crêperie French Café: A Quaint Parisian Getaway
Across the street from the iconic Blue Heaven is where you'll find this charming café that exudes French flair. Choose to dine inside, at the counter, or savor your meal on the picturesque patio in Bahama Village.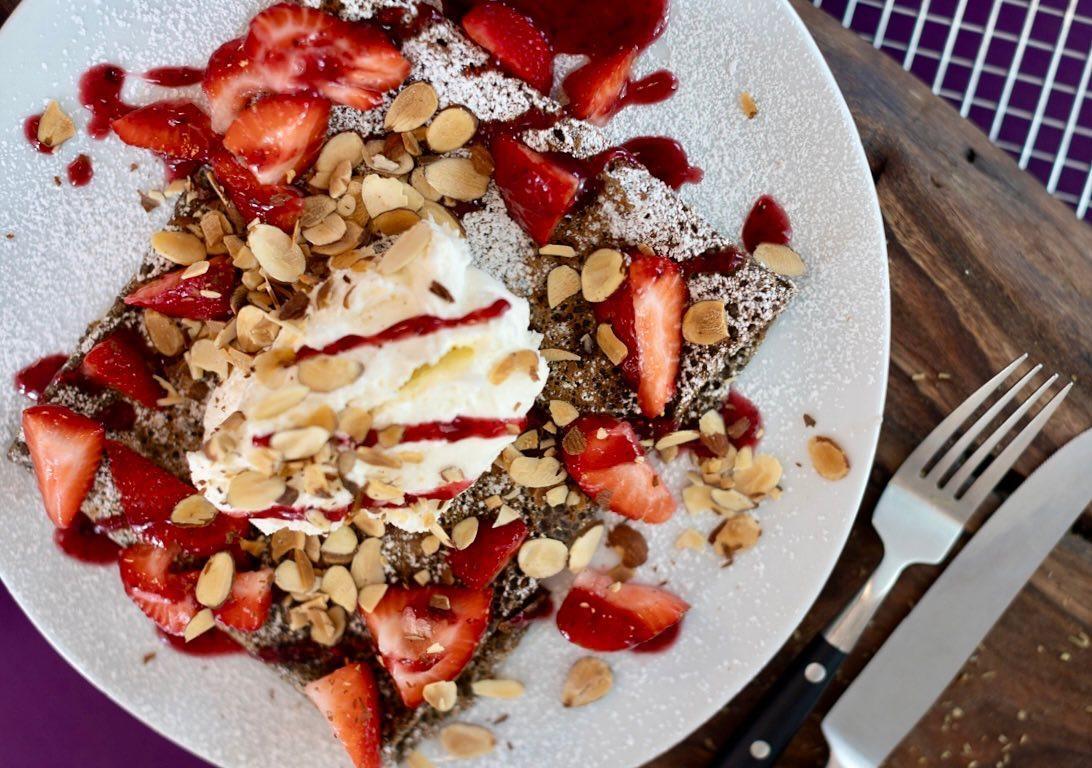 Open from 7:30 a.m. to 3 p.m. daily, their breakfast offerings include genuine crêpes, tantalizing omelets, galettes, and much more. The "La Red Velvet," a delightful galette with berries coulis, chocolate ganache, strawberries, almonds, chantilly, and ice cream, stands as a must-try.  Explore the full menu here.
Amber L. states in her Google Review, "Breakfast potatoes to die for!  Crunchy yummy herbed goodness. Crepes are just so good!
Ratatouille crepe followed by a simple key lime crepe are easily shareable. Don't forget the mimosas. Love that we have had the same waiter over the years when we return to this old favorite. Sitting outdoors is fabulous just watching the crazy world go by…enjoy!!"
The cafè operates on a first-come-first-served basis, offering a laid-back dining experience. And remember, as the tag on their site suggests, "Take your Time – Eat a Crêpe – Enjoy & Relax – Happiness is in Key West." Photo courtesy of La Crêperie French Cafè.

La Crêperie French Cafè is located at 300 Petronia St., Key West, FL.

If brunch isn't quite your style and you prefer breakfast with stunning views of the sparkling Atlantic, we highly recommend the Southernmost Beach Cafe.
In Key West, every bite offers a fusion of culinary craftsmanship, passion, and elegance. Indulge, savor, and celebrate the spirit of Key West's brunch scene. Let's toast to that!  #somolife
Sign up for exclusive offers – direct to your inbox!