Key West Shopping: Best Boutiques and Shopping in Paradise
Searching for the best places to shop in Key West? Look no further as we are here to introduce you to three of our favorites; Tucker's Provisions, Grace on Frances and Vignette Key West – three unique shopping experiences on the island. Ready, set, let's go shopping in Key West!
Tucker's Provisions
There are so many stores and shops on Duval Street, but there are only a few that are the best places to go shopping in Key West. Today we want to introduce you to one of our favorites, Tucker's Provisions located at 611 Duval Street in the heart of Old Town.
Tucker's is timeless and carefully curated with love. It's that one store you'll walk into and probably never want to leave but one you will always remember. They can dress you up for a night out on the town or dress you for a day at the beach, and if your luggage doesn't make it, they've got you covered. Remember this about Tuckers – they can take care of everyone on your list from newborn babies to grandparents and young at heart in between. They have gifts for Men, Women, Children, Accessories and Unique Gifts for family and friends at home.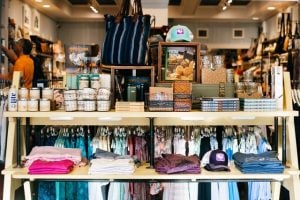 Carefully selected items are tastefully presented in a way that makes each one stand out so you can think straight and it's relaxing to browse. The clothes are the perfect mix of practical and whimsical––from the dress or shirt you'll wear forever that blends in with everything, to that piece that jumps out and is a special occasion to wear and maybe shows a different side of your character. This place feels like stories are unfolding in it, shaped by the place of Key West.~ M. Bisztray ~ Facebook Review
Tucker's Provisions is one of those secret finds and hidden gems that you'll be happy you discovered.
611 Duval Street
Key West, Florida
Hours: Mon-Sun | 10 AM – 10 PM
Phone: 305 304 5004
Grace on Frances
Simple elegance inspires the mind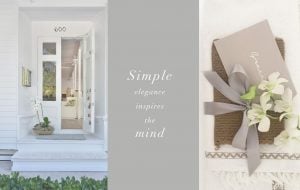 Grace on Frances is simple elegance that combines tactile and the beautiful located in Old Town, off Duval, at the corner of Frances and Southard Street.
Carefully curated thoughtfully displayed objects with meaning and stories of their own. Many created by hand, having traveled the globe from places like Africa, Morocco, and more, as well as, lovely pieces from locals in Key West. We should all aspire to live our lives with less "stuff" and more beautiful objects we truly love. Get off Duval to find this hidden gem. ~ Cassandra Buckalew, Facebook Review.
Grace on Frances also has an online store where you can preview the Cashmere, Jewelry, Textiles, Artifacts, Accessories, and Gifts.
How to describe Grace on Frances, it's simply a lovely place to shop in Key West. You walk into an elegant surrounding with no stress. The only problem we see is you might not want to leave.
600 Fleming Street
Key West, FL 33040
Open 10am – 5pm
Vignette Key West
We all have our own story to tell. Portray who you are by wearing your own style. Be the most YOU!
Around the corner from Tucker's Provisions, at 526 Southard Street is where you'll find our next "Best of Key West Shopping," and that is at Vignette.
One common thread in this blog, focusing on where to shop in Key West is the small personal shopping experiences you are about to encounter when you visit, and Vignette offers that and more.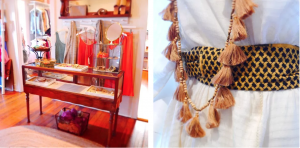 There's a lot of style inside this cozy cottage. It is a small boutique filled with carefully chosen quality goods for the ladies. That personal touch will be felt right away as you are greeted by a staff who is ready to style you if you need it or let you browse on your own time. Wondering what your style is? Don't worry, Tania, co-owner of Vignette, and her crew are ready to help you figure that out and create that outfit that is all You!
"Tania and staff are welcoming and bring you back to a time where customer service was so important. It is s pleasure to shop in Vignette. The ladies on staff are so helpful in picking out gifts for the ladies in my life" ~ M. Gambuzza, Google Review.
Vignette is a Key West boutique for women. Don't let that simple description fool you because it's filled with exceptional clothing, accessories, style and it's where you'll be treated to a shopping experience designed especially for you.
M-Sa: 10am – 6pm
Su: 12pm – 6pm
Tell us about your Key West Shopping experience and show and share your favorites with us! #somolife
Sign up for exclusive offers – direct to your inbox!