OMG! Best Bakeries in Key West
Key West is a culinary destination with some of the tastiest food around, but did you know the city is also home to the best bakeshops. If you're in search of the freshest baked goods and a perfect slice of deliciousness to accompany your morning brew, where everything is made from scratch and oozing with goodness, we've got you covered. From warm flaky croissants to beautifully designed homemade pastries and baked goods, made-to-order sandwiches on freshly baked bread, these three bakeries will soon be the go-to for breakfast and lunch! Here's a look at LaGrignote, Old Town Bakery, and Frenchie's Cafe – the best bakeshops in town. 
LaGrignote
Located on Duval Street, a couple of blocks from our beach resort, is where you'll find La Grignote, a  specialty French-style cafe preparing baked goods daily as well as breakfast and lunch.  At LaGrignote, they are baking the world a better place, one loaf at a time and one baked good at a time.  
LaGrignote is an artisan French Bakery Cafe Bistro where everything is made from scratch. They are open daily from 7 am – 3 pm and offer a full breakfast menu including Benedict, quiche, Croque monsieur…and lunch. We also display homemade pastries from croissants to muffins, cookies, bread pudding, key lime pie, and more. You can get sandwiches, salads, French toast, waffles, coffees, fresh-squeezed orange juice, lemonades, Mimosas …the list goes on and on.
Absolutely the best bakery in Key West!  We made a point of having breakfast here every morning while there. The French toast is AMAZING!  Almond croissants are our favorite and I can't wait to come back! ~ Gerri Hopper, Facebook Review
Hours: Open daily from 7 am – 3pm
1211 Duval Street
Key West, FL 33040
Old Town Bakery
Located at the corner of Eaton and Grinnell Streets is where you'll find another one of our absolute favorite bakeries on this island.  While it may be take-out only, we know Old Town Bakery will be your go-to on-the-go place for breakfast sandwiches and pastries while vacationing in Key West.  
The bakery offers pastries and artisan breads baked on the premises in traditional, old-world style. Breakfast and lunch sandwiches are served on made from scratch bread.  When you arrive, you'll be swept away by the aroma of oven-fresh breads and pastries. And the made-to-order sandwiches and selection of cheeses, cookies and sweets are to die for.  Some of our favorites on the menu include the pastries (yes, all of them), breakfast sandwiches and burritos – all too beautiful to eat and a harmonious marriage of decadent flavors.  Try the warm flaky croissants, the ooey-gooey and so good sticky buns, and anything with raspberry in it.  
Amazing, Must Visit! We come to Key West every year sometimes twice. The one thing we always look forward to is The Old Town Bakery. Absolutely delicious food. Our favorites are the croissants and the Danish. They have great lunch items as well. Wanted to take a moment to thank the owners and workers for being there constantly during these inconsistent times. Love starting every morning in the keys at this bakery. THANK YOU !!!!!! ~ Grandviewgrad via TripAdvisor 
Hours: Open daily 7 am – 3 pm
930 Eaton Street
Key West, Florida 33040
Frenchie's Cafe
Across the street from our resort on United is where you'll find a lovely, charming, cozy authentic french cafe called Frenchie's. Open for breakfast and lunch, every day but Wednesday, Frenchie's Cafe is another hidden gem your palette will be pleased to have found.  Indoor and outdoor seating is available, and of course, orders to go is an option, but we highly recommend you eat in and enjoy the Frenchies experience. You'll find freshly baked bread, pastries, croissants, croque-monsieur, croque-madame and french bread panini sandwiches, and so much more on the menu.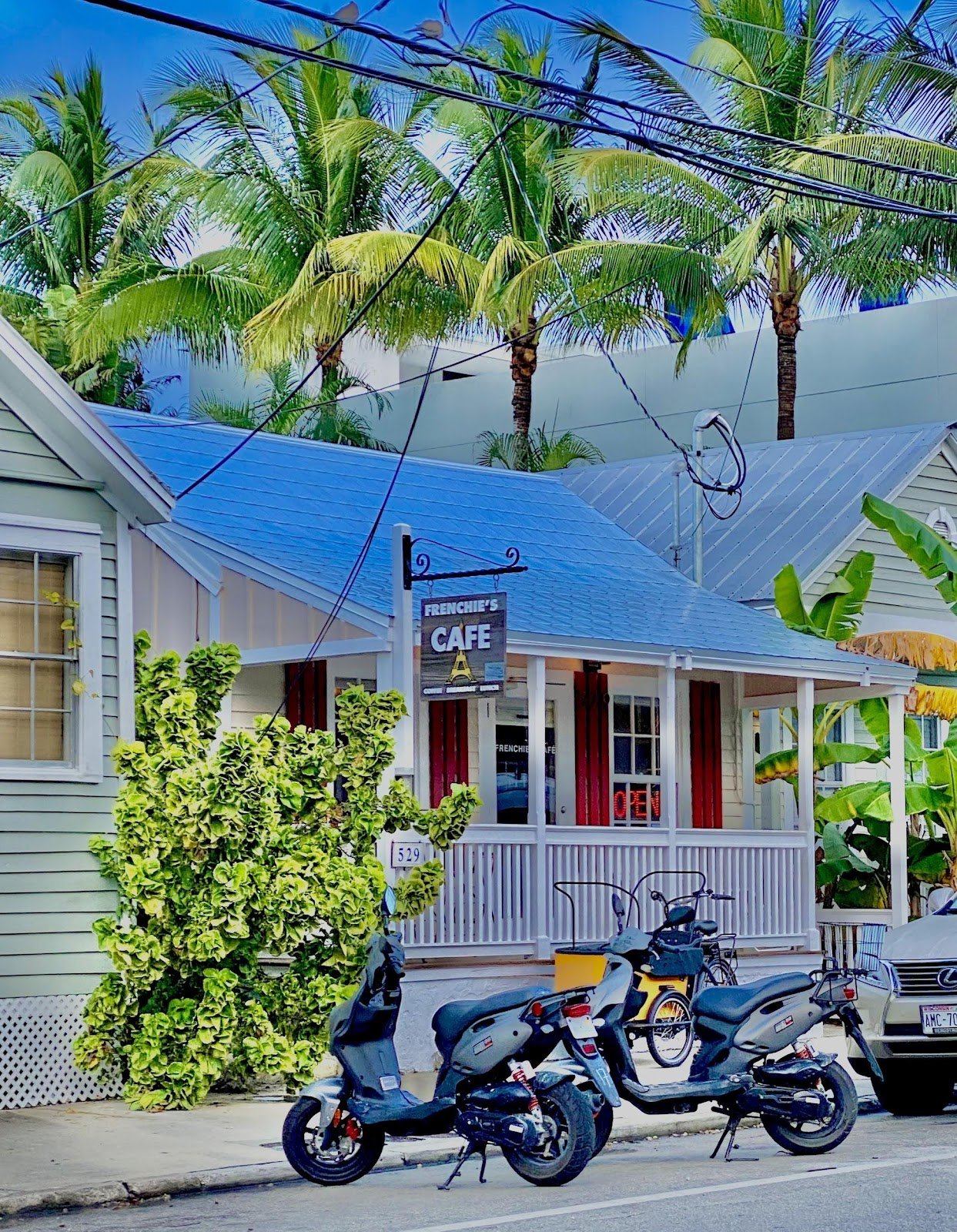 You'll say au revoir to all other breakfast options after you take your first bite of the almond croissant or perfectly cooked Croque Madame. One thing is for sure, everything on the menu is a winner. 
Magnifique!  Can I give Frenchie's 10 stars? This is the best breakfast/lunch in Key West.
The pastries are delicious- the almond croissant, chocolate twist and whatever fruity magic Stephanie has made that day are my favorites! The omelets, quiches, croque madame, French Toast… I mean! You cannot go wrong here. It's small and can get crowded, but locals love this place. You know that's a good sign! ~ Kathy S., Aiken, SC via Yelp Review
One of my family members is french and is incredibly picky about choosing authentic pastry shops for breakfast and she said this place was amazing. My whole family enjoyed an array of pastries including an apple pie pastry that looks and tastes like a true french apple pie. I honestly wish I lived around here so I could come more often, it's just that good.~ Daytona Cooper, Google Review 
Hours: 7 am – 3 pm Sun-Tues, Thurs-Sat
529 United Street
Key West, FL  33040
The secret to having an epically beloved bakery is consistency." ~ Christina Tosi
Now that we've introduced you to the best bakeries on the island, make sure to visit and do a taste test of your own. We have a feeling there will be many ooh la la's and OMGs with the first bite. #somolife
Sign up for exclusive offers – direct to your inbox!