See Key West By Bike!
Our Key West beach resort is a short walk or bike ride from the top Key West attractions, museums, bars and nightlife, eclectic restaurants and cafes, art galleries, boutiques, shopping, historic seaport and the spectacular sunset celebrations. We can't visit them all, but we will show you how close we are to the some of the best places to visit and things to do in Key West by bike: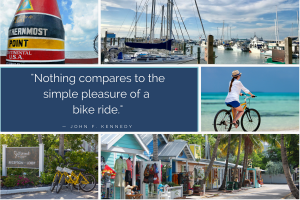 Bike to the Attractions and Museums
As you take a leisurely bike ride around the island make sure to visit the must see and do attractions and museums. None of them are far from our resort, and all of them are worth a visit.
On Whitehead Street you'll be able to bike, stop and take a photo at Southernmost Point then a few blocks away you'll find the Ernest Hemingway Home & Museum and Key West Lighthouse Museum. Located at the end of Whitehead is where you'll find Audubon House, Mel Fisher Maritime Museum, Key West Custom House and Truman Little Whitehouse. First stop is Southernmost Point and at the foot of Front Street and Whitehead is the Custom House. So much history on this one street in Key West!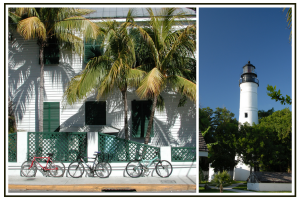 Bike to the Best of Key West from our resort and hotel:
Southernmost Point – ( 0.2 mi )
Key West Butterfly & Nature Conservatory (Across the street from our hotel)
Key West Lighthouse Museum ( 0.3 mi )
Ernest Hemingway Home & Museum (0.3 mi )
Fort Zachary Taylor Historic State Park & Beach (1.1 mi )
Harry S. Truman Little White House (1.1 mi )
Mel Fisher Maritime Museum (1.1 mi )
Key West Museum of Art & History at the Custom House (1.2 mi )
Mallory Square and Key West Sunset Celebration (1.1 mi )
Key West Historic Seaport (1.2 mi )
Bike to the Historic Seaport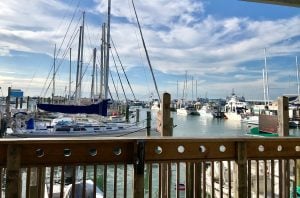 Bike to the Historic Seaport and enjoy the waterfront restaurants, bars, and shops. Watch the schooners set sail or head back from a day of adventure while enjoying a cocktail at one of the open-air bars and restaurants. There's the iconic Schooner Wharf Bar, Turtle Kraals, Conch Republic Seafood, Commodore and Alonzo's. Great food and drinks served at all mentioned. Before or after you grab a bite to eat we recommend you go shopping and enjoy the colorful and creative shops along Lazy Way Lane.
Bike to the Beach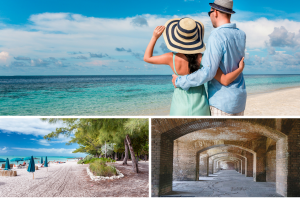 In addition to South Beach, there is Higgs Beach, Smathers Beach and Fort Zachary Taylor Historic State Park and Beach. Fort Zachary Taylor is favorite amongst all. If you ask a local where the best beach is we are pretty sure the answer will be Fort Zach. It's one of our favorites too! You can spend an entire day there by touring the historic fort followed by a picnic lunch and day at the beach. If you have kids there is a new kid-friendly fun water park for the little ones located at Truman Waterfront – it's right before you enter Fort Zachary Taylor.
Bike to Mallory Square for Sunset Celebration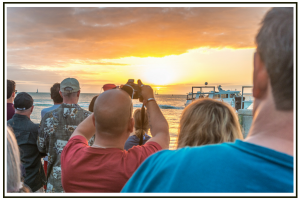 There's no better way to celebrate sunset in Key West than to head over to Mallory Square for Sunset Celebration. It's not just a place to watch the sunset; it's a place to celebrate Sunset! You will want to get there an hour or so before so you can enjoy the food, art vendors and street performers setting the stage and keeping you entertained before the main event. You'll know when it's time to focus on Sunset as everyone will gather with phones and cameras to get ready to snap that perfect sunset photo and unforgettable Key West travel experience.
Get Lost in Paradise
We don't usually tell our guests to get lost, but for this blog we do! Take the scenic route, off the main streets, and explore the hidden alleys and lanes while rediscovering the beauty, the architecture and the historic charm of Key West by bike. Who knows you might discover another hidden gem while enjoying island life.
A great way to see Key West is to Bike Key West! Share your favorite photos and suggested bike routes with us! #somolife
Sign up for exclusive offers – direct to your inbox!