Summer to Fall Key West Festivals you don't want to miss!
Lobsterfest | Brewfest Labor Day Weekend | Fantasy Fest end of October
22nd Annual Key West Lobsterfest
August 9th – 12th
There's Lobster Boils, Brunches, Sail and Snorkel Trips, Street-Fair, Duval and more! Check out the schedule of events for the 4 day Lobsterfest in Key West!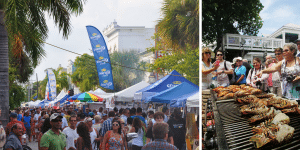 Lobster Boil
August 9th, 5pm until 8pm, Rooftop at Waterfront Brewery, 201 William Street
Lobster lovers head over to Waterfront Brewery at the Historic Seaport for a Lobster Boil Dinner, Family Style Casual Rooftop Seating and Live Music.
You'll enjoy the view as much as the food as this event takes place on the rooftop of Waterfront Brewery overlooking the marina, schooners, and sails at the Seaport. Each guest will receive over a pound of the boil including lobster, shrimp, andouille sausage, crawfish, sweet corn on the cob and new potatoes. Sides include garlic bread and fresh tossed salad with choice of dressings. A variety of drink specials will be offered as well as live entertainment.
Space is limited so book early. Paid Parking is available on Caroline Street.
Adults(12+): $29.95 Children(11 & under): $15.95
Buy Tickets for the Lobster Boil
Lobsterfest Reef & Rita's
August 10th, 1pm, FURY Key West Catamarans, 241 Front Street
You definitely want to get out on the water while visiting paradise. Our friends at FURY have a special Lobsterfest Reef & Rita snorkel trip to the reef. Reef & Ritas is a 3 Hour Catamaran sail & snorkel trip that includes beer, wine, champagne & margaritas.
Buy Tickets for Lobsterfest Reef & Rita's
Lobsterfest Street Fair & Concert
August 11th, Noon – 11pm, 100 – 500 Blocks of Duval Street
Join the crowd and head to Duval Street for the Lobsterfest Street Fair featuring 16 restaurants, 100 arts and crafts booths and a free concert and of course, lots of lobster!
Free Concert – 1pm-10:30pm intersection of Duval St. and Greene St.
Scheduled Performers include: Alphonse , Cool Breeze & The DurtBags
Lobster Brunch at First Flight Island Restaurant & Brewery
August 12th at 10am | First Flight Island Restaurant & Brewery, 301 Whitehead Street
All festivities must come to an end and what better way to do it than attending a sumptuous lobster brunch at First Flight Restaurant on Whitehead Street.
On the Menu
Lobster Eggs Scramble, Biscuits & Lobster gravy, Lobster Enchiladas and more. Drinks to include Bottomless Mimosas and Bloody Marys. View Lobster Brunch Menu
$70 Per Ticket, Bottomless Drinks, includes, tax & gratuity
$50 Per Ticket, Drinks not included, includes tax & gratuity
View the Key West Lobsterfest Website for Additional Informaiton.
Key West Brewfest Labor Day Weekend
August 30th – September 3rd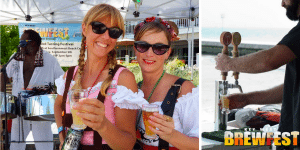 Join us for the 9th Annual Key West Brewfest, Labor Day weekend! There will be beer tastings, pool parties, beer dinners, beer brunches, happy hours, fun runs, seminars, late night parties and the Signature Tasting Event on South Beach.
The Key West Brewfest Event Schedule will be announced shortly, but we wanted to give you advance notice on when Brewfest is taking place so you can make arrangements to head to Key West today. There's no better place to be on Labor Day than in Key West for Brewfest where you and your friends have the opportunity to taste close to 200 beers. See if some of your favorites will be on tap that weekend ~ view the beers.
Southernmost Beach Resort has once again teamed up with Key West Sunrise Rotary of the Conch Republic to host this event. All proceeds to benefit the Rotary Club and their charitable efforts.
Keep Tabs on Key West Brewfest, view the website and event schedule.
Book your Key West Brewfest Hotel Stay or call (800) 354-4455
Key West Brewfest
August 30 – September 3, 2018 KeyWestBrewfest.com
FANTASY FEST
October 19th – 28th
2018 Fantasy Fest Theme: Oh … The Games We Play
Whether you are a single player, multiplayer, or just a player, this year's theme is sure to get your cranium creating some costume ideas. Become your favorite game show host, bring to life your childhood board games, or transport yourself into your most loved netherworld. The ideas are endless, so roll the dice on your favorite game to play and meet us in Key West for a game worth playing!
Oh the Games We Play is going to be oh so fun!
Why you want to attend – It's 10 days filled with costuming, parades, pool parties, beach parties, libations, excitement and it's in paradise! Plan ahead, start making your creative costumes and make sure you have a costume for every party/event you want to attend. When it comes to Fantasy Fest you really can't have enough costumes. Have fun with the theme and view the schedule of events in advance to find out what's happening each day. NOTE: They keep adding great events to the schedule so check often and happy festival prep!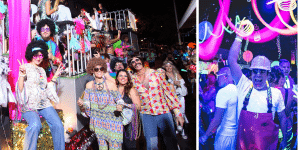 Key West celebrates Fantasy Fest every year Fantasy Fest Key West
Theme: Oh…The Games We Play
October 19-28, 2018
Learn more by visiting the Fantasy Fest Website.
Book Your Fantasy Fest Key West Hotel Stay or call (800) 354-4455.
We'll have more on Brewfest and Fantasy Fest in an upcoming blog but for now, mark your calendars, book your stay and tell us about some of your favorite brews and costume ideas #somolife.
Sign up for exclusive offers – direct to your inbox!