Vegan-Friendly Restaurants in Key West
As we continue our health and wellness, self-care vacation theme, we thought it would be a good idea to talk about healthy eating options during your visit. Today's blog is all about healthy-eats and where to find some of the best vegan/vegetarian restaurants in Key West? Here are four of our favorite places to get flavorful vegan dishes in town: Moon-Dog Cafe, The Cafe, Date & Thyme, and Mellow Cafe & Gastropub.
Moondog Cafe & Bakery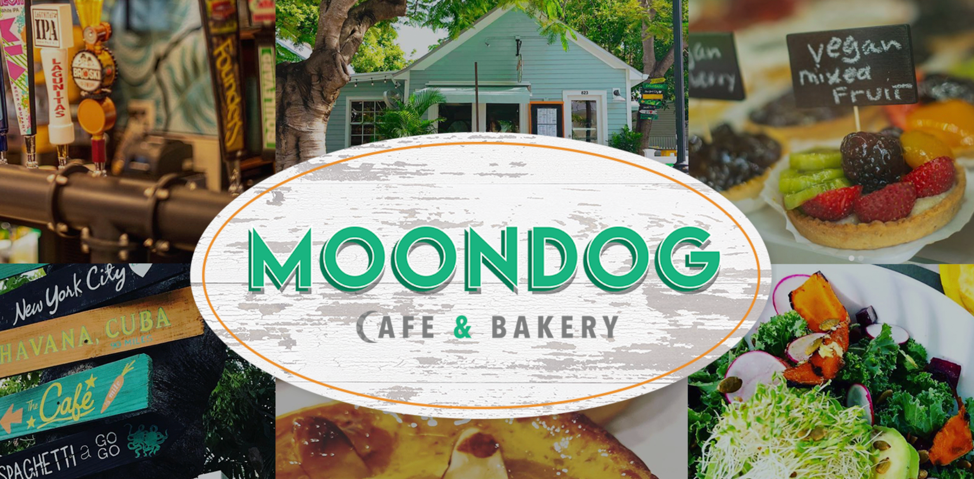 Located across the street from Hemingway Home & Museum on Whitehead Street is where you'll find a delightful, colorful, eclectic mix of really good food. Welcome to Moondog Cafe & Bakery, a favorite amongst locals and tourists alike. You might wonder why so popular, and the answer is a mix of great food, service, and atmosphere. Let's talk about the food and vegan-friendly options on the menu.
Both the bakery and the menu at the cafe have sufficient vegan options. Vegan cheese is available on request and egg on the breakfast menu can be replaced with tofu. The vegan sweet treats that are available are plenty.  I was happy! ~ Sasspa, Happy Cow Review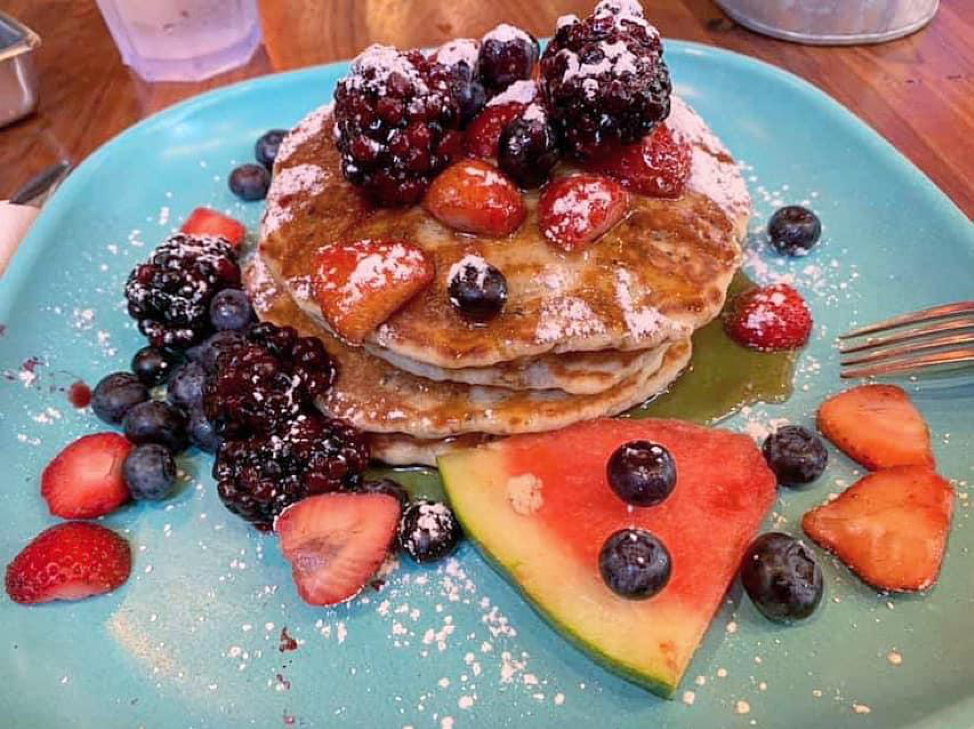 Rise and shine to some Blueberry-Lemon Quinoa Pancakes!  Organic tri-color quinoa, fresh blueberries & real maple syrup. Vegan AND gluten-free. Photo Credit: John Tartaglia/Moondog Cafe Facebook Page
Fantastic food. One of the best vegan joints in Key West. ~ Nathan Pawlukiewicz recommends Moondog Cafe & Bakery – Facebook Review
Moondog Cafe & Bakery offers a variety of vegan options on the menu. One of our favorites is the Green Giant burger with fries, avocado, and veggies salad. If you prefer pizza, they have vegan cheese and for dessert -they've got the best Vegan Key Lime Pie on the island. One thing is for sure; there is no way you will sacrifice flavor whether you order, vegan, vegetarian, or gluten-free – many options available. Some have even said they have the best vegan desserts on the island, so make sure to check them out when you visit.
View the Moondog Cafe & Bakery Menus
Moondog Cafe & Bakery
832 Whitehead Street
Key West, FL  33040
305-741-7699
Hours:  Open Daily 8am – 10 pm
The Cafe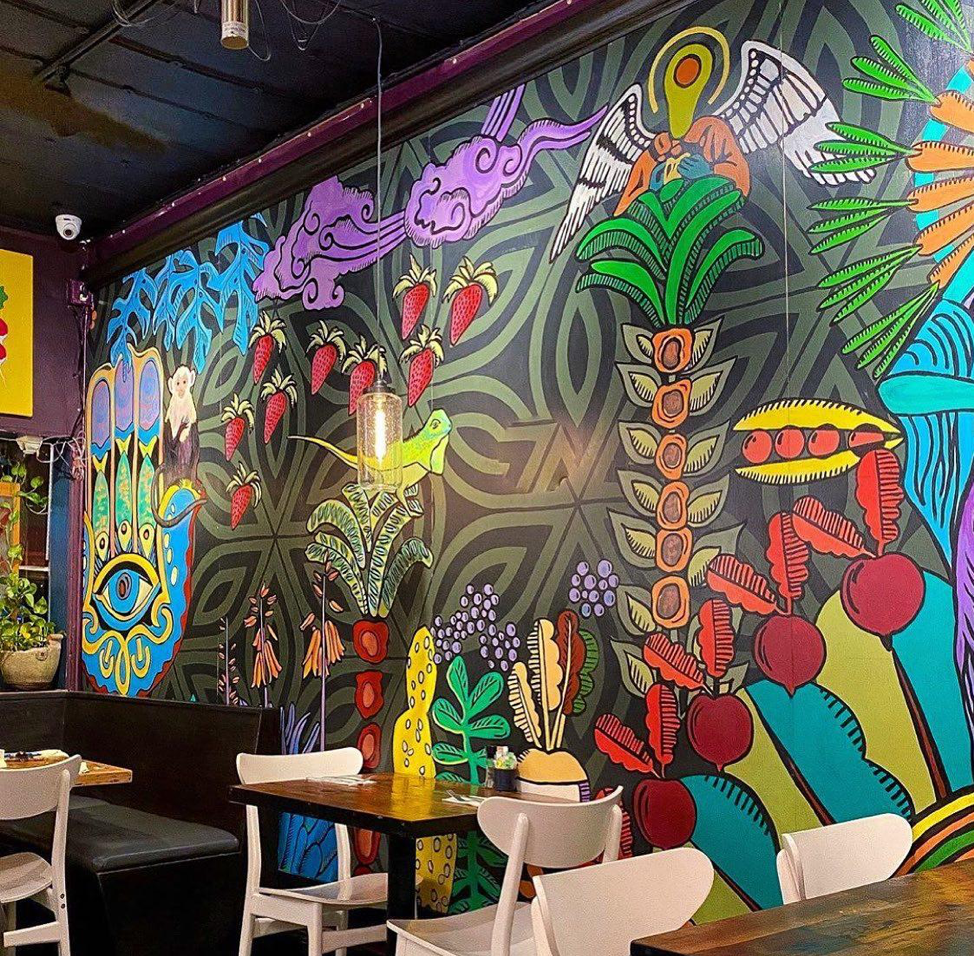 Surrounding yourself with vibrant colors and artistic scenery is a proven way to boost your mood! Enjoying delicious and healthy foods is also a good way to do that! Boom! Do BOTH right here at The Cafe! Photo Credit: @tbarrett187
The Cafe is a mostly vegetarian restaurant serving delicious vegetarian, vegan, and gluten-free options in an artful, hip atmosphere. The Cafe is the sister restaurant to Moondog Cafe & Bakery serving up healthy eats located on Southard Street in Old Town, just off Duval Street.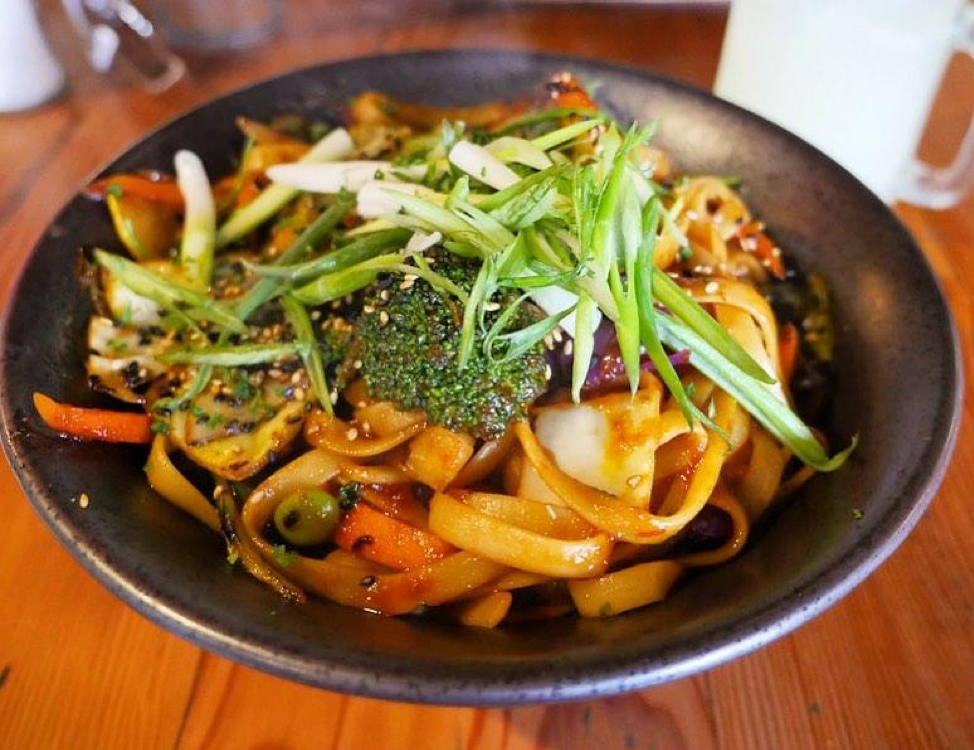 Our Spicy Szechuan Stir Fry with tofu, noodles, vegetables. Photo Credit:@justinpluslauren The Cafe Facebook Page
So many vegans and gluten-free options I had a hard time choosing, not something I am used to being a gluten-free vegan! The Tofu Huevos Rancheros were full of flavor and one of the best breakfasts I have ever had! As of amazing food isn't enough, the artwork is stunning making it a most inspiring place to dine! Will def be back!!! ~ KellyBarrett, Happy Cow Review
 The Cafe has been around for a long time serving up some of the best healthy eats in paradise.
"It would be foolish to come to key west and not to visit this place. We loved loved it (and we are not vegan or vegetarian)." ~ Glen S. from Saratoga Springs, NY on YELP.
In addition to the amazing food, the Cafe is also serving up a variety of fresh juices, organic wines, craft beer, as well as matcha & cappuccino. They are open for breakfast, lunch, dinner and added bonus – they are also serving a bottomless mimosa weekend brunch! The Cafe delivers on good eats and extraordinary flavors in a chill spot decorated with local art.
The Cafe
509 Southard Street
Key West, Florida  33040
Dine-In, Take Out, & Delivery
(305) 296 5515
Hours: Monday – Friday  9am – 10pm
(Breakfast until 12 pm)
Saturday & Sunday Brunch  9am – 4pm
Weekend Dinner  5pm – 10pm
Mellow Cafe & Gastropub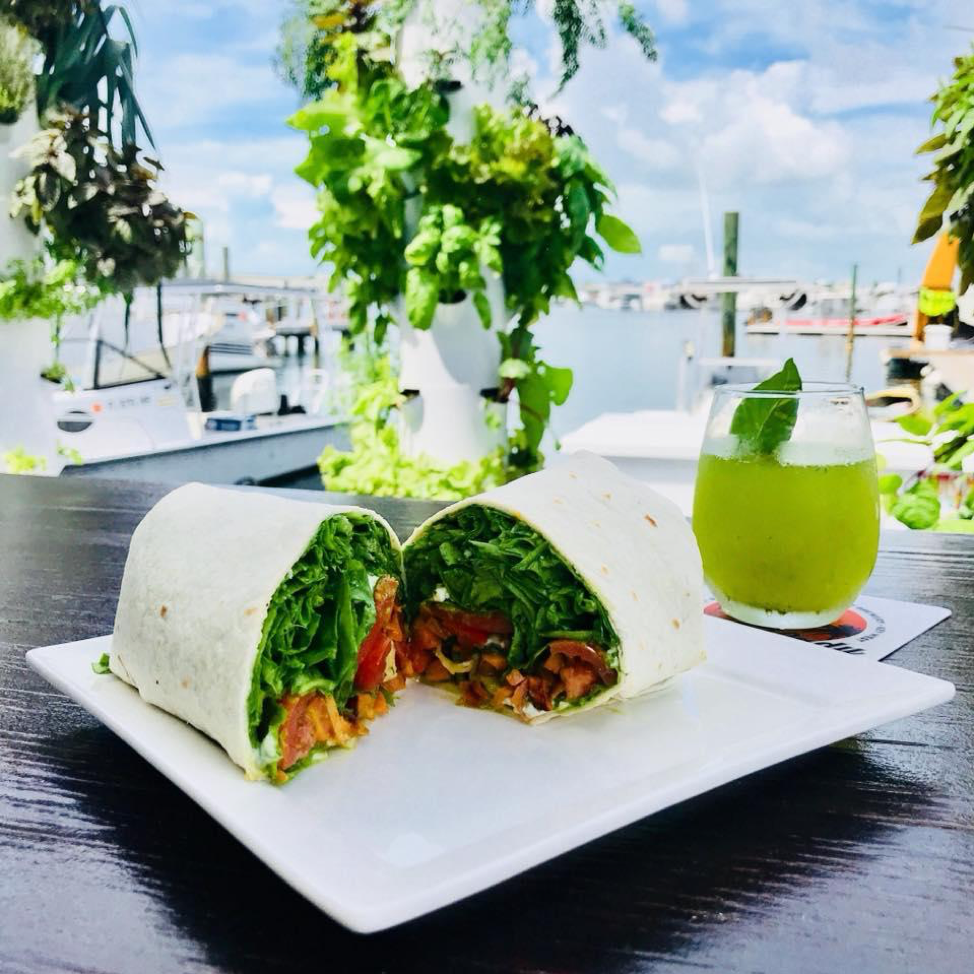 Mellow Cafe' and Gastropub is one of our favorite hidden gems and off-the-beaten-path craft beer bar and eatery located right on the water at Garrison Bight. It's a relaxed atmosphere where you'll be sitting on the docks watching the boats come and go while enjoying great food and drink in a Key West casual laid back atmosphere.
Let's Talk About Food
What you can expect when visiting Mellow Cafe & Gastropub is uncommonly healthy, flavorful preparations, with a generous dose of inspiration.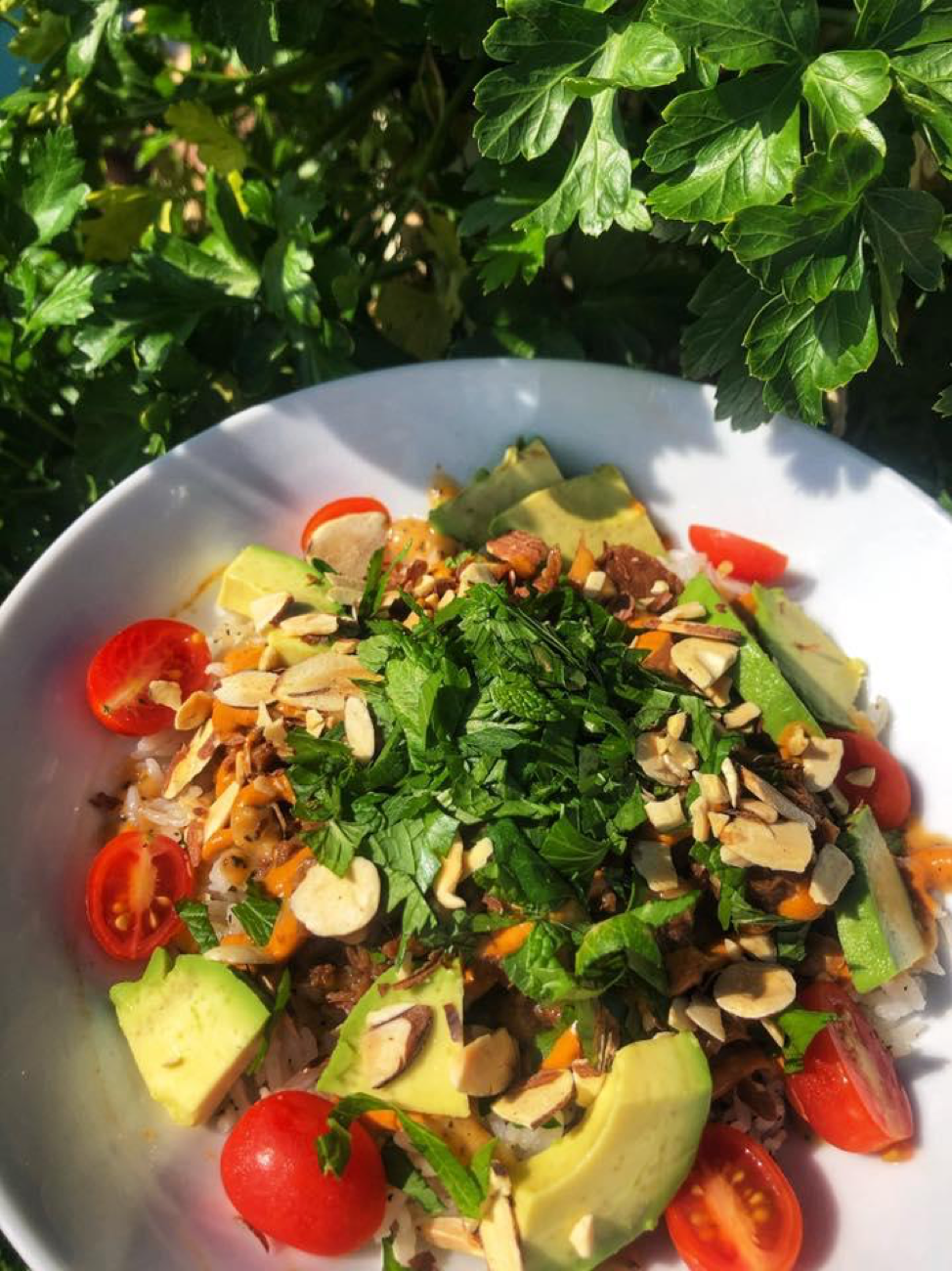 Vegan Smash bowl | Took a little inspo from overseas and made a sweet Thai spiced jackfruit. It's served with organic greens from our garden. Photo Credit: Mellow Cafe And Gastropub
They've got something for everyone, including vegan, vegetarian, gluten-free healthy options, and all dishes made with the freshest ingredients. It's a small cafe bursting with flavor in a very hip, cool atmosphere.
"We came here 2 nights in a row because the vegan lettuce wrap and vegan taco bowl are just that amazing!! Also, had the chips and salsa/guacamole and it was so freshly made. They have several vegan options and the cashew sour cream and vegan cheese is so yummy!! Definitely gonna miss this place when we go back to Crystal River." ~ Danette Haddox recommends Mellow Cafe and Gastropub, Facebook Review.
View the Mellow Cafe & Gastropub Menu
Mellow Cafe & Gastropub, open for breakfast, lunch, and dinner, offers a variety of healthy eats and unique island fare with a laid back mellow atmosphere to match. Sit back, relax and enjoy!
Mellow Cafe & Gastropub
1605 North Roosevelt Boulevard
Key West, Florida 33040
Phone: 305-745-3874
Hours:  Open 10 am – 10 pm
Open Sun. 9 am – 6 pm
Date & Thyme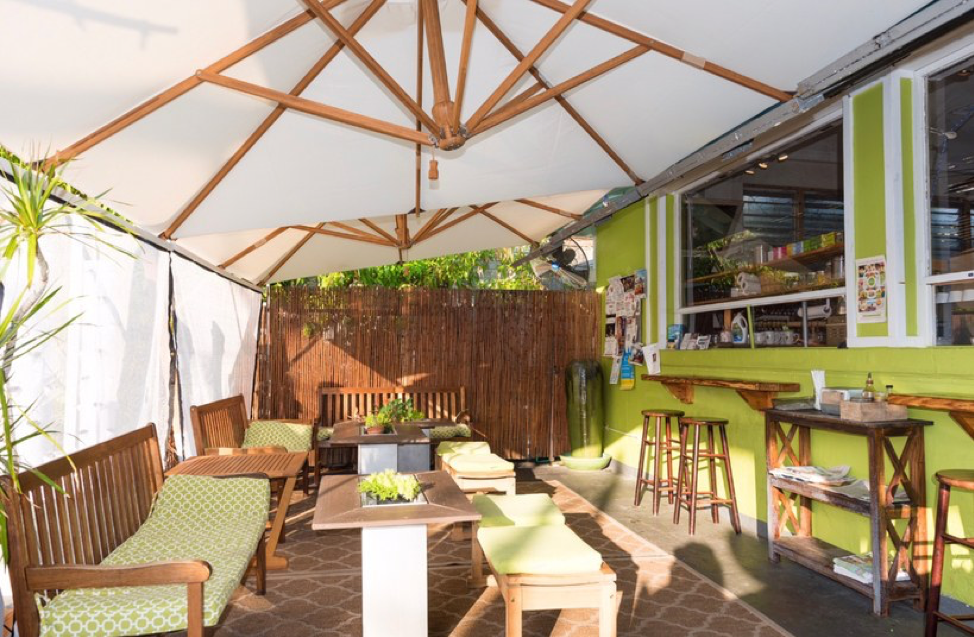 Photo Credit: Date & Thyme
Located at the corner of Fleming and Margaret Street is where you'll find Date & Thyme. This healthy eatery is serving up fresh organic, vegan, and gluten-free foods made with love. Relax and eat in the patio area, order a picnic to go, and you can even place an order online. 
Named one of the 10 best restaurants in Key West by Conde Nast Traveler, Date & Thyme serves up a healthy lifestyle by offering healthy food options that nourish the mind, body, and soul. To live life well is to nourish body, mind, and spirit. The date and time to start is now! ~ Date & Thyme
Delicious fresh organic food! Many vegan options with the ability to sub tempeh for those items that are vegetarian. Serves delicious coffee with many plant-based milk options (including homemade coconut milk). Breakfast burritos, açai bowls, Buddha bowls, avocado toast, and so many more options. Gorgeous lush green patio outside. Highly recommend!
Pros: Emphasis on local and sustainability, Gorgeous lush patio to enjoy your food, All fresh and organic ~ Susan Marsh, Happy Cow Review

Date & Thyme is another hip, cool place to eat. It's located in a former gas station and serves up the healthiest of food options with organic veggie dishes & juices, plus there is an attached organic grocery. It's not a dining experience; it's a healthstyle foodie experience.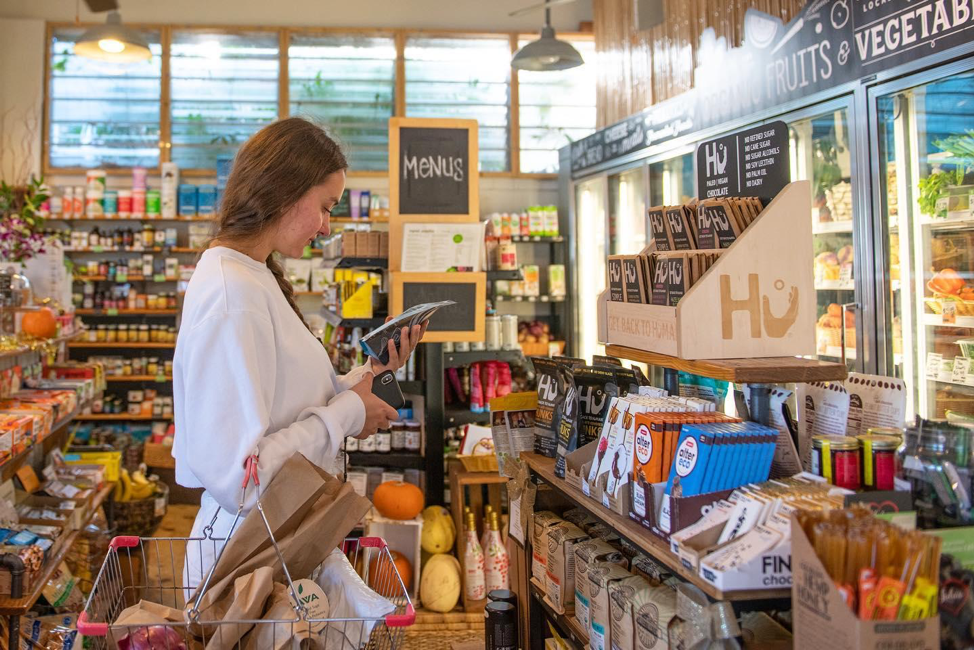 From our produce to our supplements and superfoods, all of the products in our market are carefully chosen to be of the highest quality and integrity. ~ Date & Thyme
Date & Thyme Organic Cafe in Key West Florida is Fantastic!! The employees are Great and the Vegan Food is Wonderful. Date & Thyme will always be my "Go-To" Organic, Vegan Restaurant in Key West!! "Mark" ~Mark Reisner recommends Date & Thyme Organic Cafe, Juice Bar & Market.
Date & Thyme is open daily from 8:00 am to 4:00 pm for breakfast and lunch. The Juice Bar and Market hours are 8:00 am to 6:00 pm. In the market, you'll find organic produce, groceries, supplements, superfoods, body care, books, and gifts.
Natural Foods Market & Organic Cafe
829 Fleming Street, Key West
Order Online – Delivery – Eat In
Phone: 305.296.7766
Cafe open for breakfast and lunch from 8 am – 4 pm
Market and Juice Bar open from 8 am – 6 pm
Now that you know where to go for the best vegan food in Key West let us know how much you loved the creative and flavorful ways our local chefs served up your favorite dishes. #somolife
Sign up for exclusive offers – direct to your inbox!