Wedding Planning in Key West
Let's talk about wedding planning in Key West along with some tips and trends happening right here at our Key West beach resort.
Q&A with JenaRose McCall, Complex Catering Sales Manager
I caught up with JenaRose to ask about wedding trends and also to get an update on any tips she might have to offer someone looking to book a wedding in Key West. Here's what she had to say:
We are seeing couples plan multiple events during their wedding stays. Some choosing to host a welcome reception or brunch on-site – in addition to their ceremony and reception. That's the benefit of having your guests stay with us – so many different venues – all unique offering that laid-back tropical island style.
Eco-Friendly Decor is Trending
Weddings at our Key West beach resort tend to be more laid back, more eco-friendly with their décor decisions since we are directly on the water.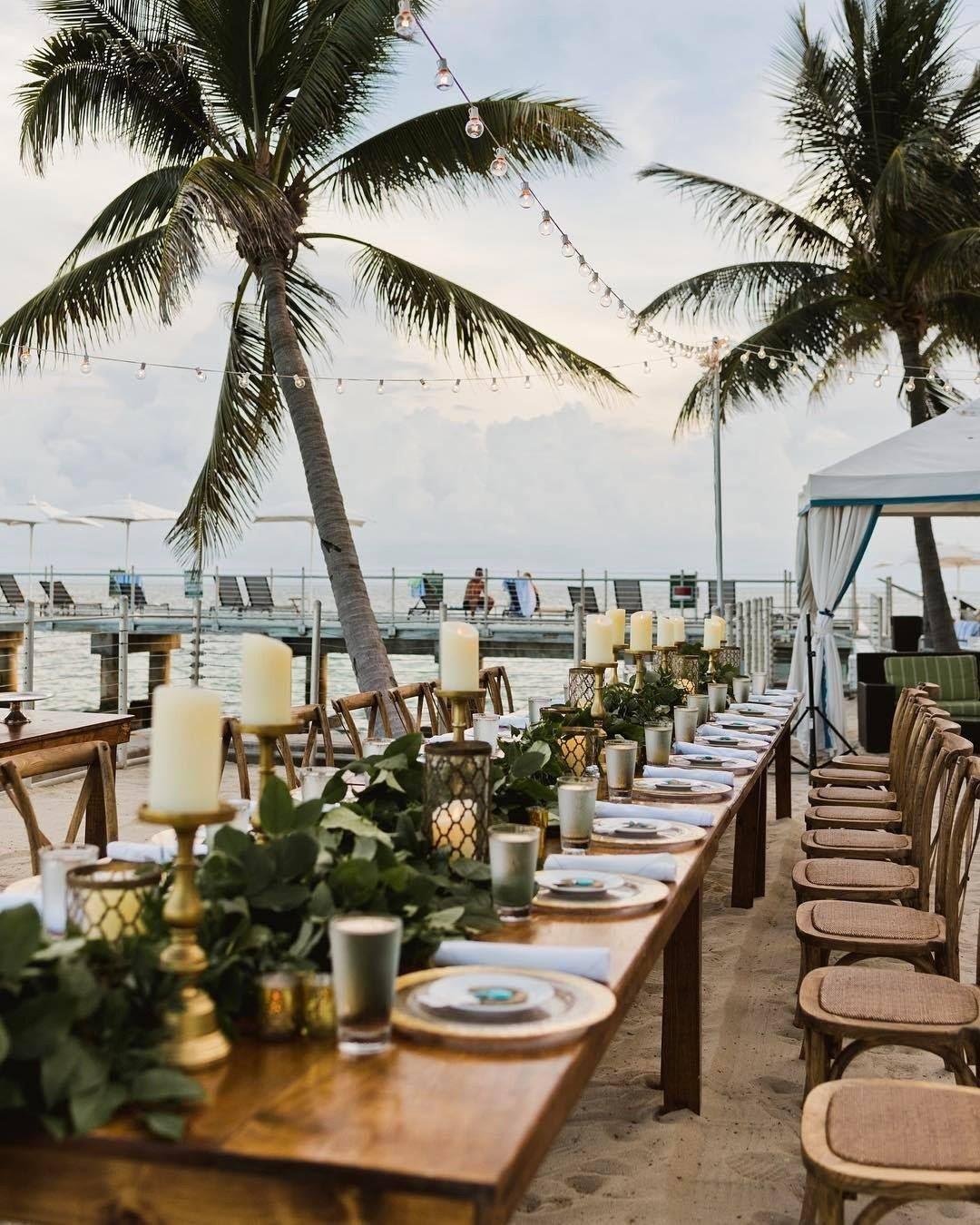 One thing we've seen more of lately is more custom signage more simple décor like a low floral arrangement on the tables or an arrangement of candles.
Wedding Planning Tips for the Bride
Learn about the Destination | Book The Hotel | Hire a Wedding Planner
It's essential to do your homework and learn about the destination before committing. Find out what it will take for your friends and family to travel to your desired location. Once you have your destination selected, choosing your date and venue would be the next step. If your time is flexible, definitely inquire about what periods are considered out-of-season, or if there are any special events/holiday dates, you should stay away from due to room rates or high occupancy. You can also do this through your local wedding planner if you are working with one, which is highly recommended. Once the venue and date are secured, and you've got a contract with your planner, the rest of your vendors and wedding day will fall into place.
Key West Wedding Planners We Love
If you're planning a destination wedding, then one of the first things you need to do is hire a wedding planner. You've got enough on your plate and no need to add more stress to your daily to do's. The planner is your go-to source for everything you'll need for your destination wedding. They know the locale, they are connected to the top local vendors, know what works and what doesn't – so make sure you listen, they will do the research for you, so you don't have to, and they will guide you to best resources for you and your guests in paradise. More important is they will work with you and your budget to create the wedding experience you desire.
Here are a few of our favorite Key West Wedding planners and vendors we work with and highly recommend: Simply You Weddings, Family Affair, Just Save The Date, and Say Yes in Key West.
Simply You Weddings
Simply You Weddings is a trusted top-rated wedding planner in the Keys ready to turn your dream wedding into a reality.
About Simply You Weddings
Exceptional event planning focused on you! Simply You Weddings founded by Julie Shreck in 2008 with the mission to provide every couple with the opportunity to create a wedding that truly reflects them, their lives, and their love. Julie and her team are dedicated to bringing your wedding dreams to life and connecting you to the finest location, and vendors to help make your dreams come true.
"Your passions become our passions, and we make it our mission to discover what matters most to you. Armed with this knowledge, we turn the vision for your special day into a reality. From grand galas to intimate gatherings and everything in between, working together, we create a customized Key West wedding that is truly and simply "you."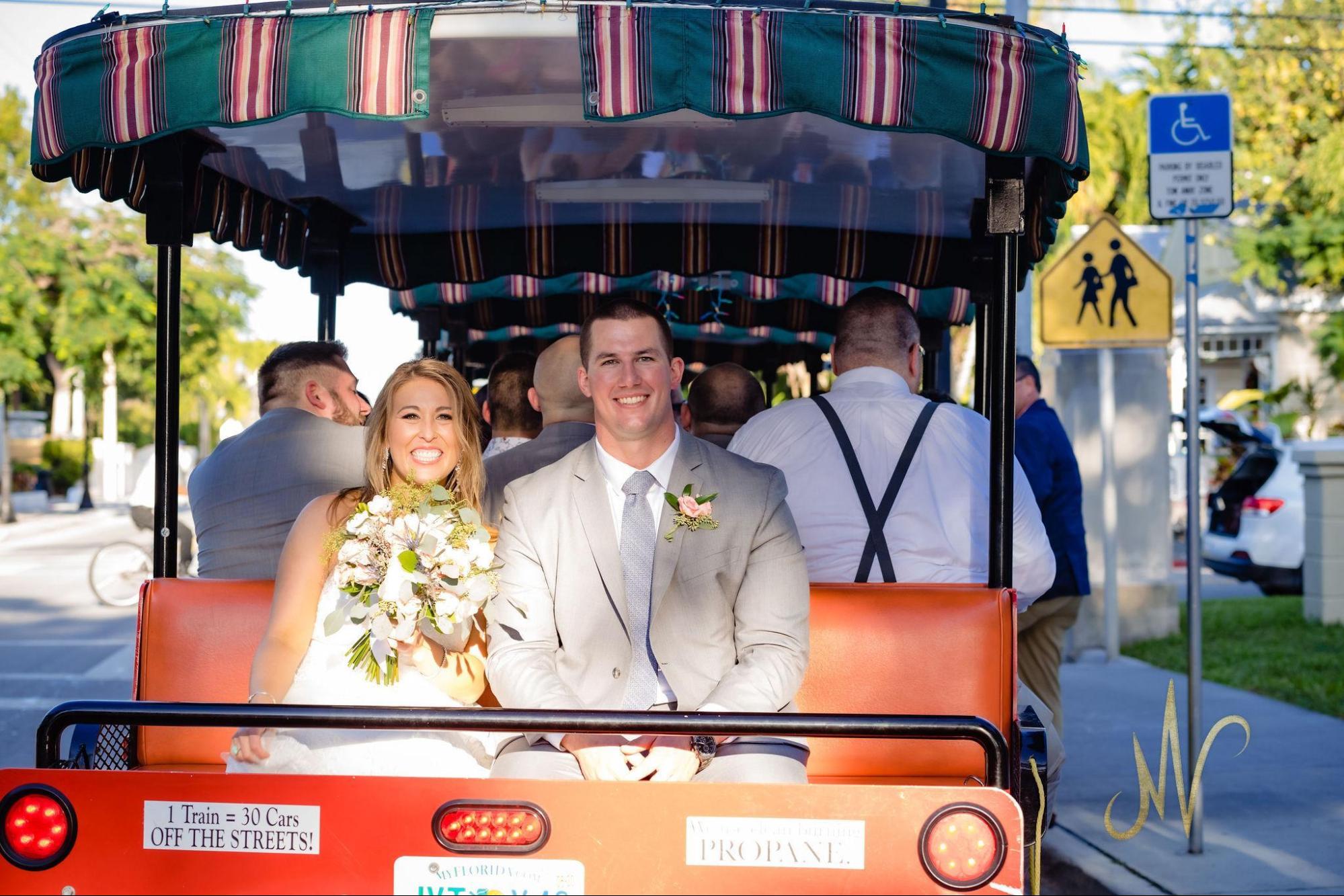 Gathering your friends and family on the Conch Train is the perfect way to enjoy Key West on your wedding day!
Learn more about Simply You Weddings
Family Affair Key West Weddings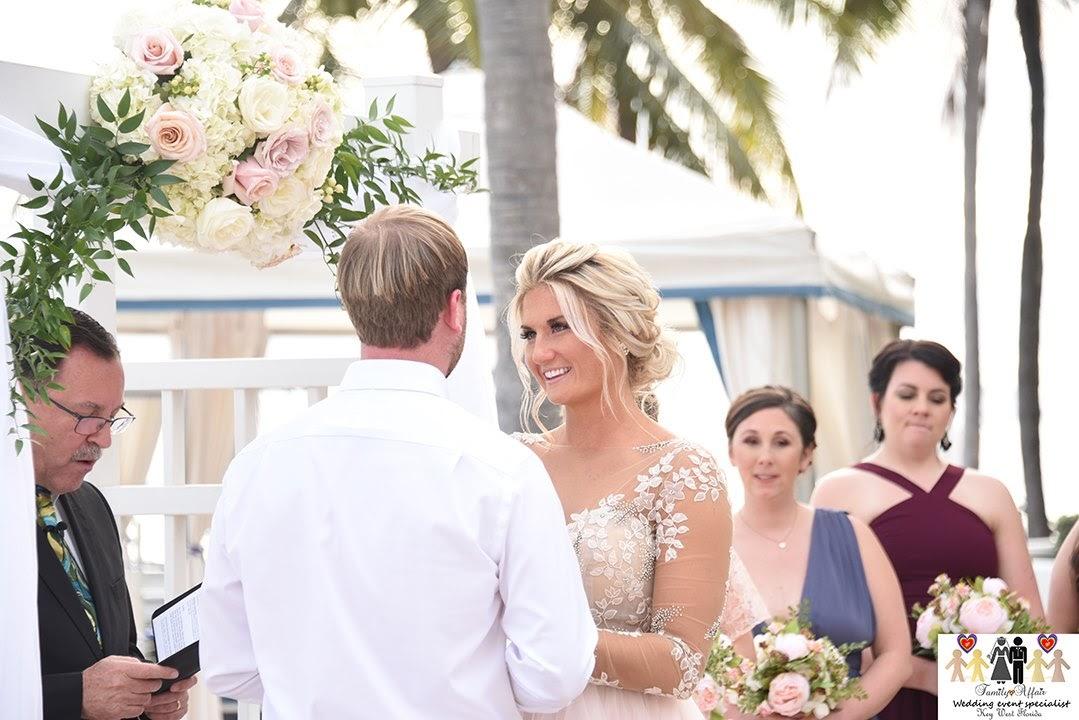 Brittany and Chris married at Southernmost Beach Resort on a beautiful Key West January 24th day! Here's what Brittany had to say about her experience with Family Affair Key West Weddings:
"I am a recent bride who lives in MD and wanted a dream wedding at the beach. Bernadette and her entire team made this dream a reality. I cannot express my thanks enough. She took me through every step being miles away and it was more beautiful than I could ever imagine. If you're worried about doing a destination or even a local wedding, don't be if Family Affair is doing your planning. The best vendors, the best service, and a sense of ease that I didn't even think was possible with wedding planning! Simply incredible and everything I could ask for on my special day. Thank you, Bernadette!!" ~ Brit Hicks, Facebook Review
About Family Affair Key West Weddings
It really is a family affair! It started by with two sisters and their husbands who found themselves in the wedding industry in Key West and really enjoyed working together. There was a photographer, a DJ, a videographer in the mix, so why wouldn't they work together and include wedding planning to the list of services. You've got 25 combined years of wedding experience served with love. Together we make up a team that will do everything they can to make your day perfect.
Learn more about Family Affair Key West Weddings
Just Save The Date
Just Save The Date is an award-winning, full-service event planning and design company with offices located in Orlando and Key West.
At Just Save The Date, we believe that we don't just plan events, we plan our friends' events. In order to create a unique and memorable event, we must get to know our clients on a personal level. Accordingly, our events directly reflect our clients, their personalities, and their vision. For some, "the devil is in the details," but, for us, our client's personalities are in the details, making the overall event truly unique and memorable.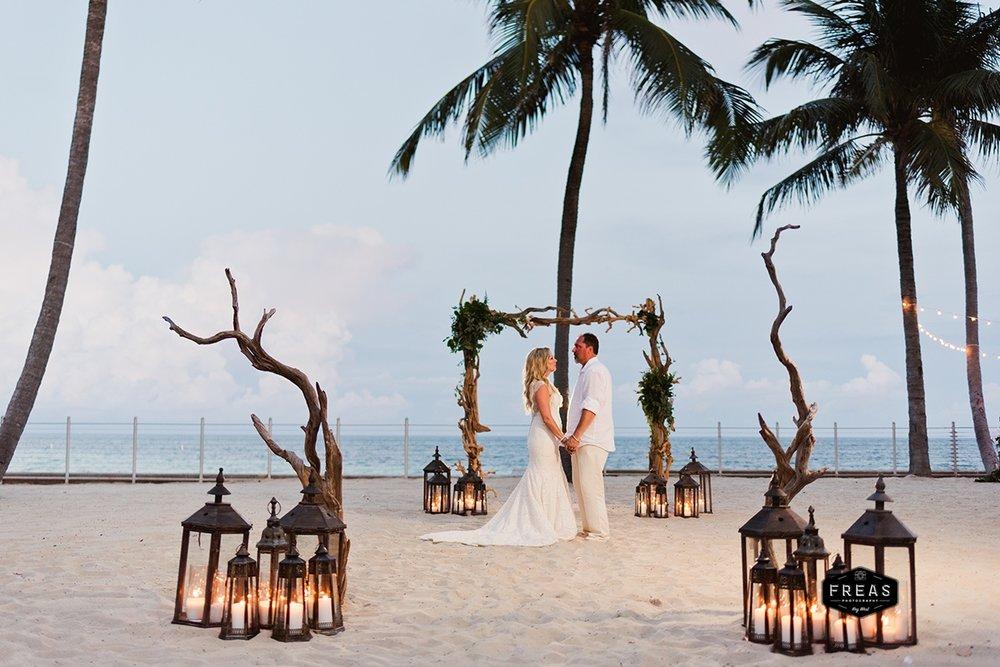 Take a look at Dawn & Matt's wedding at Southernmost Beach Resort on Just Save the Date Blog.
About Just Save The Date
Kelly Fowler, the owner of Just Save The Date, shares her story of how this all came to be.
My inspiration & love of event planning came while I was planning my own destination wedding. It seemed nearly impossible to capture my our collective vision as a couple for the big day, particularly before the days of social media tools.
So I leveraged my professional event planning experience, and not only planned our wedding but also designed and created many of our wedding elements, such as the decor. I took that experience and my love of the sun, sand, and travel and began Just Save The Date! Our team has over 20 years of experience in event planning, customer service, and the hospitality industry, which translates into a seamlessly organized event for you!
Learn more about Just Save The Date
Say Yes in Key West
Say Yes in Key West specializes in creating the perfect Key West wedding for couples who desire a stunning beach wedding. Wedding Planners Deirdre Colesar, Nancy Chavez, and Guadalupe de Lafuente are the dynamic team connecting you with local and trusted vendors. They are dedicated to providing you with the perfect wedding day you dreamed of.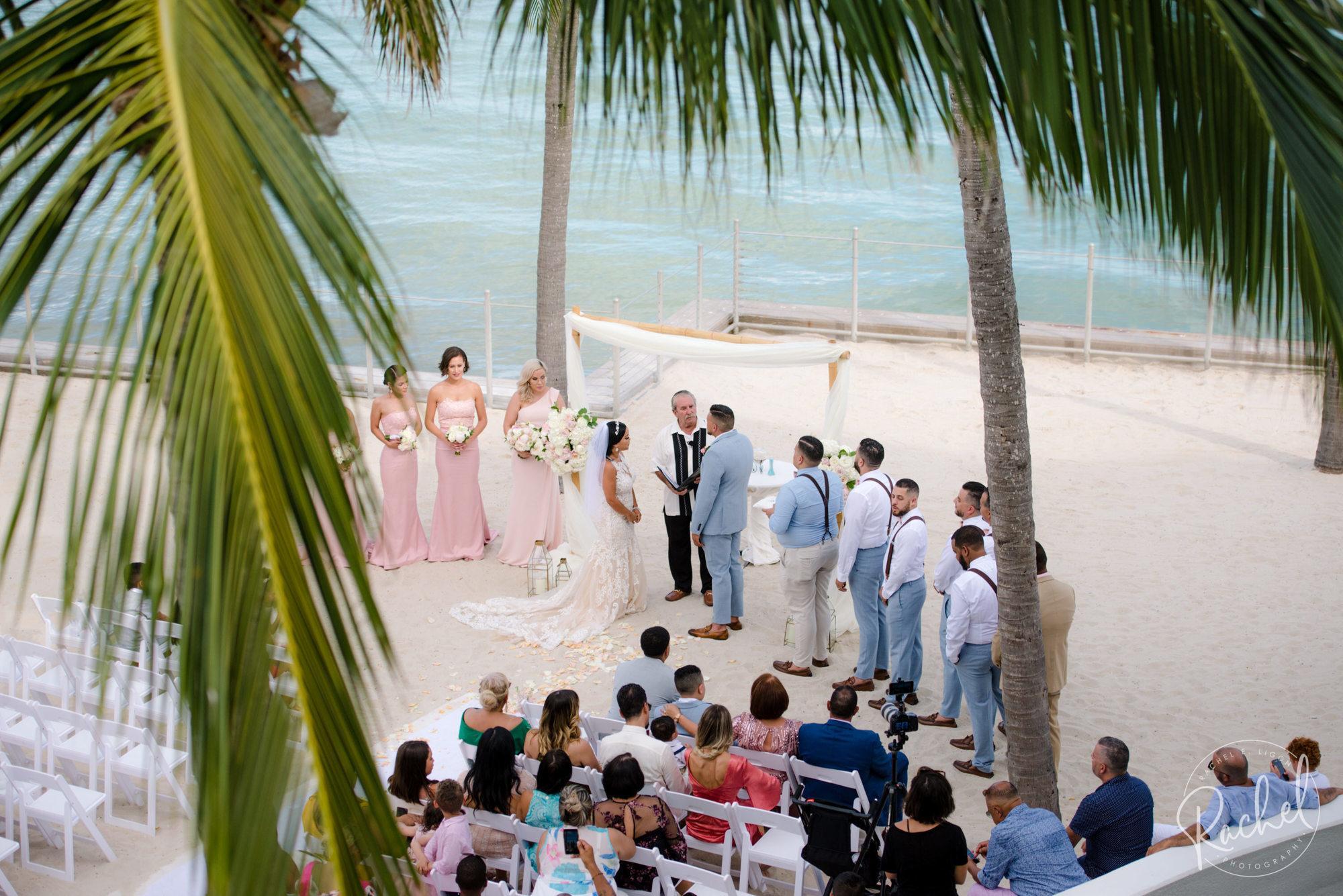 Say Yes in Key West Review
We got married in Key West at Southernmost Beach Resort on December 1st. Being from out of state, we had many concerns about how our plans would flow. We reviewed various wedding planners and decided to go with Say Yes in Key West. Fortunately, we were assigned Nancy Chavez as our planner. Nancy thoughtfully worked with us long distance, making sure that every detail was covered. She communicated with us regularly and listened to the special requests that we wanted included in our ceremony. She provided us with vendors that were the best. Many of our guests complimented us on every aspect of the affair. We received descriptive comments such as "breathtaking", "beautiful," and "most memorable!" Nancy showed us that she truly cared about us and our wedding day. She honestly felt like a member of our family! Thanks to her assistance and amazing guidance, we have a wonderful wedding memory to look back on! When we renew our vows in the future, we will rely on Nancy again. We highly recommend Say Yes in Key West as well as Nancy Chavez! ~ Janice Connolley, Google Review
About Say Yes In Key West
Customizing services to fit your desires. We offer Full-Service Wedding Planning as well as Day-of-Coordination so you can enjoy your wedding and celebrate with your guests from start to finish. Enjoying the process of planning your big day, being confident in each decision, and bringing your ideas to reality are the guiding forces behind our team.
Learn more about Say Yes in Key West
Setting the Scene | The Decor
Romantic, Organic & Chic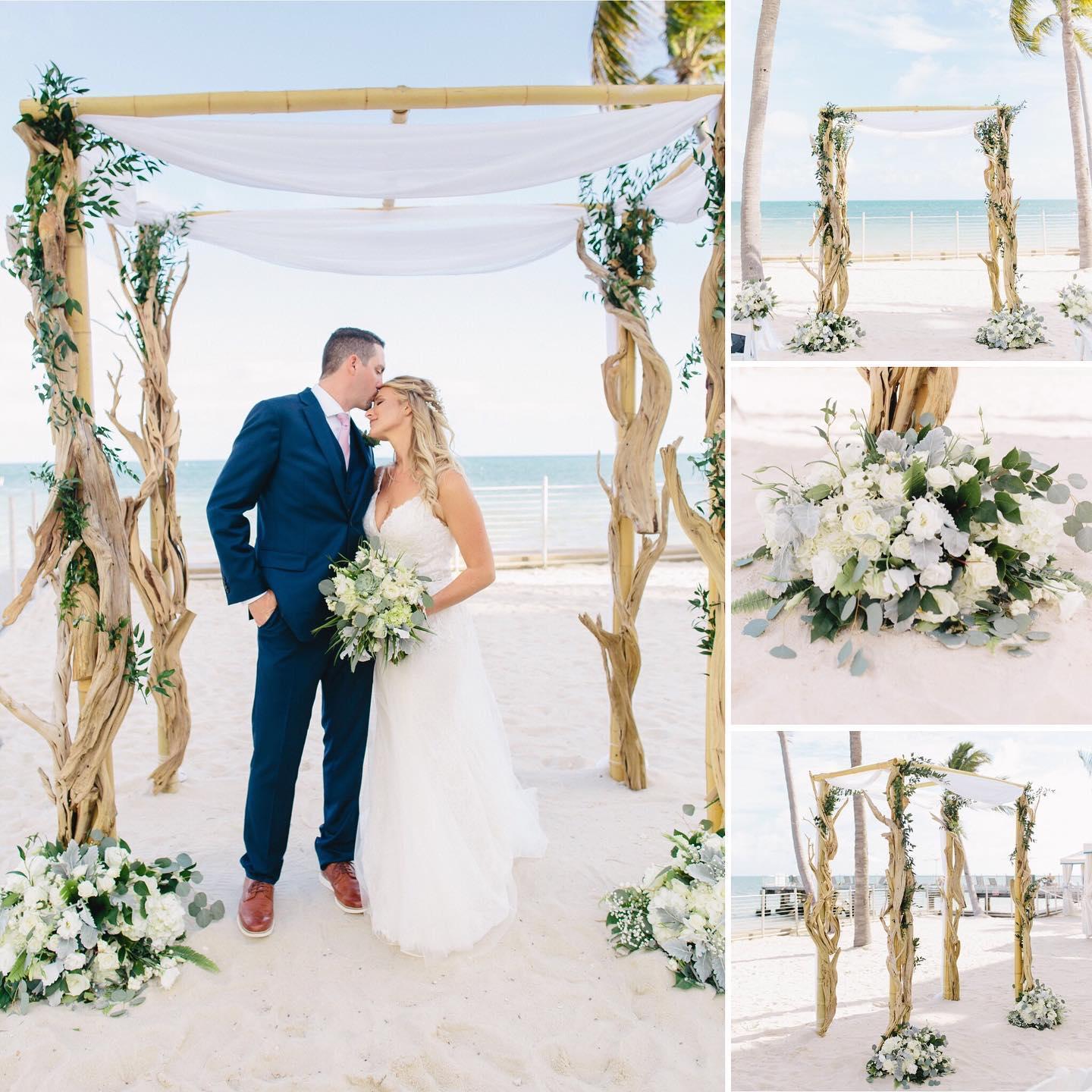 Photo Credit: Iris Moore Photography
Another special shoutout goes out to our friends at Milan Event Florals and Decor! They create the scene and the WOW factor you are looking for and imagine. The photo above represents the beauty of their work. A heartfelt, first intimate moment as a husband and wife under our driftwood wedding arch. Milan Event Florals & Decor loved designing this beach wedding at Southernmost Beach Resort. Both, the ceremony & reception were romantic, organic & very chic.
About Milan Event Florals & Decor
Peter Bek-gran is the Event Design Creative Director and Owner with thirty years of experience in the floral and decor industry, who has served clients such as Coach and L'Oreal USA in New York City.
Milan Event Florals & Decor strives to create a beautiful balance between style, elegance, and simplicity. They provide custom floral design and event decor that never fails to impress. There specialty floral and decor for your dream destination wedding. They will capture your vision and create a wow factor that lasts a lifetime by utilizing your budget, where it has the most visual impact.
Learn more about Milan Event Florals & Decor
So much love surrounds our island, and all of our friends mentioned today are ready to make all of your wedding dreams come true. Don't forget to keep sharing the love and your destination wedding memories with us! #somolife
Sign up for exclusive offers – direct to your inbox!