Where to Shop in Key West
Three Boutiques We Think You'll Love
Wondering where some of the best shopping experiences are in Key West? That is one of the most frequently asked questions we get, and today we are going to share some of our fashion finds with you. Get ready to get off Duval as we travel to three of the best places to shop in the Southernmost City. All three offer something different but can dress you up and style you for your island getaway to paradise. Let's go shopping at Coco's Monkey, Wanderlust and Besame Mucho.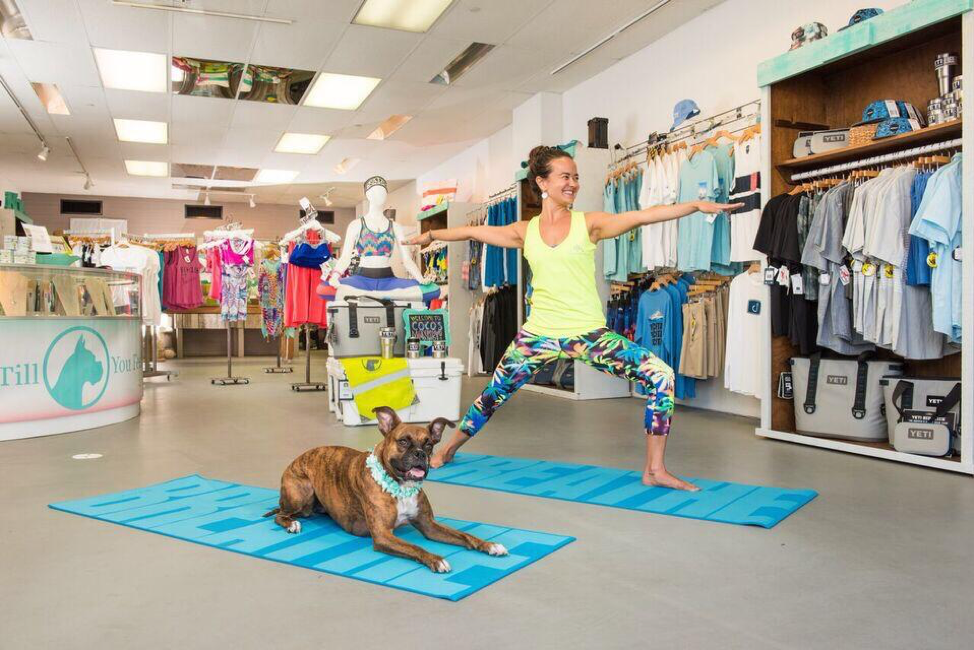 Coco's Monkey
Key West inspired Athleisure Wear
CoCo's Monkey is Key West's only Athleisure Wear Boutique for men and women. Specializing in performance wear for running, yoga, paddle boarding, fishing, and more. The store has a cool laid-back vibe and place to get casual apparel for a day touring the island or a day at sea. It's another favorite amongst the locals on the island too.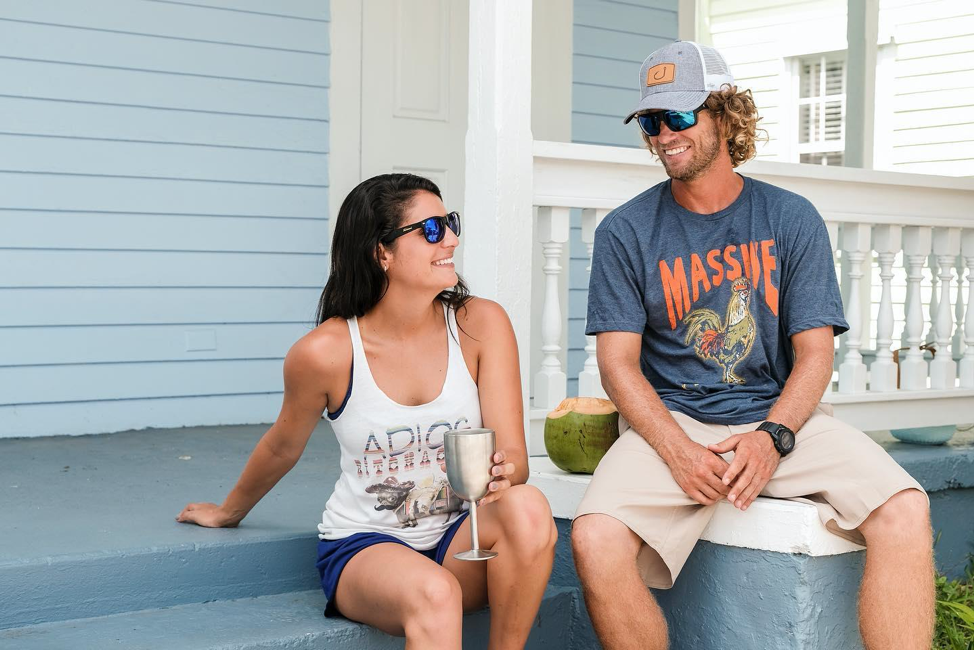 Photo credit: Coco's Monkey
Wondering where athleisure wear fits in your vacation experience? Let's just say it's perfect for Key West because it's comfy cozy, casual wear for everything you want to or not do. You're on island time – enjoy the laid back vibe. Coco's Monkey can dress your entire family, as well. They've got kids' clothes too. They have everything you'll need to explore the island by land and sea. Check them out when you visit us in paradise.
They also have an online store, so if you can't make it to Key West, you can check them out online or on Facebook.
CoCo's Monkey
209 Simonton St, Key West, Florida 33040
(305) 292-2583
Store Hours:
Open 10 am – 6 pm
Wanderlust
Located off Duval on Petronia Street in Bahama Village is where you'll find one of the best Key West shopping experiences on the island. A quaint boutique with native and exotic gifts, handmade jewelry, and local art as well as women's and kid's clothing.
"Wanderlust KW is named after and inspired by the people who "wander" to this island and never leave, at least their heart never does."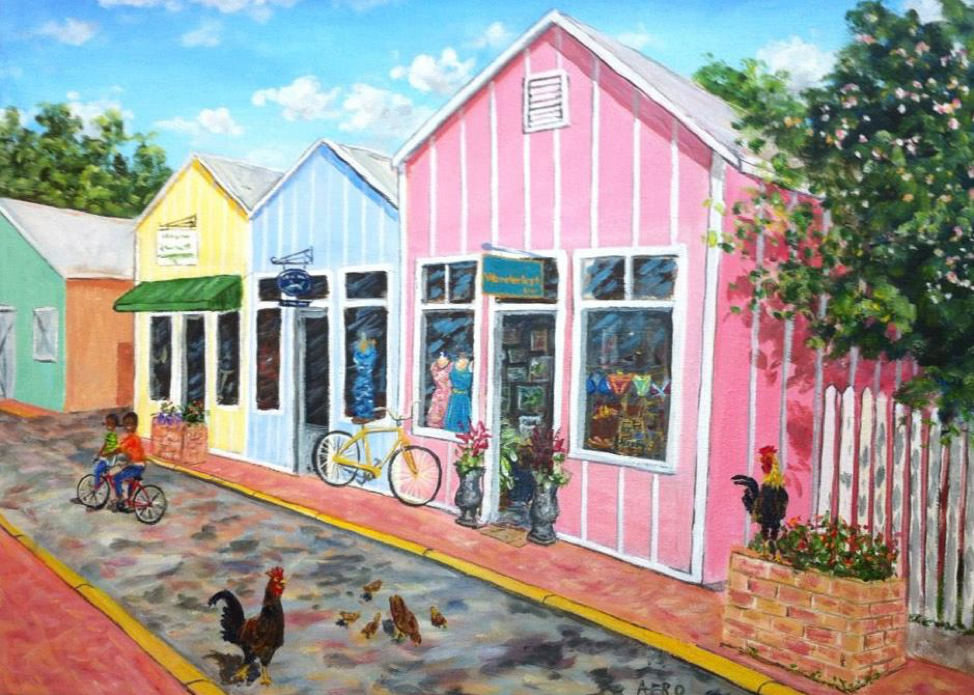 When you walk in, you are greeted with more than a smile as the personal service and attention, decorated with love for fashion, and island life is so clear. Casey Burtch, the owner, brings a personal touch to Wanderlust that goes along way. Whether she knows it or not, Casey also carries the title of "Stylist" because there are many days friends and locals walk-in and say, "I wish Casey were here so she could dress me."
Wanderlust is filled with an eclectic mix of fashion finds and unique gifts, including clothing, local art, jewelry, kids' clothes, shoes, handbags, accessories, and more. Wanderlust supports the locals, and the locals definitely love her as she features the work of local artists, designers, and other artisans.
We come to Key West every year, and we always go to Wanderlust. In our opinion, it is the BEST shop on the island! Casey (the owner) picks out the best fashions, and she's so personable and friendly. ~ Ellie Campbell, Google Review
Wanderlust
310 Petronia St, Key West
305-509-7065
Store Hours:
Open: 10 am – 6 pm
Sundays 10 am – 4 pm
Besame Mucho
After your experience at Wanderlust, wander over to Besame Mucho, which is also located on Petronia Street, and offer another unique travel and shopping experience in Key West. Welcome to Besame Mucho! A Key West boutique that is romantic, charming, carefully curated, mindful, and so worth a visit.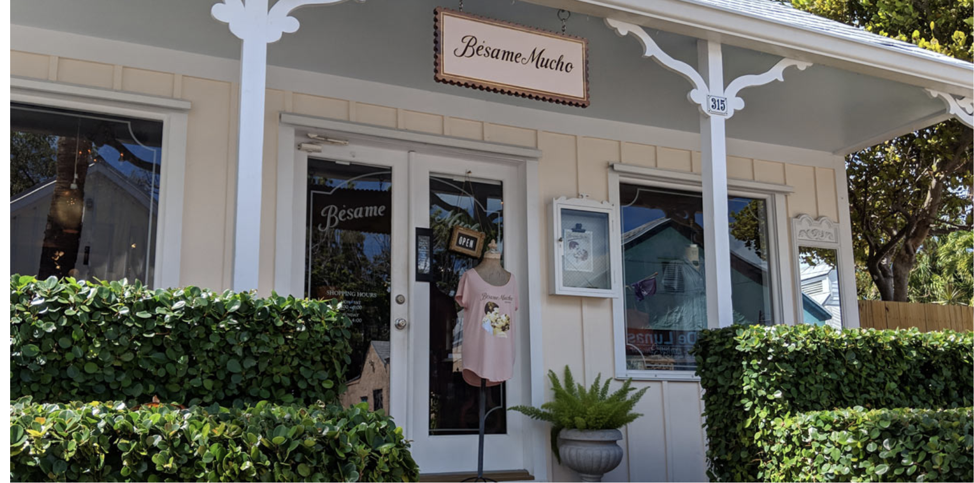 When you walk through the doors of this store, you are welcomed by thoughtful gifts and souvenirs, including jewelry, bath and body products, textiles, home goods, teas, and fragrances. This is the place to browse and explore the timeless treasures that surround you. If you are looking for unique meaningful gifts, this is the place to go.
"Most perfect boutique in America. This is. my favorite little shop in the whole world. Always one of the highlights of coming each year to Key West. There's a uniqueness and elegance to it. It is tiny, has lovely delicate jewelry, soaps, beautiful purses, unusual cosmetics, beautiful gift wrapping. Meredith, the owner, is warm and friendly, always helpful. And the art songs she plays are soothing and romantic. Perfection in souvenir ridden Key West." ~ drjudyr, TripAdvisor
Besame Mucho is a place to remember and one you'll never forget!
Besame Mucho
315 Petronia Street, Key West, FL 33040
(305) 294-1928
Store Hours:
Open daily 10 am – 6 pm
When you visit Key West, take time to shop and explore our most popular and treasured boutiques and bring something special back home for your loved ones. Do you have a favorite place to shop or a hidden gem you'd like us to write about? #somolife
Sign up for exclusive offers – direct to your inbox!