Wine Around Key West
Where to #Winedownwednesday and every day while on vacation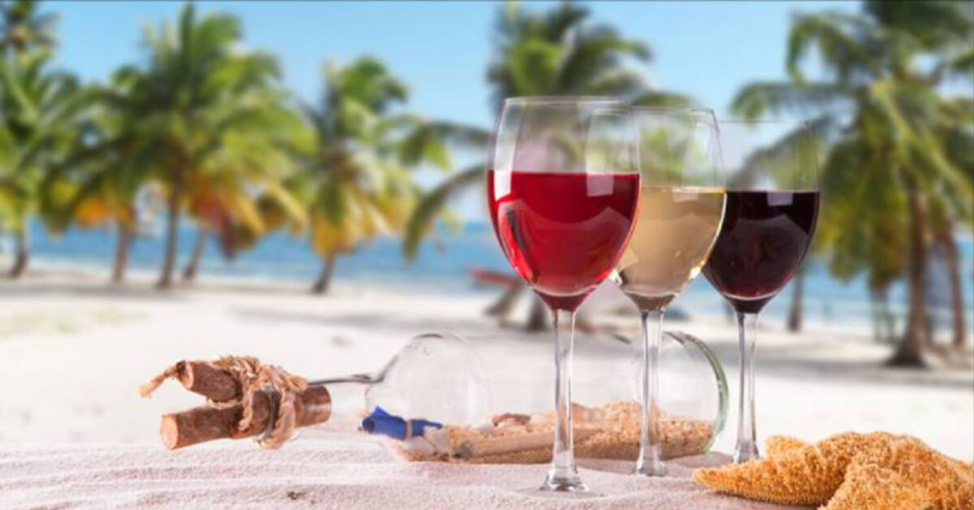 Photo credit: Grand Vin Wine Bar
There are so many bars in Key West, and they do keep popping up on every corner, but today our focus is WINE and where to find the best wine bars on the island. Here are three of the top wine bars that are favorites amongst the locals and visitors alike. UVA Wine Shoppe, Vino's on Duval and Grand Vin Wine Bar.
As we were writing this blog, all three wine bars received nominations for the Best Wine Bars in Key West in the Key West BUBBA Awards – that's our version of the people's choice awards. So if you want to know where the locals go, read on.
Grand Vin Wine Bar
Located on Duval Street, a few blocks from our Key West beach resort is where you'll find this charming wine bar and beautiful wrap around porch – welcome to Grand Vin Wine Bar.
At Grand Vin, you'll find affordable bottles of wine, to high-end prices from vineyards around the world.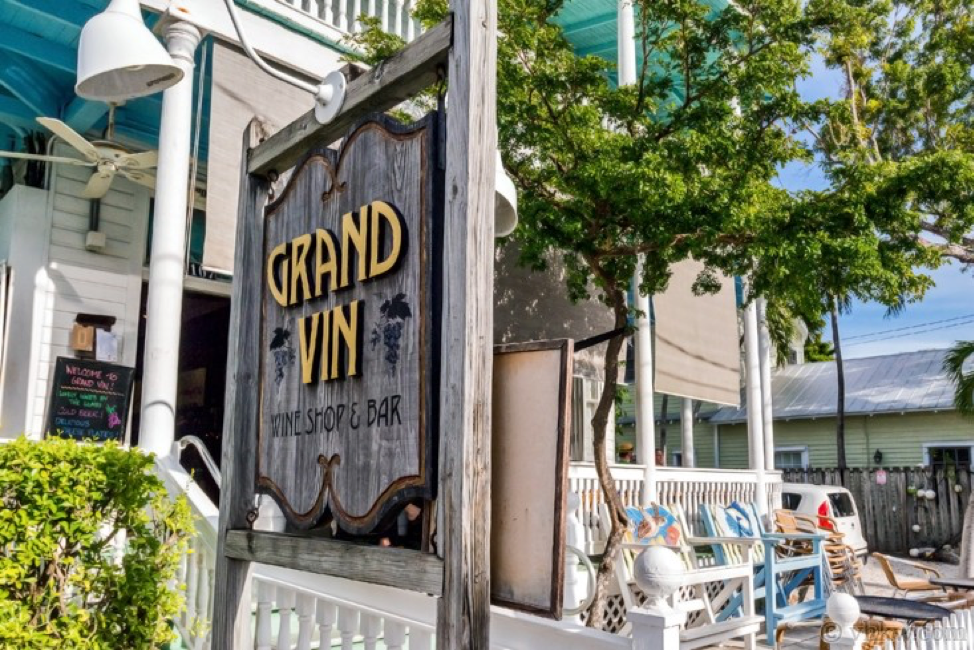 Photo Credit: Vacation Homes Key West
While taking a stroll on Duval Street drop in for a wine tasting experience – pair it with cheese and then sit back on the porch and watch the world go by. For non-wine drinkers they've got you covered with a nice selection of beers.
My Favorite Key West Porch!
This is such a cute little wine shop, we try to stop in whenever we're in town and I recently discovered how relaxing it is to sit out on the front porch! When we were there last week they also had the window open between the bar & porch, so very convenient for wine refills :). If you're looking to relax after an afternoon exploring KW, this is a great place to do it, can't wait to come back! " ~ C7767IDalexisl via TripAdvisor
Grand Vin Wine Bar
Hours: Open Daily 12:00pm – 12:00 am
1107 Duval Street, Key West, Florida
Website
Vino's on Duval
Vino's is another locals hangout, wine bar and shop in the heart of Old Town on Duval Street featuring fine wine and beer.
In addition to the wine and cocktails, the decor is worth mentioning as they have found the most creative ways to design this space using wine shipping boxes and bottles and check out the decorated cork ceiling. It's fun, funky and fabulous! This place is cozy, comfy, and a very cool hangout and people-watching place to enjoy cocktails with new and old friends.
Vino's on Duval is a great hangout! Great wines, champagne, sangria, and beer for those who like cold ones instead of wine. ~ Jennifer Parker, Facebook Review
Excellent sangria and cheese plates!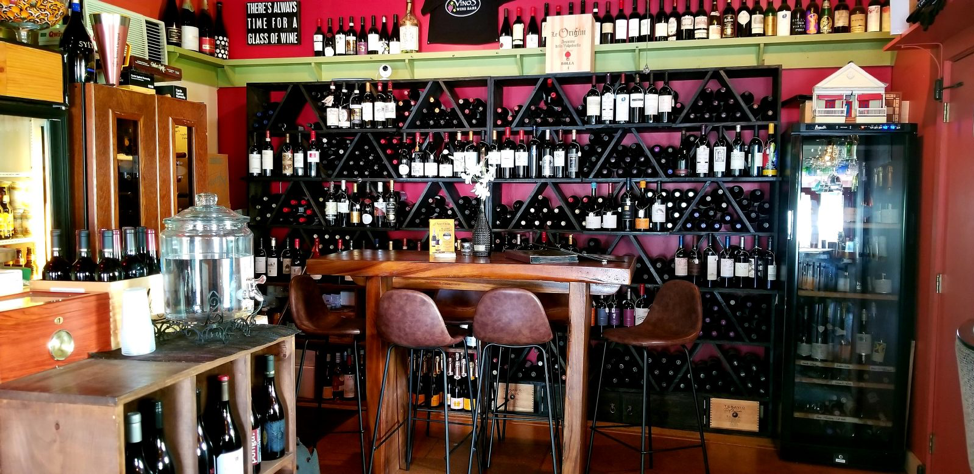 Photo Credit: Vino's on Duval
Summer Events at Vino's on Duval
In addition to serving up great wine, they've also gotten very creative with wine events during the summer. Here's an example of the weekly summer special events: Masquerade Mondays
Costume Themed Mondays, 25% off for playing along, Traveling Tuesdays: Specials and Features on wines from a different region of the world, 25% off … you get the idea. View the Vinos on Duval event schedule here.
Vino's on Duval
Hours: MON – WED 2 PM – 12:30 AM
THUR – SUN 12 PM – 12:30 AM
810 Duval Street, Key West, FL
305-294-7568
Website
UVA Wine Shoppe
Small batch wines pair with light bites at this inviting wine shop located on Fleming Street between Duval and Simonton. What you can expect to find at UVA is specialty wine from limited production, estate-grown wines.
You know what they say, "knowledge is power. Mark Gambuzza, the owner of UVA, knows everything about wine and then some, so we might say that's his superpower. If you're not a wine drinker, don't let that stop you from visiting. Whether you are a wine enthusiast or not, spend some time with Mark and let him introduce you something new. Who knows, you might even take home a bottle of wine to share with others.
UVA has a curated selection of the best wines on the island and also carries a nice selection of artisan cheeses and an array of tapenades, crostini, and spreads. So sit back, mix and mingle and try a new wine or two while visiting the island.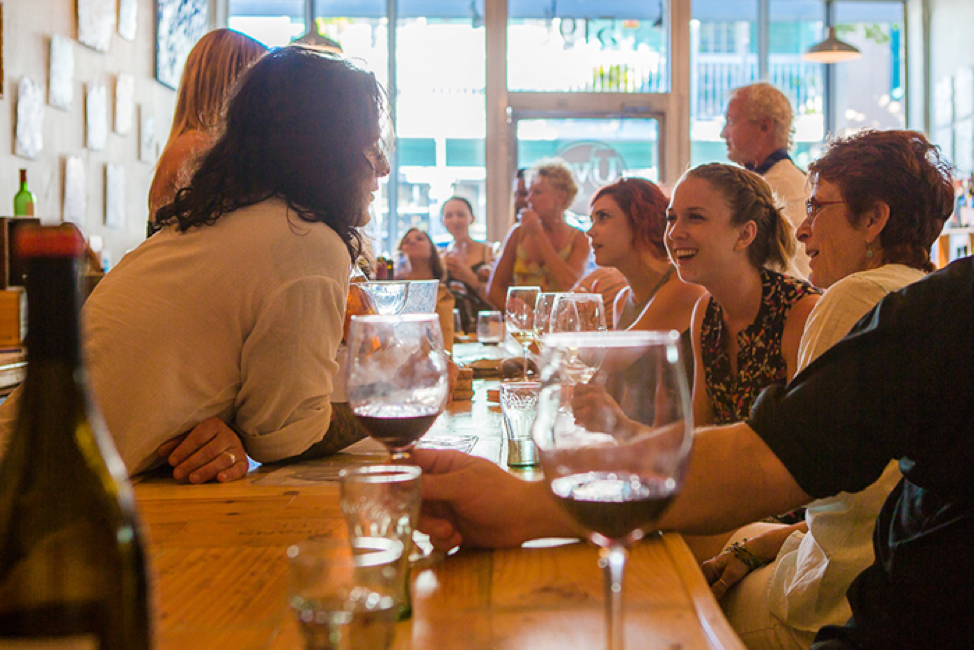 Photo Credit: UVA Key West Facebook
What people are saying about UVA Wine Shoppe…
Great selection of limited production wines and hard to find "top tier" wines.
We visit KW frequently and Uva is our (almost daily!), must stop for a glass of wine before heading out for dinner. Mark Gambuzza, the owner, has put together an eclectic mix of wines….bottles you won't find at your local supermarket or wine shop….and what also makes this a 5 star experience is that Mark's knowledge and hospitality adds to the visit, (thank you, Mark!). We really enjoy sampling wines we've never tried before and always leave KW with a case or two to take home! ~ wandj2018 via TripAdvisor
UVA is small, boutique, intimate, quaint, personable and one of the best wine bars in Key West.
UVA Wine Shoppe
519 Fleming St, Key West, FL 33040
Open Mon-Sat 12:00 PM – 10:00 PM
305-735-4871
Website
A Wine Experience at Southernmost Beach Resort
Did you know our Key West resort gets into the spirit of wine tasting? Every Monday and Wednesday at 3 pm, the Southernmost Beach Resort Sand Bar transforms into Southernmost Beach Resort Wine School! An informal, Key West style, one hour (free) class where guests have the opportunity to taste three different wines (sometimes more) and learn all about them. Upon completing the class, guests will receive a Southernmost Wine Tasting School diploma!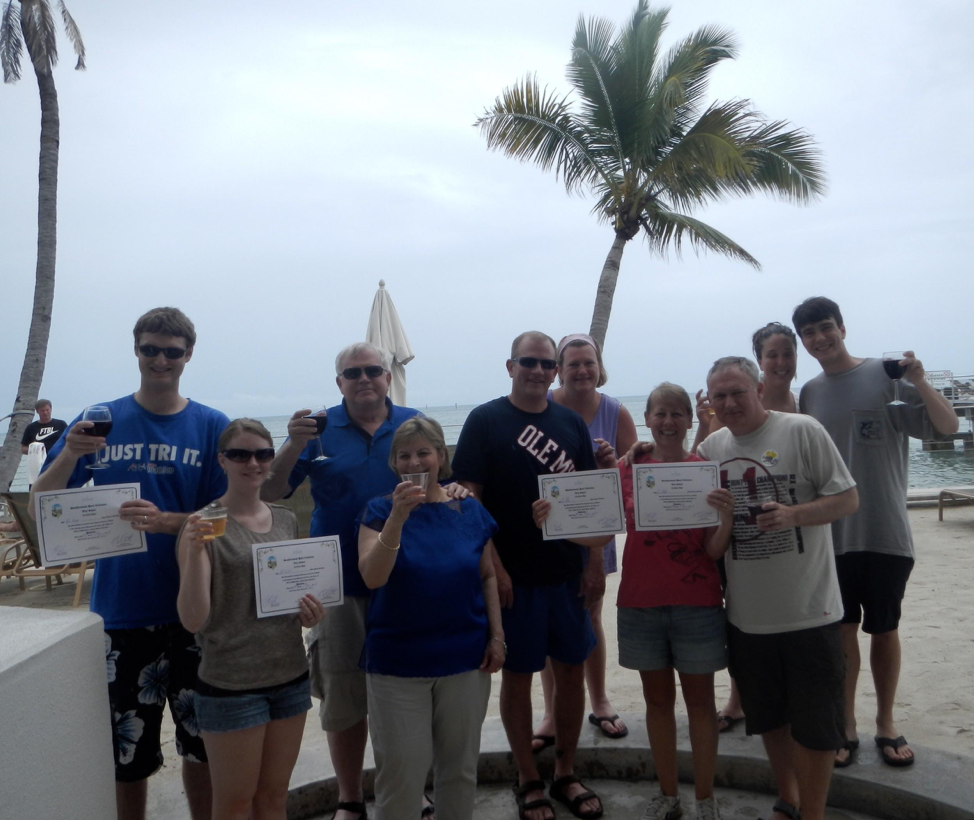 A shoutout and cheers to all of our alumni!
Do you have a favorite wine bar in the Keys? Sip, Enjoy, Share. #somolife
Sign up for exclusive offers – direct to your inbox!