Key West Welcomes Race World Offshore World Championship this November!
Race World Offshore is bringing teams and fans to Key West for an amazing Offshore World Championship, November 6 – 13th, with the world's best offshore race teams in attendance.
The excitement is building, and we can't wait for racing teams and fans to gather for the Offshore World Championship experience. Southernmost Beach Resort is an Executive Sponsor, and Marker Key West Harbor is a Conch Sponsor of the Race Offshore World Championship. The week will be jam-packed with races, parties, concerts, and more! Let's take a look at the events taking place during race week.
Where to Watch the Races
Fans can watch the boat's display of speed and power at Truman Waterfront Park, Fort Zachary Taylor State Park, and the popular viewing location at Mallory Square.
Concerts
Thursday, November 10th, 5:30 – 10pm
Concert featuring DJ Makyah, Badfish – Sublime Tribute and Lamont Landers.
Saturday, November 12th, 5 pm – 10 pm.
Concert with Boats & Boots Eddie Montgomery, Brian Kelley and John Daly, professional PGA Golfer.
Learn more about the concerts and purchase tickets here.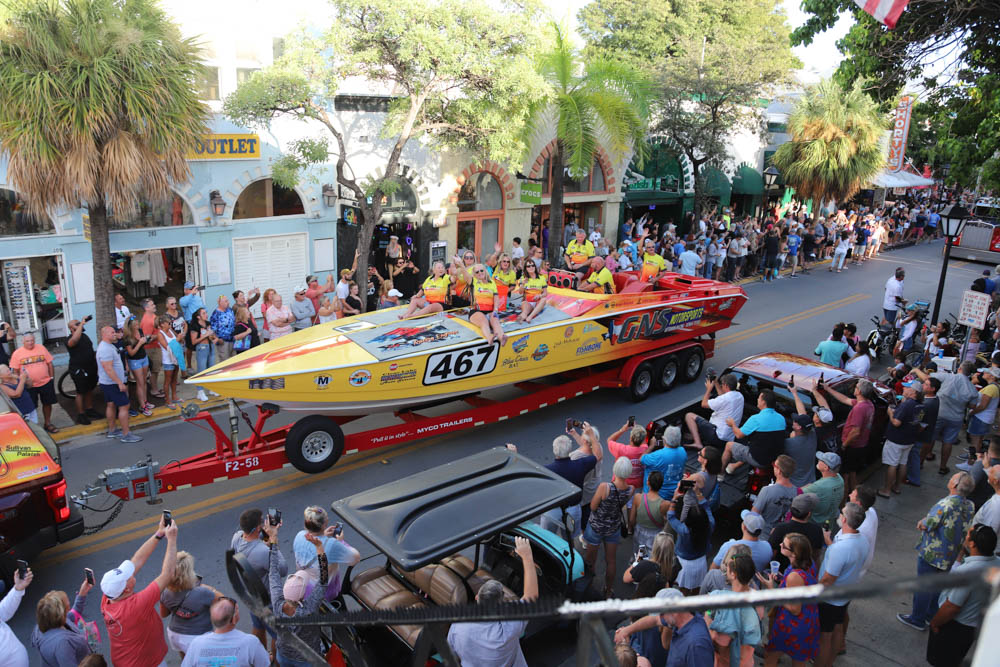 Boat Parade & Street Party
World's Fastest Boat Parade on Duval Street
Sunday, November 6th at 4 pm
Boat Race week kicks off with the World's Fastest Boat Parade of race boats down the world-famous Duval Street.
RWO Duval & Greene Street Party
Friday, November 11th, 7pm
Head over to Duval and Greene Streets for one of the off-water highlights of the week. Join the teams as they park their boats in Key West's main drag for this massive street party. See race boats from around the country up close and personal, interact with the drivers, score team merchandise, and have a great time with thousands of race fans. Another famous Duval Street party to add to your itinerary.
Truman Waterfront Race Village
Truman Waterfront Race Village opens Monday, November 7th, 10 am – 5 pm.
Fans can head over to Race Village between race days to view the boats and teams up close.
Race Days
Race Schedule. Four races are scheduled per day (Wednesday, Friday, and Sunday)
Wednesday & Friday Award Ceremony on the Outermole after each race
Sunday Racing is the finale World Championship Day
UIM World Champion Awards & Closing Ceremonies in Race Village
View the Key West Offshore World Championship: Party and Event Lineup here.
Tickets
Tickets and information on all-inclusive VIP spectator packages for the Truman Waterfront grandstand and hospitality tent are available at Key West Offshore World Championship.
General-admission tickets are $25 for a single day or $53 for a three-day pass.
Kids 12 and under: Free
Military & Veterans: Free (must show proper military ID)
Photo Credits: Race World Offshore, LLC.
We like big boats and cannot lie, but we love high-speed powerboats and can't wait for the races. #somolife
Sign up for exclusive offers – direct to your inbox!