Best Holiday Events Key West 2019
The Most Magical Time of The Year
Let's get in the holiday spirit! It really is the most magical time of the year, and we are getting ready for your arrival with a festive list of things to do during your stay. There will be caroling, holiday house tours, drinking, eating, shopping, lighted boat and bike parades, Santa sightings, and celebrations to ring in the New Year. Here are a few of our favorite 2019 holiday happenings in Key West:
Caroling on the Old Town Trolley or Conch Tour Train Lights & Sights Tour
Select dates throughout December
Add this to your Holiday Bucket List – Conch Tour Train or Trolley Holiday Lights (and Caroling) Tour. This is a one-hour special holiday tour at night that takes you to the island's most elaborately decorated houses and neighborhoods while caroling through the streets of Key West. There will be lots of caroling along with cider and cookies. An added bonus is the special holiday lights glasses!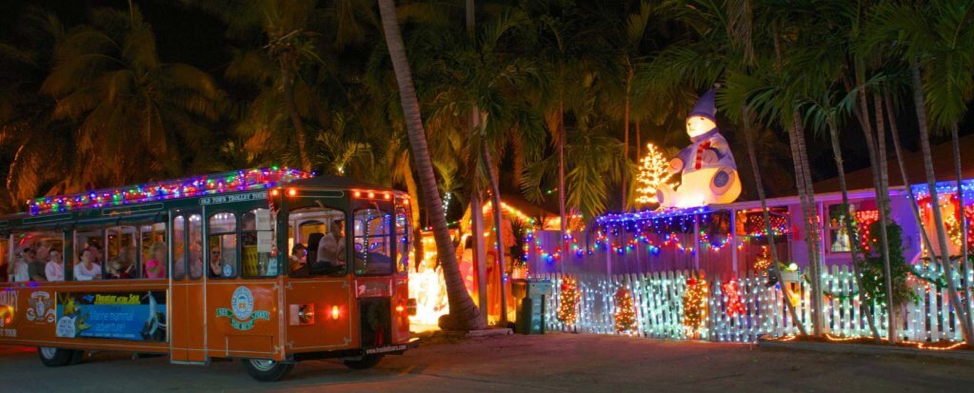 Photo Credit: Old Town Trolley Tours
Price: $19.95 for adults | $10.50 for kids (ages 4-12) | Under 3 ride free.
Visit Key West Holiday Light Tours to learn more or visit the concierge upon arrival to find out when the tours are running during your stay.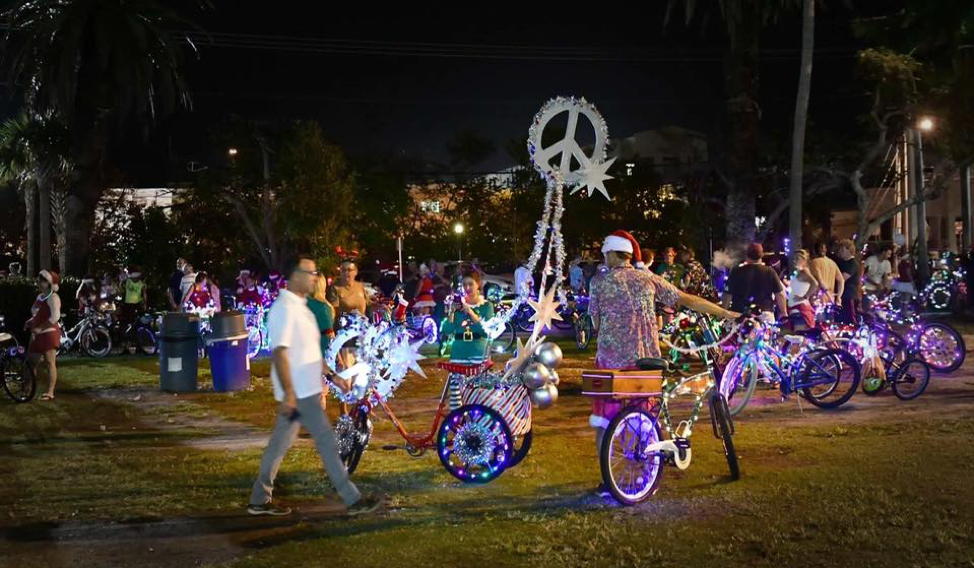 Lighted Bike Parade
December 4th, 6:00-8:30pm
Dress up and decorate your bike for a good cause and have loads of fun at the same time. The Lighted Bike Parade is a benefit for Wesley House Family Services that helps to gather the needed toys for the struggling, working families of Key West for the holidays. Participants are asked to bring an unwrapped toy for the toy drive or monetary donation for Holiday Helpers. (That's part of the registration requirement.) It's nice to see the streets of Key West lit up with families and individuals with bright lighted, animated, and decorated bikes.
5:00pm Check-in at Bayview Park
5:00-7:00pm Helmet Fitting | Pictures with Santa | Milk & Cookies
7:00pm Ride begins
The Bike Parade Ends at Mary Ellen's on Applerouth Lane for a Block Party.
All registered Lighted Bike Riders enter FREE – with a wristband.
What's New? There's a new route this year! Learn more about the Lighted Bike Parade by visiting. Wesley House Family Services.
Key West Holiday Parade
December 7th, 7:00-9:00pm
One of the best parades on the island is Key West's hometown holiday parade. Everyone and I mean everyone, gets in the spirit – there will be marching bands, groups, floats, and children patiently waiting on the sidewalk for Santa to arrive. A fun family holiday event for everyone. The route proceeds down Truman Ave to Duval, where it takes a right and continues on to Eaton Street.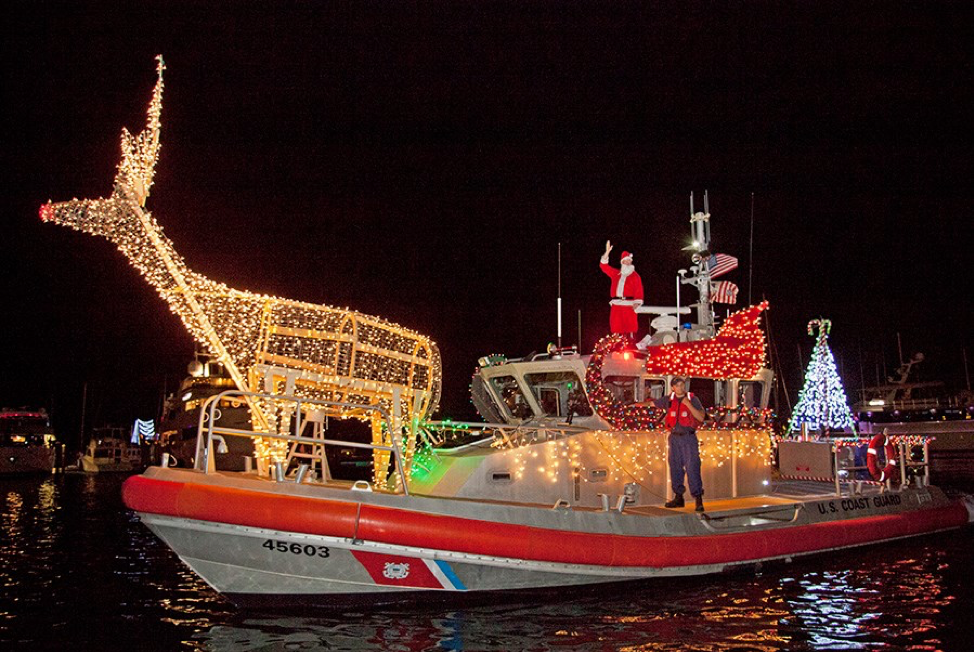 Photo Credit: Carol Tedesco
29th Annual Schooner Wharf Bar Lighted Boat Parade
December 14th, 8:00pm
Head over to the Key West Harbor for the Schooner Wharf Bar Annual Lighted Boat Parade. The parade features decorated vessels – including but not limited to – Kayaks, fishing vessels, and classic schooners, parading through the Historic Seaport. The parade starts at 8 pm, but we recommend you head to the Seaport early as you don't want to miss the children of Gerald Adams Elementary Steel Your Heart Band perform Christmas tunes at 6pm followed by live music and performances throughout the evening. Visit Schooner Wharf Bar to learn more.
Holiday Concert & Bazaar at the Custom House Museum
December 18th, 5:00-9:00pm
Oh, what fun!!! Get in the holiday spirit at the Key West Art & Historical Society's Holiday Concert & Bazaar located on the porch and promenade of the Custom House Museum.
The immensely popular celebration will feature some of Key West's finest artisans, musicians and choirs, food and libations, free entrance to the museum and its two stories of exhibits, and a dazzling holiday light show of magical vector projections on the face of the Custom House.
Browse hundreds of unique gift options while enjoying the music, food, and libations on and around the island's architectural crown jewel, with eggnog to lift the frazzled 'final shopping days' spirits and Santa on hand for last-minute requests and 'selfie' photos.
Learn more about this Key West holiday event.
The Custom House Museum is located at 281 Front Street, Key West.
Visit the Key West Art & Historical Society website to find out more.
60th Annual Key West House & Garden Tours
December 27th & 28th
This is a self-guided tour showcasing festively dressed Key West homes and gardens. Tours are from 3-6pm each day. Tickets are $35 in advance and $40 day-of-tour. All proceeds benefit the Old Island Restoration Foundation museum and programs. Learn more about Old Island Restoration Foundation and the tours.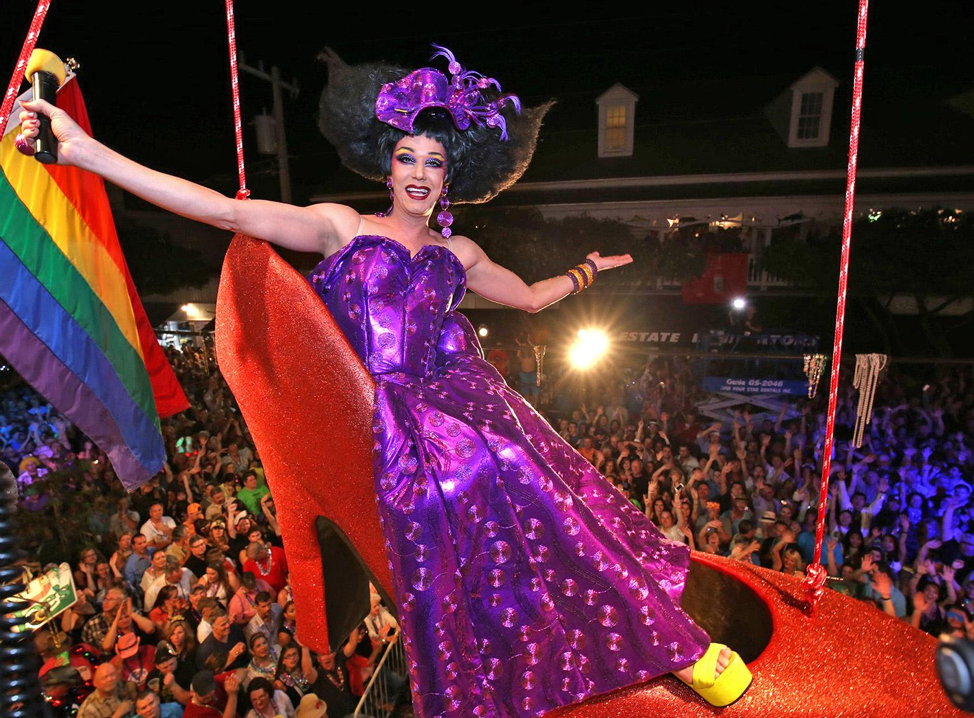 Photo Credit: Rob O'Neal
New Year's Eve
December 31st
Celebrate the New Year in style – Key West style that is! There are so many colorful and creative ways to ring in the New Year in Key West. Here they are: Watch Sushi drop from a High Heel Shoe at Bourbon Street Pub on Duval Street, a Pirate Wench descending from a tall ship at Schooner Wharf Bar or watch the Conch Shell drop from the iconic Sloppy Joe's Bar. You can visit all three locations during the night and celebrate with new and old friends as you ring in the New Year with us.
Our resort bars and Southernmost Beach Café will be serving up holiday infused cocktails and dishes so make sure to stop by and enjoy some holiday cheer during your stay.
What are some of your favorite Holiday Events where you live? Share your favorite magical moments with us on our social networks using hashtag #somolife.
Sign up for exclusive offers – direct to your inbox!