How to Plan a Romantic Getaway in Key West
Where to celebrate love and romance in the Florida Keys
Planning a romantic weekend getaway can be very stressful and time-consuming, especially if you're not familiar or up to date with the destination.  Our Key West Beach Resort celebrates love 365 days a year and our team is ready to guide you with tips on the most romantic places to stay, play, relax and dine in paradise.
Where to Stay
The extras do make a difference, and the magnificent views can be a sweet surprise when you arrive.  That's why we recommend you get the best of the best and book an ocean-view room at the luxurious, historic and charming oceanfront gingerbread-style La Mer & Dewey House or consider an oceanfront room at our Key West beach resort.  You'll fall asleep in luxury while gazing at the moonlit sky over the ocean and wake up with another surprise as the sun rises over the Atlantic.
Either option is a lovely choice and one that will take your breath away.

Where to Play
You definitely want to plan a day to get out on the water and explore the beauty of the backcountry of the Florida Keys with our friends at Danger Charters.  What we love about Danger Charters is they sail where others can't and the best part it is limited to 25 guests.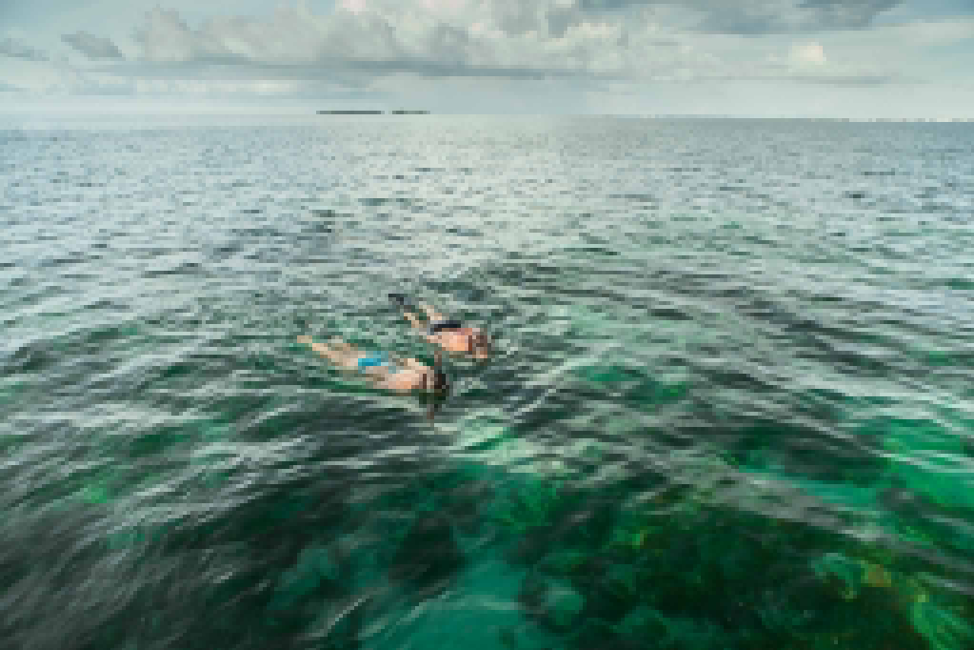 They really are one of the best in Key West, even TripAdvisor thinks so as Danger Charters has been Rated #1 Thing To Do in Florida on TripAdvisor.com for three years running.  Day and night adventures are available, and we suggest you do at least one of them. There's a Kayak and Snorkel Adventure, and one of the most popular experiences is the Wind & Wine Sunset Sail.   No matter what adventure you choose, we know it will be a memorable one.
Tip: Reserve your spot early, remember it's limited to 25 people.
To learn more about rates, availability and the special charters, visit Danger Charters website.
Where to Relax
Our beach resort stretches out on a secluded section of the island, away from the hustle and bustle of Key West activities, but don't you worry, we are close enough to the excitement when you want it. This trip is all about reconnecting, relaxing and hanging out with the one you love.
We've got multiple options for you to decide where you're going to spend time relaxing and here are just a few you can experience while staying with us: the private pier, hammock, cabana, Shors Pool Bar, South Beach or our private oceanfront beach.  All of our attractive and chilled out locations have one thing in common – the magnificent ocean views.  What's missing is You!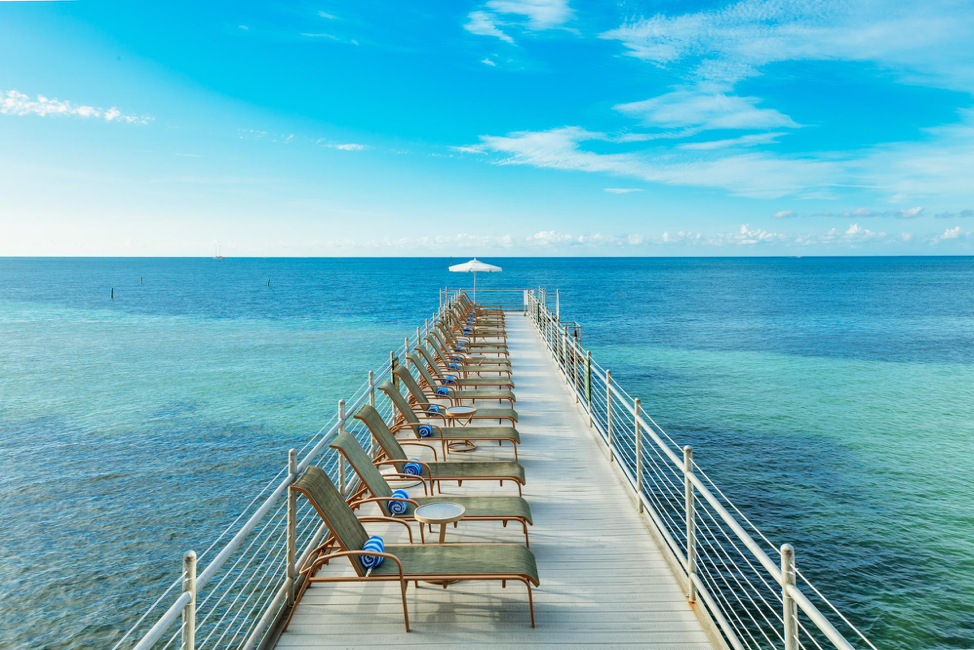 Our private pier offers a breathtaking view and front row seat to the Atlantic Ocean's spectacular sunrises and early winter sunsets. It really is the perfect place for a romantic getaway.
Perfect for a relaxing, romantic anniversary getaway!  // Came for our 20th anniversary. Southernmost was amazing!! We spent A LOT of time just laying out on that long pier (there's a ladder and stairs at the end so you can swim off of it). Water was sparkling clear. We spent some lots of time at the pool (there are 3–and one is adults only 🙂 and ordered plenty of drinks and food (pretty good) at the multiple bars on the property. People asked us if we did the tourist stuff and we laughed and said we hardly left the resort. We did ride by the Hemingway house on our Southernmost bikes! Hotel is in what seemed like a quiet part of town, yet in walking distance of everything we needed. The bartenders were friendly, service was outstanding, and concierge was ready to answer all our questions, give us clean beach towels, snorkels, and masks, etc., and help us with activities. This place is awesome. We would definitely come back…hopefully it won't be another 20 years! ~@clarej754 via TripAdvisor
Where to Dine
Romantic Dining Options in Key West
There are so many excellent restaurants to choose from, but for this blog, we are going to share something sweet along with a casual and elegant oceanfront dining experience.
Southernmost Beach Café
You don't have to go far to enjoy a casual oceanfront dining experience as the Cafe is located on South Beach just steps from our resort.  Open for breakfast, lunch, and dinner this is another location that gets five stars for the food and views.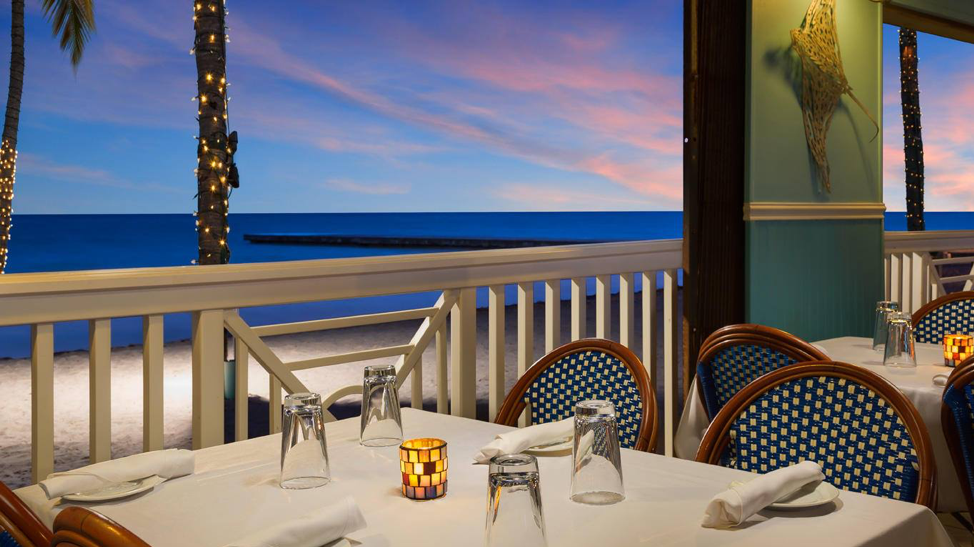 Taste America's Caribbean at Southernmost Beach Cafe serving up fresh flavors, from boat to table and island cuisine, with a unique twist.  It's bistro beachside dining in an open-air cafe setting that offers a blend of Caribbean and Asian fusion cuisine created and conceived by Chef Matt Slattery. One of our favorites on the menu is the Drunken Scallops. View the Southernmost Beach Cafe Menu
Sunset Beach Dining  // My husband and I arrived in Key West just in time for sunset. We were seated at a table right on the beach for an incredible dining experience. Our kind and knowledgeable waiter Aza, recommended the conk soup and the drunken scallops. Everything was delightful. Aza also suggested activities for the remainder of our week. A BIG thank you… for helping to make our stay in Key West so Wonderful. ~  @cherilynnc2018 on TripAdvisor  *(Sunset views available in early winter)
1405 Duval Street, Key West
Open for Breakfast, Lunch and Dinner
Hours 7am – 9:30pm
(305) 295-6550
Latitudes at Sunset Key
A romantic evening awaits you at our next destination and a short boat ride (the only way to get there is by boat) to Latitudes Restaurant on the private island of  Sunset Key.  It's one of our favorite romantic dining destinations, and In addition to providing fresh, flavorful cuisine, you'll also experience breathtaking sunset views of the Gulf of Mexico. It's an award-winning, fine dining elegant open-air restaurant.  The menu incorporates locally sourced fresh fish and tropical fruits cuisine. One of our favorites is the saffron-crusted black grouper or seafood pasta.
View the Latitudes at Sunset Key Menu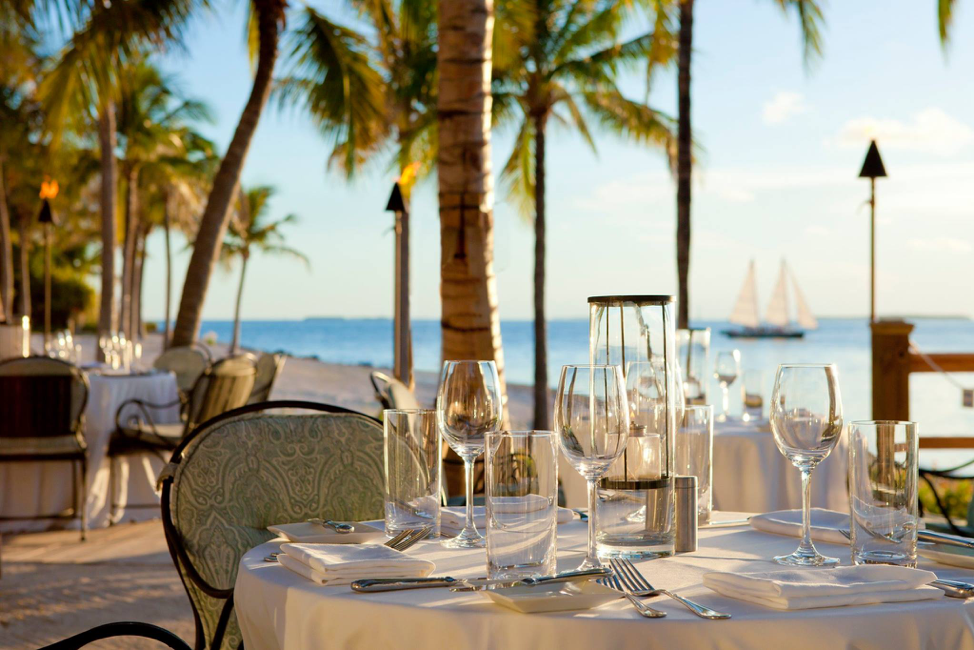 Dress Code at Latitudes
You hardly ever hear the words "dress code" in Key West, but at Latitudes you do.  Dress Code at Latitudes is as follows:  attire for breakfast and lunch is casual, shirts and shoes are required. Attire for dinner is "country club casual." Collared or dress V-neck shirts and dress shorts are acceptable. Tank tops and/or cover-ups are not allowed for dinner.
Reservations Required. Make A Reservation at Latitudes at Sunset Key
Hours:  Breakfast: 7am – 11am | Lunch: 11am – 2:15pm
Dinner: Sunday – Thursday 5pm – 10pm, Friday & Saturday 5pm – 11pm
Boat to Latitudes Restaurant departs from Margaritaville Resort, 245 Front St, Key West, Florida 33040
Call (305) 292-5394 or visit website to learn more.
Better Than Sex, A Dessert Restaurant

This is beyond better, and no words can describe it!  It's a dessert restaurant bar offering an extensive menu of decadent treats in a dimly lit, intimate space.  Better Than Sex, A Dessert Restaurant should be one of your "Date Night" destinations.   As we noted above, we wanted to share the best romantic spots, and Better Than Sex Has Been Voted Key Wests Most Romantic And Delicious Spot!   They have become so popular they opened in Orlando, Savannah, Los Angeles, and Sarasota!
View the Menu and Make A Reservation at Better Than Sex, A Dessert Restaurant
926 Simonton St, Key West, FL  33040
Hours: Open Thursdays thru Tuesdays 6pm-12am
Reservations Suggested.
305-296-8102
Sign up for exclusive offers – direct to your inbox!