How to plan a Self-Care Vacay in Key West
Do you crave adventure or prefer a little rest and relaxation? No matter what the answer is, we've got you covered, and Key West is ready to be the place you disconnect and take time for you. It really is all about a reboot, rejuvenation experience. Plan the getaway that is 100% dedicated to nurturing yourself, so you feel rested and stress less. Here is an insider's guide to a Florida Keys self-care vacation at Southernmost!
Warm Island Wake Up Call
Get a room with a view! Stay at our Key West beach resort and wake up to the warm sunrise over the Atlantic Ocean along with palm trees waving hello as you wake up in paradise. We encourage you to sleep in and rest on this travel adventure dedicated to you, but make sure to set the alarm for an early sunrise wakeup call at least one morning. You won't regret it, and it's a great way to start the day.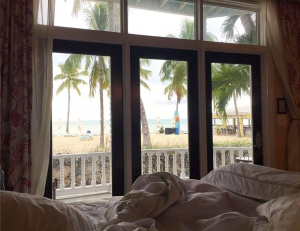 Photo credit: @madeleinehaist
Start Your Day with Yoga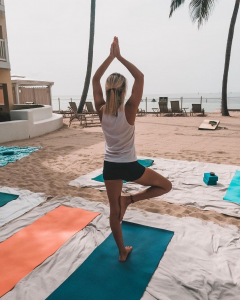 Photo Credit: @suikasage Yoga on the Beach #somolife
Now that we've gotten you up a little early, why not take advantage of it and participate in Yoga on the Beach set on Southernmost's stunning private beach at the Sand Bar Pavilion. Experience the warmth of white sand beneath your toes and harness the energy of nature as you bend into each yoga movement. Time your breath to the steady roll of the nearby Atlantic Ocean. Stretch out the stress and be attentive to your – Mind, body, and soul.
Get Pampered by the Sea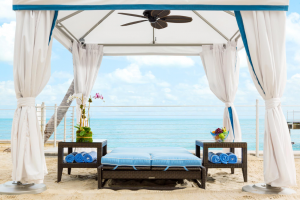 Remember, this is your time, so make sure to treat yourself on this special trip. Reserve a Private Cabana by the Sea or enjoy a Spa experience at the beach where you can realign your body and soul daily.
The Petite Spa by the beach offers everything you need to realign your mind, body, and spirit with island time. Our massage therapists will help you rest and rebalance with a collection of restorative soothing treatments tailored to your specific health needs.
Go Shopping at The Green Pineapple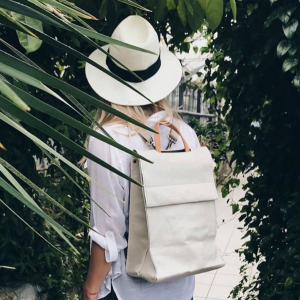 Photo Credit: The Green Pineapple Facebook Page
Located a few blocks from our beach resort, on the world-famous Duval Street, is where you'll find The Green Pineapple Wellness Center. It's a boutique, Yoga Studio, Organic Cafe, and Spa…it's the place that offers a blend of goods and services to help you feel happy and healthier. At the Green Pineapple, you're sure to experience the art of living well, inside and out.
The Green Pineapple is located at 1130 Duval St, Key West, Florida.
Be One with Nature
Connect with nature and see how it quickly refreshes you.
Take a day trip to the Dry Tortugas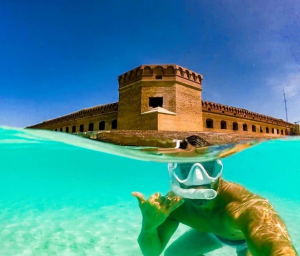 Photo Credit: Photo by Javier Figueroa #drytortugas
Plan a day trip to the Dry Tortugas and explore a 19th-century fort and snorkel crystal clear water with incredible marine life.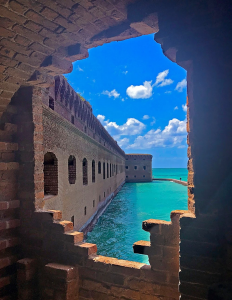 Photo Credit: John Underwood. #FloridaKeys
Almost 70 miles (112.9 km) west of Key West lies a cluster of seven islands, composed of coral reefs and sand, called the Dry Tortugas. Along with the surrounding shoals and waters, they make up Dry Tortugas National Park. The area is known for its famous bird and marine life, its legends of pirates and sunken gold, and its military past. Tour Fort Jefferson, stroll on the beach and enjoy snorkel along the coral reef. You can get there by seaplane or ferry.
Learn more about the Dry Tortugas National Park.
Java Cat All-In-One Sail, Kayak, Snorkel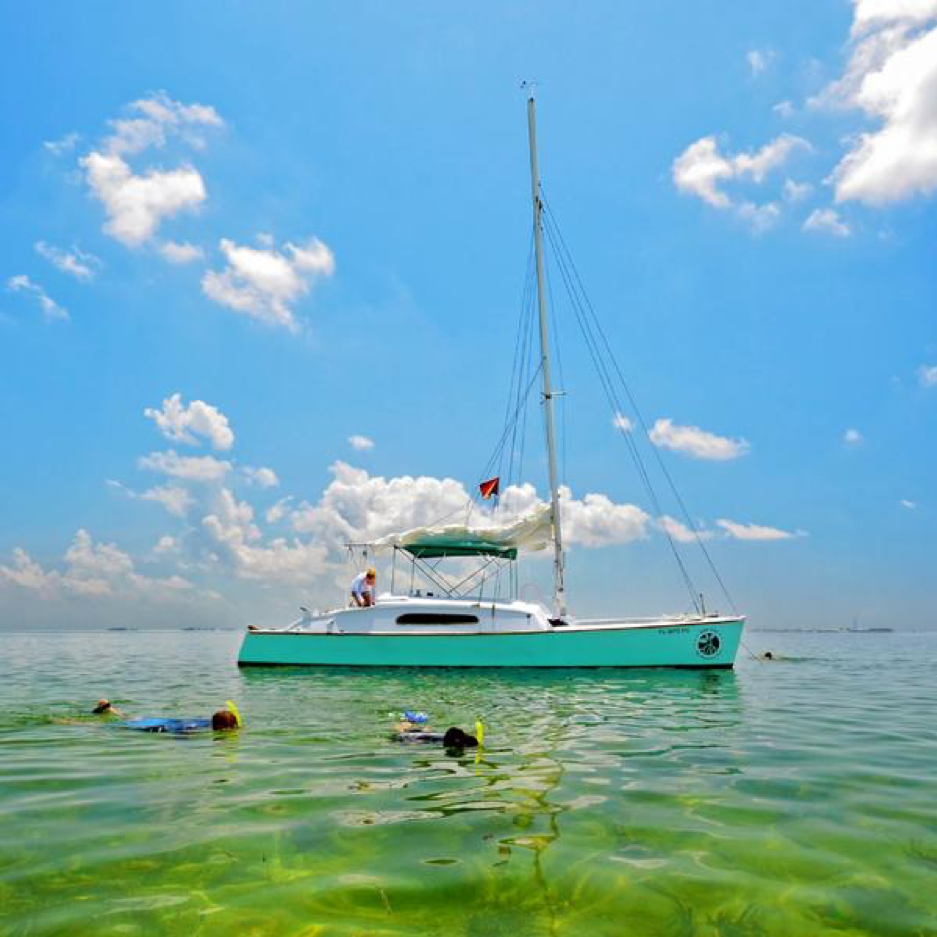 Photo credit: Key West Eco Tours
Avoid the crowds and book Key West Eco Tours "Java Cat All-In-One Sail, Kayak, Snorkel" adventure. This is a half-day tour, and with six people max, you know right there that you'll have a more intimate experience. Explore the best of Key West as you climb aboard the Java Cat and set sail to the Key West National Wildlife Refuge for a guided kayaking tour of mangrove islands and snorkel in coral gardens teeming with marine life. It's an all-inclusive outing, including a light lunch and beverages. This is the perfect way to spend the day, slow down, and take time to unwind. 
Learn more about Key West Eco Tours Java Cat Experience.
Let's Eat
You don't have to go far to enjoy great food and spectacular ocean views. Southernmost Beach Cafe, open for breakfast, lunch, and dinner, is just one of the many restaurants and cafe's on the island. We wanted to spotlight the beach cafe for this blog, primarily because it's steps from our resort that stands out from all the other fabulous places to eat. Is it the food, the view, or the island vibe? It's all of the above! Southernmost Beach Cafè serves up local flavor and boat-to-table freshness with a little twist. Only here will you find a seamless blend of the Caribbean and Asian cuisine made with locally-sourced ingredients beautifully incorporated into each menu.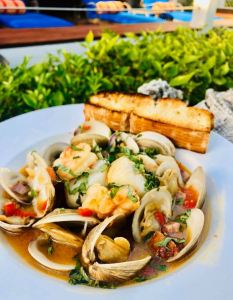 Sautéed shrimp, scallops clams chorizo and red peppers in a garlic wine broth with a side of grilled focaccia bread – one of the specials at Southernmost Beach Cafe. View the Southernmost Beach Cafe menus.
Enjoy a Quiet Evening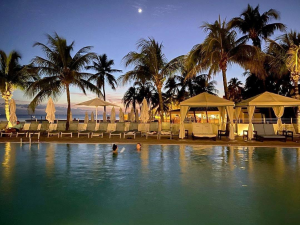 Photo credit: @kerristarr Photo taken from Shores Bar at Southernmost on the Beach
We'll provide you with many opportunities to relax and disconnect from your day to day routines. Enjoy quiet moonlit nights and maybe even a dip in the pool. We'll set the scene so you can chill out with cotton candy skies and palm trees swaying in key with the tropical island breeze. Shores Bar is the perfect place to do just that! 
One last thought, ditch the digital device. We know how hard it is to remove ourselves from technology and our phones, but for you to truly enjoy this self-care vacay – disconnect so you can reconnect! #somolife
Sign up for exclusive offers – direct to your inbox!