Key West Celebrates Hemingway in July
Ernest Hemingway fans and look-a-likes get ready to head south to Key West, Florida for the 38th Annual Hemingway Days festival where the island celebrates and honors the legendary author's work and lifestyle with a series of special events. Festival highlights include: literary readings, a short story competition, a fishing tournament, 5K Run and Paddle Board Race, The Running of the Bulls, Sloppy Joe's Look-Alike Contest and birthday "party" commemorating Ernest Hemingway's July 21st birthday (photo credit: fla-keys.com) ending with Bloody Mary's with Papa and an Arm Wrestling Championship. Welcome to Hemingway Days, July 17- 22, 2018. Here are a few of the festivities and Hemingway happenings we think you'll like:
Sloppy Joe's 38th Annual Hemingway Look-Alike Contest
Meet The Papas 5:30 pm on Wednesday, July 18th
Get to know the previous winners of the "Papa" Hemingway® Look-Alike Contest as well as meet this year's Look-Alike Contestants at Sloppy Joe's.
Thursday, July 19th Look-A-Like Contest Preliminary Rounds Begin
Sloppy Joe's was Hemingway's hangout during his Key West years, and that's the location and setting for the 38th Annual Hemingway Look-A-Like Contest. More than 100 Ernest Look-Alikes gather at Sloppy Joe's Bar for the contest over a period of three days July 19 – 22: Preliminary rounds are at 6:30 p.m. Thursday and Friday, July 19th and 20th, with the finals at 6:30 p.m. Saturday. Former contest winners participate by judging the preliminary round. Sloppy Joe's is jam-packed with Papa's – an event full of Hemingway love and look-alikes. Learn more about the Papa Look-A-Like Contest at Sloppy Joe's.
Running of the Bulls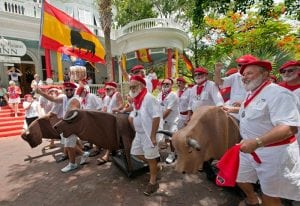 Saturday, July 21st
Photo Op with Papas – Noon
Photos with "Papas." Hemingway Look-A-Likes provide a photo opportunity for fans at noon on Saturday, outside Sloppy Joe's Bar on Greene Street.
Running of the Bulls
A Parade of Papa's on Duval! This is where Papa's take over Duval Street and where the Hemingway Look-A-Likes, past winners and current contenders, are dressed in their Pamplona best and gather on Duval Street outside of Sloppy Joe's Bar for this offbeat stroll/parade and much safer version of the "Running of the Bulls."
Other Hemingway Events There is a full schedule of Hemingway events to keep you busy during your stay. We encourage you to tour "Depicting Hemingway" Museum Exhibit at Key West Custom House, head over to the Hemingway Home and Museum and make sure to say hi to the six-toed cats while you're there and take a stroll on Duval and attend the Street Fair on Saturday. Wake up Sunday morning and start your day with Bloody Mary's with Papa and watch the 31st Annual Sloppy Joe's Arm Wrestling Championship. As you can see, a lot is going on so take time to view the Hemingway Days Schedule of Events before your visit.
Hemingway 5K Sunset Run/Walk & Paddle Board Race
Saturday, July 21st 3pm – 10pm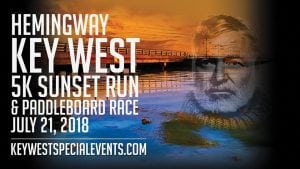 Did you know this is the 26th Anniversary of the oldest on-going road race in Key West? The Hemingway 5K Sunset Run & Paddle Board Race allows the sports enthusiasts to participate and celebrate Hemingway by land and sea. Active.com named it one of the top 10 international destination races to turn into a vacation," said event organizer Barbara Wright.
The festivities begin and end right here with us at South Beach!
The Lazy Dog Paddleboard Race is to kick off at 5:30 p.m. The 3-mile ocean course begins and ends with us at South Beach at the Southernmost Beach Cafe, 1405 Duval Street.
The 5K run/walk begins at 7:30 p.m. at the Southernmost Point in the continental United States, oceanfront at Whitehead and South streets. Participants race through picturesque Old Town Key West, past landmarks including the Ernest Hemingway Home & Museum.
Afterward, a post-race awards party is scheduled right here back with us at the Southernmost Beach Café with food, libations, and raffles.
Registration: You can download forms and register online or a registration booth will be open from 3-7pm on race day outside Southernmost Beach Café. Race packets can be picked up there.
Fees to enter the race: : Entry fee is $45 per person for either race or $85 per person for both
Post Race Party: A post-race awards party is scheduled on South Beach at Southernmost Beach Café with food, libations and raffles.
Southernmost Beach Resort is a proud sponsor of this event. Learn more about Hemingway 5K Sunset Run/Walk & Paddle Board Race.
Southernmost Beach Resort Celebrates Papa!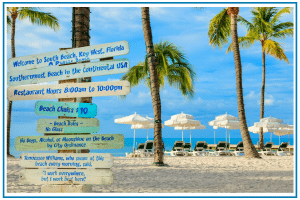 Our Key West beach resort is a proud sponsor of Hemingway Days 5K Paddle Board Race and Sunset Run. In honor of Hemingway, our beach bars and restaurant will feature $5 Havana Club drink specials and there will also be a special Cuban Burger featured during the week. When you arrive ask the bartender for the Havana Club special of the day and let's all give a cheer to Papa! Check out our resort specials and book your Key West Hemingway Days hotel stay at Southernmost!
Enjoy the Hemingway celebrations and sharing your favorite cocktail, story or fun photos with us by using the hashtag #somolife.
Sign up for exclusive offers – direct to your inbox!