Why Key West is Simply the Best Place to Visit this Summer
Why Key West is Simply the Best Place to Visit this Summer
Summer travel planning has begun, and after being cooped up for a year, we think it's time to explore the great outdoors, and what better place to do it than Key West, Florida! Let's find out why Key West is the best place to visit and find out what's happening in the next few months. Here's how to cool down Key West this summer, along with a list of the best things to do and see in paradise.
Go to the Beach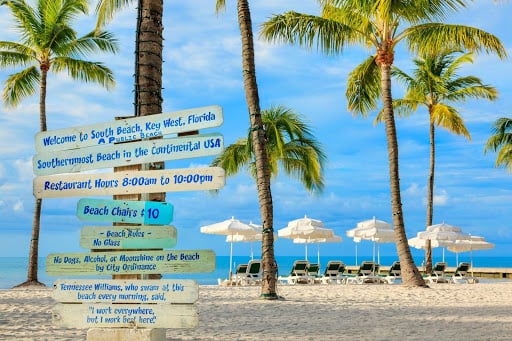 A must-do anytime visiting us is to spend a day at the beach. Our Key West beach resort has sandy beaches and ocean views waiting for you, especially if you just want to sit under the palm trees, read a book and fall asleep to ocean breezes and palm trees swaying.
You don't have to go far to indulge in beach bar bites and tropical drinks because Southernmost Beach Cafe located at South Beach is just steps away from our resort. Whether you grab breakfast, lunch, or dinner or decide to sit under an umbrella on the beach and sip cocktails under the palm trees, we've got you covered.
In addition to South Beach, there is Smather's Beach, Higgs Beach, Dog Beach, and a favorite amongst locals and tourists is Fort Zachary Taylor Historic State Park. We think beach days are the best, what about you?
Get out on the Water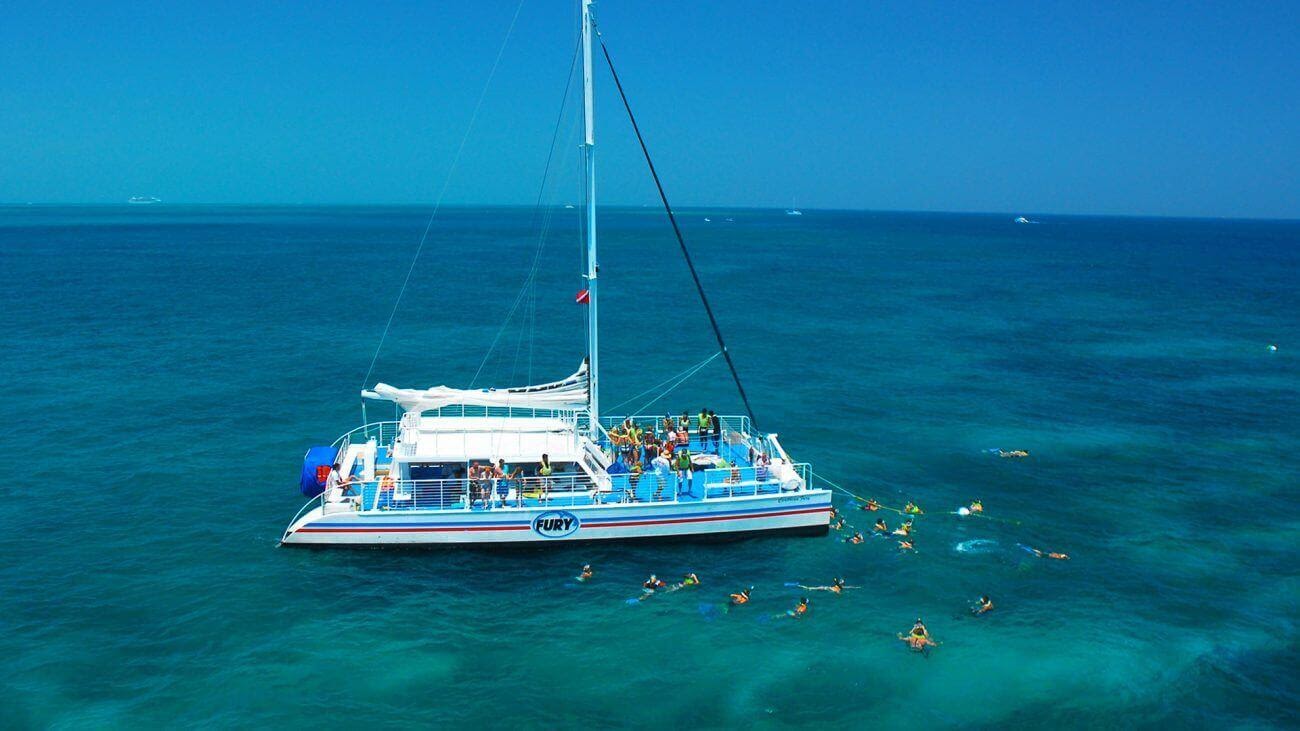 What better way to enjoy a summer day in paradise than spending a day on the water snorkeling, parasailing, jet-skiing, sunset sails and cruises, glass-bottom boat tours, dolphin watches, kayaking, paddle boarding, and more. Our friends at Fury Adventure have all of the water sport activities and are ready to take you on a trip of a lifetime.
Take a look at the Ultimate Adventure full-day excursion where you can snorkel, parasail, jet ski, banana boat ride, and they even have an ocean water park! Of course, breakfast, lunch, and unlimited refreshments fuel you up for this action-packed trip.
Book your Key West Water Adventure with Fury Water Adventures.
Go Fishing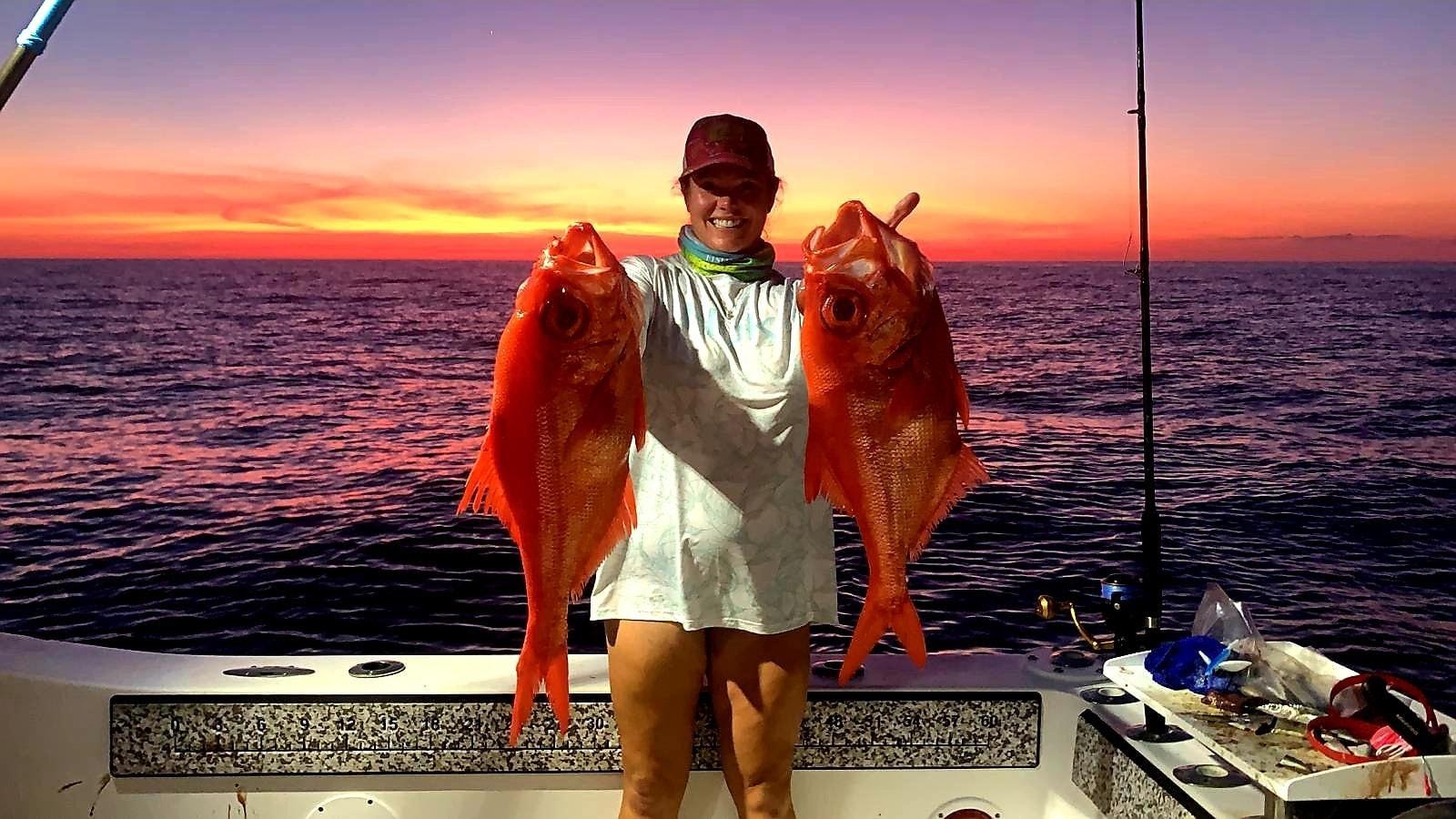 THE GREATEST SPLENDID ALFONSINO SHOT. ..EVER? The FishMonster Light finds DEEPWATER GOLDFISH offshore of Key West. ~ Fishmonster Charters Key West
Summertime Fishing in Key West
Water clarity is the best in the summer giving our waters a Caribbean appeal to them. The tarpon migration carries through June, and the annual lobster season starts in late July.
In the shallows, you'll find significant numbers of Tarpon, Bonefish, and Permit.
Offshore, July is the peak season for Blue Marlin, Wahoo, and Swordfish.
If you want huge fish and high seas, book a deep-sea fishing trip.
Our on-site concierge will hook you up with the best fishing charters for you and your group.
Attend a Summer Festival
Here are three Key West Summer Festivals happening July through August!
The Key Lime Festival
The Key Lime Festival happening July 1st – 5th
The sweetest and Key West's favorite citrus celebration held on July 4th weekend. Events include the Key Lime Cocktail Sip & Stroll and Key Lime Pie Hop, World Key Lime Pie Eating Championship, and new favorites for Key Lime lovers like the Key Lime Scavenger Hunt.
Eating Key Lime Pie should be on your list of things to do no matter what time of year you visit—wondering who's got the best Key Lime Pie in town? Find the answer here.
Hemingway Days
The 40th Annual Hemingway Days 2021 dates are July 20th – 25th. In July, we celebrate Ernest Hemingway, the legendary author's work and lifestyle, and his legacy on the island he called home with a three-day marlin tournament, a commemoration of the 122nd anniversary of the author's July 21st birthday, a museum exhibit of rare memorabilia from his life, literary readings, a street fair, a 5k run and paddleboard race. The running of the bulls and the look-a-like contest have become a favorite event for all. Organizers are finalizing the festival events. Stay tuned for more details on the 2021 Hemingway Days.
LobsterFest
August 12th – 15th
There will be Lobster Boils, Brunches, Duval Pub Crawl, a Street Fair and Concert, plus so much more! Sixteen bars and restaurants will be serving up fresh Florida Lobster – everything from appetizers to full meals. The date for the Street Fair & Concert is August 14th. Learn more about the Key West Lobsterfest.
Attend an Outdoor Concert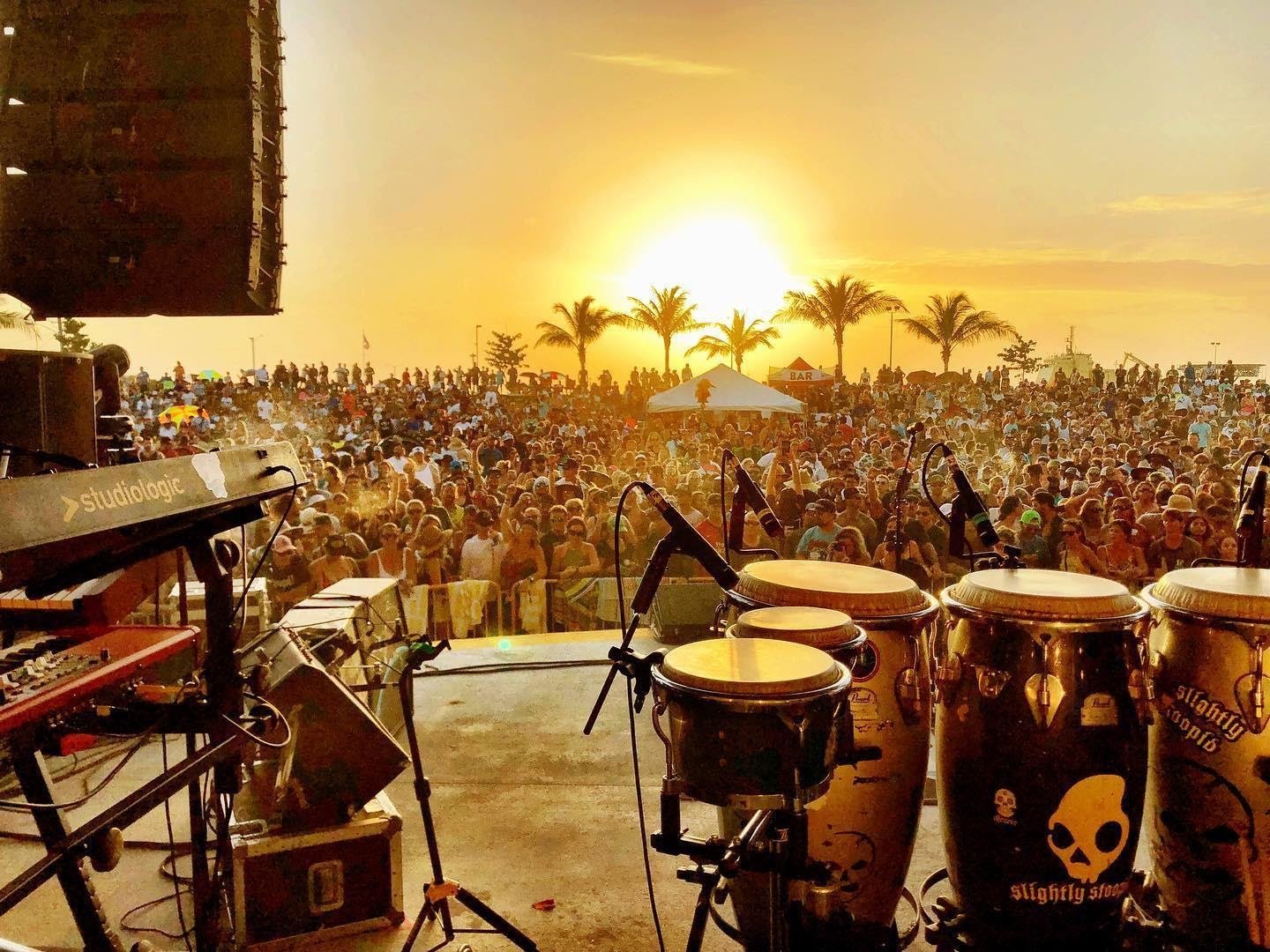 Located at the Truman Waterfront, the Coffee Butler Amphitheater is situated near Fort Zachary with stunning views of the Gulf of Mexico from the top of the lawn – and you don't want to miss the world-famous Key West Sunset on show day! With a grassy general admission lawn, intimate reserved seats, and a one-of-a-kind panoramic backdrop, the Amphitheater provides the perfect entertainment space for all music fans. Rams Head Presents manages the Coffee Butler Amphitheater.
Summer Concerts at the Coffee Butler Amphitheater
In July
SUBLIME WITH ROME & DIRTY HEADS WITH SPECIAL GUEST HIRIE – July 23rd
In August
SLIGHTLY STOOPID with Pepper, Common Kings, and Don Carlos – August 6th
View the upcoming concert schedule
Take A Tour
One of the best ways to explore the island is with a local guide, and here are a couple of options for you to do just that, including a tropical island bike tour and cultural food and drink tour, both offering an authentic experience for all.
Lloyd's Tropical Bike Tour
"My wife and I have been around the World and taken all sorts of tours. But this was the only time we've seen a person capable of expressing their passion for a perspective and for a place so entirely during a tour. Lloyd has poured his heart and soul into his community on Key West. And he shares that connection with the average visitor during his tours. ~ Benton006 via TripAdvisor.
If you prefer exploring the island on your own, visit the concierge to learn more about bike rentals at our resort.
Learn more about Lloyds Tropical Bike Tour.
Key West Food Tours
A three-hour food tasting and cultural walking tour through the historic old town where local guides introduce you to authentic Key West flavors. The Food Tours – Southernmost Food Tour, Historic Seaport Tour, Craft Cocktail Tour.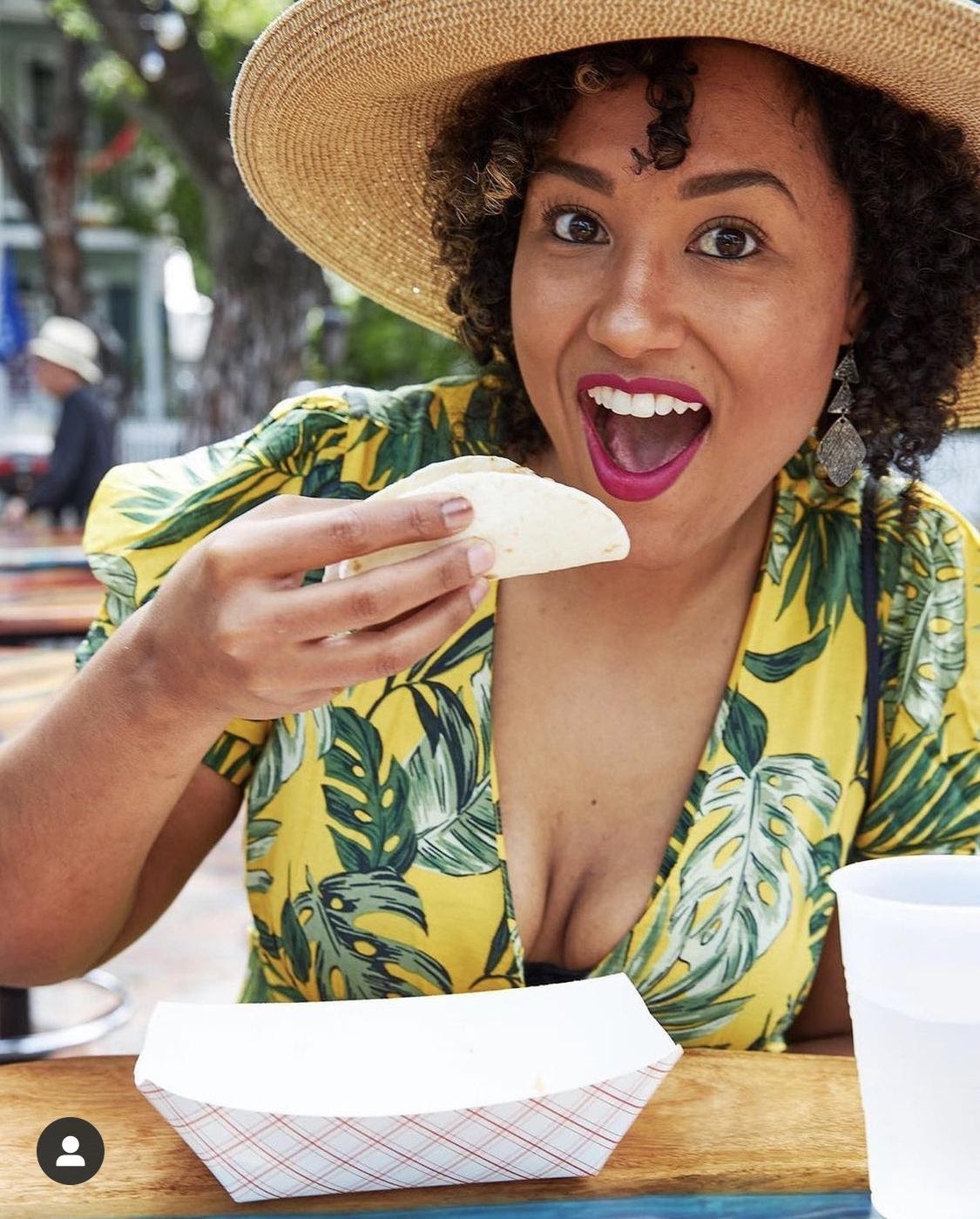 We know we all can't be as cute as @eat_suite when eating fish tacos, but it's what they said about @garbosgrillkw, our first stop on our #SeafoodLoversTour, that had us nodding our heads! "This taco was probably one of the freshest, cleanest (as in taste, not the "clean food" diet kinda clean), and most flavorful fish tacos I've ever had the pleasure of devouring." ~ @keywestfoodtours on Instagram
Key West Food Tours was Rated #1 on TripAdvisor for food and drink in Key West. Book A Food Tour Today!
Visit a Museum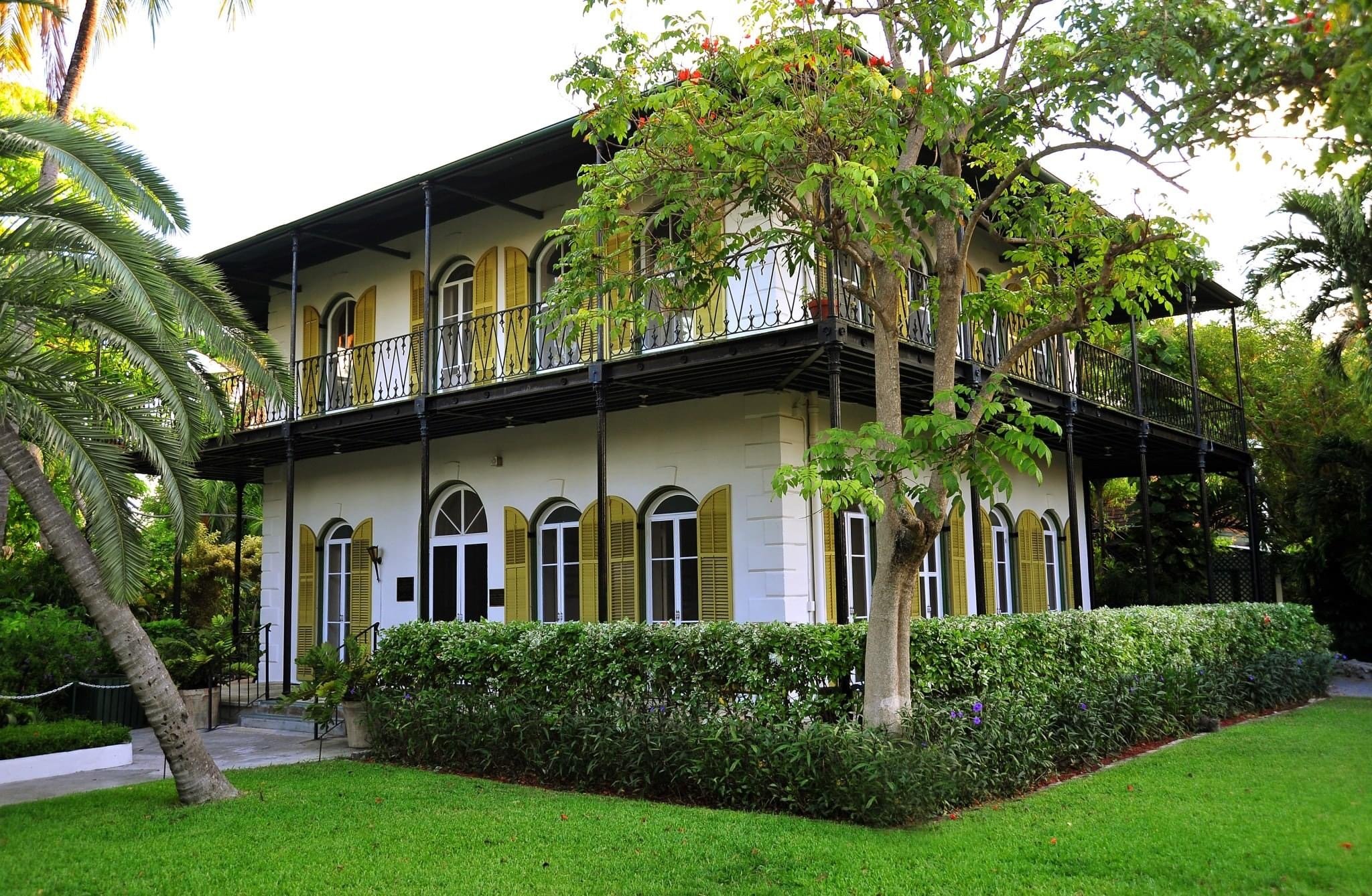 So much to do and see you'll wonder how to fit it all in. Here are a few of our favorite Key West Attractions worth visiting. The Ernest Hemingway Home and Museum, Harry S. Truman Little Whitehouse, Mel Fisher Maritime Museum, The Key West Butterfly & Nature Conservatory.
Learn more about the museums and local attractions to fill your days with art, history, culture, and fun.
Enjoy the Nightlife
Wondering what to do after sunsets in paradise? It depends on what kind of experience you are seeking. If you're looking for a good laugh, we highly recommend you spend an evening at Comedy Key West, the only comedy club in The Florida Keys that brings national headliners and local talent every week.
While there is no shortage of bars offering live music, including the iconic Sloppy Joe's, Schooner Wharf, and Green Parrot, we want to spotlight General Horseplay, one of our favorite craft cocktail bars.
This is your neighborhood bar where the cocktails are more than a drink, the snacks have a sophisticated flair, and the live music scene offers more than great entertainment.
"If you're looking for a truly handcrafted cocktail in Key West, the place to be is General Horseplay. Their mixologists are amazing, and the passion they have for each drink is nothing short of incredible." Steve Miller
General Horseplay is quickly becoming a destination for a great live music experience as well. Read all about it here.
Located at 423 Caroline Street, General Horseplay offers indoor and outdoor seating, craft cocktails, wine, bubbles, beer, live music, all adding up to an unforgettable night in Key West.
Watch the Sunset
Where is the best place to watch the sunset? The answer depends on what kind of sunset experience you desire.
Take a Sunset Cruise! Enjoy amazing views while sipping a cocktail on a memorable Key West sunset cruise aboard the Fury Water Adventures. It's the best way to cruise and see the sunset!
Attend Mallory Square Sunset Celebration!  Each night, two hours before sunset, visitors flock to Mallory Square for a nightly celebration and arts festival to watch the sun sink into the Gulf of Mexico. The celebration includes street performers, magicians, jugglers, local artists, and vendors that all come together to entertain you and celebrate the big event ~ sunset! 
You can also watch the sunset while taking a stroll or dining at our world-class restaurants at the Historic Seaport.  
Every summer has a story. Share your summer stories and vacation memories with us. #somolife
Sign up for exclusive offers – direct to your inbox!