Deluxe Balcony King
Inspired by the island, crafted by luxury.
The spirit of Old Key West redesigned with upscale decor, a luxuriously-dressed king bed, and modern washroom. Experience spa-like amenities in a spacious bathroom featuring polished nickel accents and dreamy relaxing bath tub. Relax surrounded by contemporary coastal decor, sandy neutrals, and steely ocean blues or take in views of the local architecture from your private balcony. Centrally located in our historic, mid-century Tranquility and Duval Buildings as well as our Tortugas and Simonton Buildings, enjoy modern accommodations near the Fitness Center and adult-only Tranquility Pool.
A Tropical Oasis
Deluxe Balcony King Guestrooms are located in the Tranquility, Duval, and Tortugas Buildings. View the map for exact location and property details. The layout, location, and view of rooms may vary slightly from the images. All rooms are non-smoking and adult only. Guest rooms size ranges from 270 to 400 square feet. For additional information on resort fees, please see our Hotel Policy page.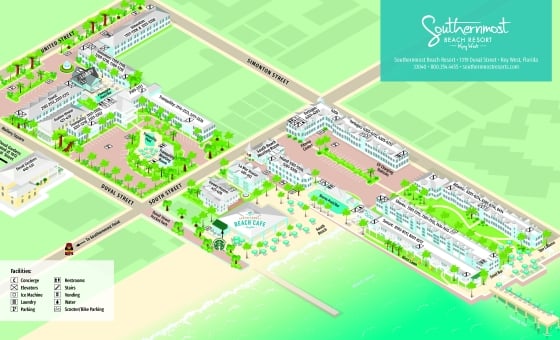 Other Deluxe rooms you may like.
Sign up for exclusive offers – direct to your inbox!